1st Month at Steemit
1 Month Old Steemian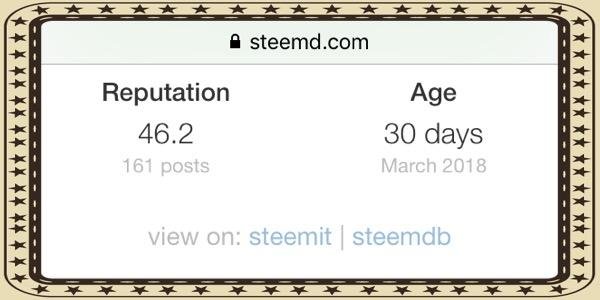 I reached 46 "Reputation" here for one month because I paid bidbots. If not of these bots maybe I haven't reached 30
#Reputation
score yet. I am not an expert blogger and I have no enough time on discord, steemchat, etc. so getting more attention is not in my expectations.
@treeplanter
and
@brupvoter
are still my favorite bots especially for busy.org's "Quick post". Speaking of
@busy.org
, I got upvotes on my "Quick posts" (photo only) but not on my blog posts like this that's why I just posted photos lately. LOL
I spent a total of 19.115 STEEM here including fees. I calculated my Steemit wallet balance and pending payouts and it shows that I only earn more or less 1.000 STEEM and a big part of it came from
@surpassinggoogle
's UPVOTES on my
#COMMENTS
.
I know I know many
#teardrops
posts get noticed here but I am not an emotional person. I am not a traveler too but I plan to
#travel
in Asia soon.
#Cambodia
,
#Philippines
and
#Thailand
are on my list. I noticed a lot of
#food
posts that are gaining more attention too but I am not a cook. I will post about
#scam
apps soon.
I need to spend more time READING to learn more before I give more effort in writing here. I hesitate to join
#contests
because I noticed some are requiring upvotes which is an
#abuse
according to Steemit FAQ.
Before I forget, I had a hard time finishing this post thru busy.org. I drafted this yesterday with 250 - more words but when I opened my draft folder I found out that more or less 100 words disappeared and there were 69 copies, huh! And as I am typing this right now on my iPhone some words keep disappearing so I had to "select all" and "copy" every now and then so I could just "paste" if they disappear. Grrrrrrrrrrr!!! Have you experienced it too? It's a pain in the neck!