Steemit was recently featured in Wired, but we're also doing pretty well on Hacker News! Of course, I love Hacker News and was eager to engage with their users (once our amazing dev team had responded to the DDoS attack) and help familiarize them with Steemit. Only one problem: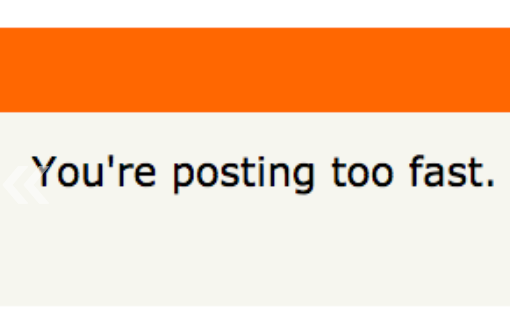 After 4 comments they stopped me from posting! I've been waiting almost an hour now! This actually highlights one of the reasons that integrating a cryptocurrency into a database is so valuable: it enables you to simultaneously incentivize adding value to the database, incentivize policing the database for low-value content like spam, and algorithmically govern resource consumption. All of these factors combine to enable steemit.com users (and the users of any other platform that leverages the Steem blockchain like busy.org or dtube.video) to post a comment every 20 seconds!
A Common Criticism
Ironically, this is the answer to a common criticism, levied several times in the comments to that Hacker News post, that we simply "bolted on" a cryptocurrency. If anything, the opposite is true. The Steem blockchain was designed first and every component was designed to work synergistically for the sole purpose of creating a scalable and sustainable distributed database capable of storing social content. Content creators have to get rewarded because valuable content is important for creating a valuable database. The economics of Steem have to be sound because no one will create valuable content, leave thoughtful comments, carefully curate content, or run a witness node if the token isn't worth anything. Everything is there for a reason. Nothing is accidental.
This meticulous design enables all of the amazing features we often take for granted, even something as trivial as how often you can leave a comment. I've now drafted this entire post, and still can't post a comment ... and we're undergoing a DDoS attack!
HackerNews Coin?
If Hacker News wanted to improve their user experience and incentivize their participation, they could always integrate Steem or work with us to pioneer a Hacker News Smart Media Token! ;)
P.S. If you'd like to share this on Hacker News, feel free. I still can't :(