Vote Steemit as the "Social Network of the Year" award under 'The Noonies 2019 presented by Hackernoon
Hello and welcome to my Blog once again
Today's blog is nothing else than the rallying cry of support to the Steemit Blockchain. Steemit is a savior to many of us in every aspect such as financial, information, meeting up all kinds of friends and many more we have ever thought about. It's educating, entertaining, rewarding and create much awareness to be precise.
Steemit has always been a winner since the beginning of its existence, no argument about that.
Like I said at the beginning, today blog is a rallying cry and it's about we sliding in to vote for Steemit on Hackernoon's platform: The Noonies Awards
I will be Happily to announce that: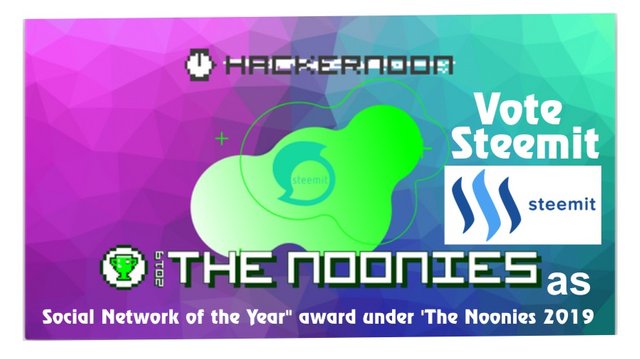 Steemit has been nominated in the "Social Network of the Year" award under 'The Noonies 2019' presented by
Hackernoon
which is a major Medium based independent tech media website.
People have started voting and Steemit still ranked in the No 1 spot as at now...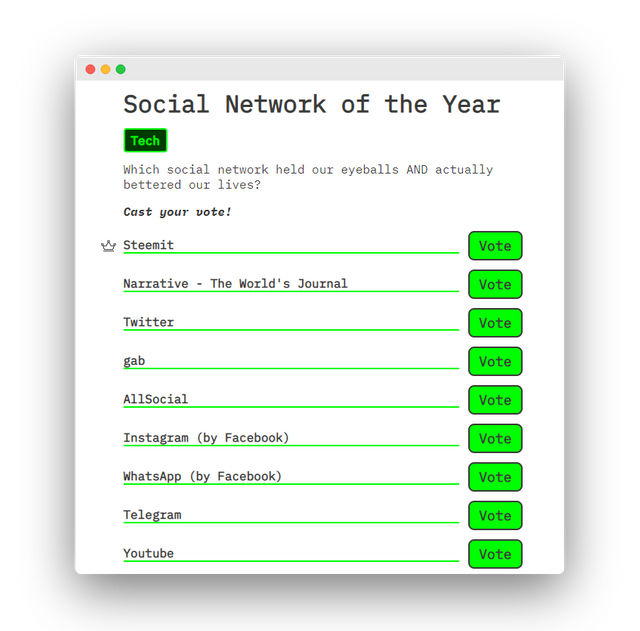 Many might be thinking why does it matter?
Hackermoon is one of the most famous indie tech media publishing house based on Medium. They publish articles from a variety of brilliant writers catering to the tech, crypto/blockchain, startups, businesses etc. niches. Just imagine if we win, they decide to come on Steemit or probably many of their writers decide to publish on Steem Blockchain also due to this. This is not just an award but an opportunity as well to get the word out among the masses and Hackernoon is not small.
Reading this you can see this is another great opportunity for Steemit and all writers on Steemit. Steemit will move another length to be the best in the recent generation and also the upcoming generations. Steemit will never die!!
Check out the List of Noonies 2019: https://noonies.hackernoon.com/

Link where we can cast our vote: https://noonies.hackernoon.com/award/cjxcaksd46uok0b12ezynf20u
Let do this for Steemit community.!!! We are winners!!!

Do you know you can earn upvotes from the announcer? @oracle-d
Read the Blog and get information on how you can get upvotes just to participate in the voting program
https://steemit.com/steemit/@oracle-d/vote-for-steemit-on-hackernoon-s-the-noonies-awards-earn-upvotes


Steem On!!!