Today I was peacefully drinking a cup of coffee in my favorite restaurant and reading the newspaper. In spite of all the technology and the internet, I love the real old newspaper.
When I reach the technology section of this paper, I always pay attention and today I was very surprised to see that there was an article about blockchain technology and about steemit. The newspaper is called der Bund and is considered as a serious paper in Switzerland. When newspapers speak about steemit this can be only positive for the community!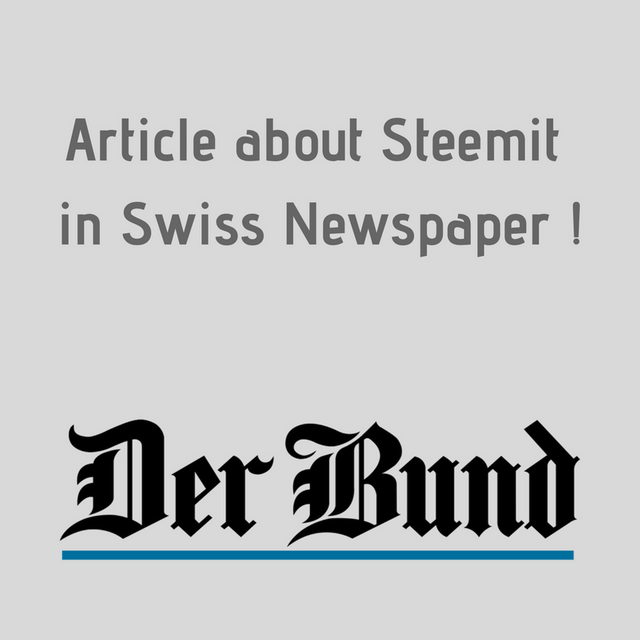 image source: wikipedia
The problem of Steemit - its complexity
The content of the article however was maybe less positive for steemit because the author just couldn't make out the way the platform was working. He also interviewed people who are active on steemit. One of them says that he earned more with steemit than with his youtube channel. Another says that even after some time on the platform he still didn't get it...
I've to admit that even after some time on the platform I still don't get it so well
Source: Der Bund
Finding a way to make steemit easy to understand
It is easy to explain to people how to earn money with steemit: Write articles and get upvotes. You can maybe bring them to the platform with such an explanation but the chances are very big that after having written two articles they will never log in again. The concepts of steem power, vote weight or delegation are complicated to grasp and even more difficult to explain to a newbie. I believe that the community should work on a project to make steemit beginner friendly. More users would benefit not only the community but also the stability of the currency.
****
Thank you very much for reading my post. Feel free to upvote, comment, resteem or follow (@achim03).
For several years I have been running websites called faucets where I give away cryptos for free to people willing to take them.
I love to share my knowledge and to help people. I dream of a world based on love, tolerance and equality, where we build our future together, helping each other.