STEEMIT IRON CHEF #07 - Two soups in love ❤️ embracing each other. 🍏🍎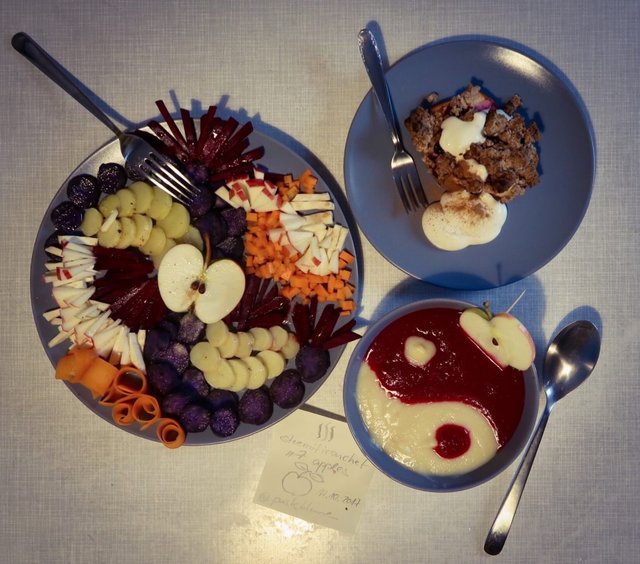 The product for this weeks steemitironchef challenge is an apple. The first thing to think of when it comes to apples is a wonderful apple cake. Big, soft inside and crunchy on the outside, full of the sweet aroma and very autumnal. But I am not so much in sweet things anymore. That's why I always look for more hearty alternatives. An apple has this sour element too. Therefore it is also a great ingredient in savory recipes.
This is my contribution to #steemit-ironchef by @progressivechef. Here are the rules for this competition again.
I thought about two different kinds of soups and couldn't decide which one ... Finally I made both of them and added a  salad and a different kind of Roast Apple for dessert.
The first soup is a Celery-Apple-Soup, white and creamy and the second is a Beetroot-Apple-Soup, rich and deep in color and with a very fresh and fruity flavor.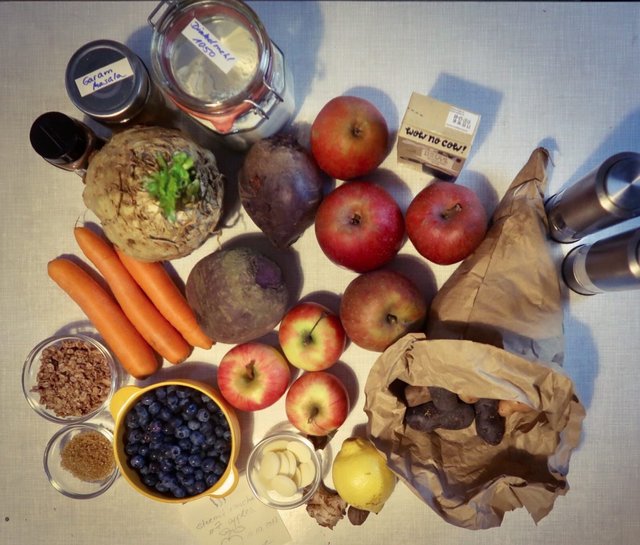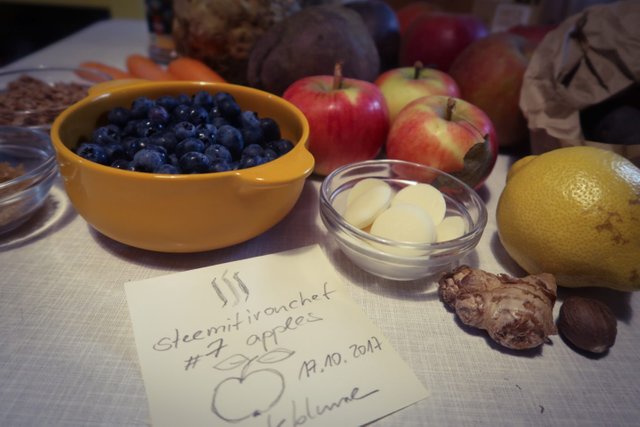 Ingredients for the Celery-Apple-Soup:
A middle size celery, one potato, one apple (a sort wich has enough acids and is not too sweet), one shallot, vegetable broth, 200ml plant based cream, salt and pepper to taste.
Preparation: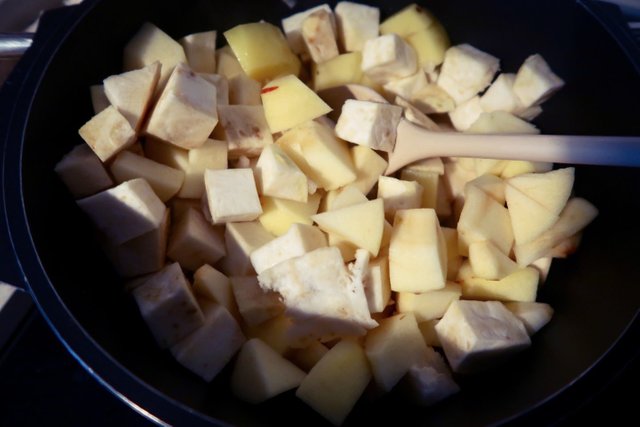 Cut the shallot in fine cupes and fry them in two tbsp. of vegetable oil. Peel the celery,the potato and and the apple and cut them in pieces. Fry them with the shalots for a couple of minutes and then add the vegetable broth. Cook until all the vegetables are soft. Add the plan based cream and puree finely with an immersion blender. Taste and add some salt and pepper if needed. 
Ingredients for the Beetroot-Apple-Soup:
Two beetroots, an apple, two potatoes, one glove of garlic, a piece of ginger (three times as big as the glove of garlic, a shallot, coriander seeds, vegetable broth, salt and pepper.
Preparations: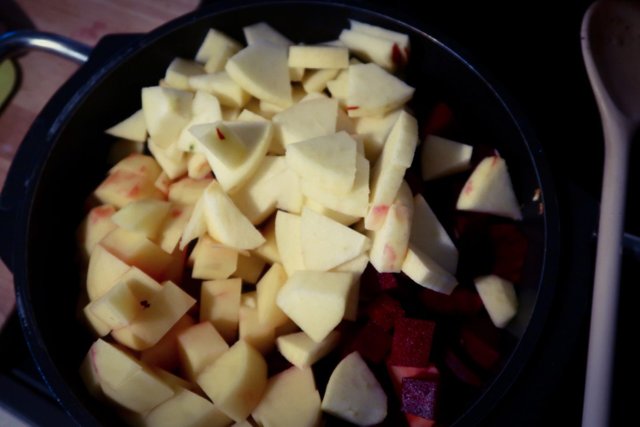 Cut the garlic, the ginger and the shallot in fine pieces and fry them together with the ground coriander seeds in two tbsp. of vegetable oil. The smell of the frying spices is amazing! Peel the potatoes, the beetroots snd the apple and add them into the pot. Fry for a few minutes and then add the vegetable broth. Cook until the veggies are soft. Blend them finely with the blender, add more vegetable broth if needed and taste with salt and pepper.
Here are both soups still in their pots waiting to get dressed - uhm, no! Served...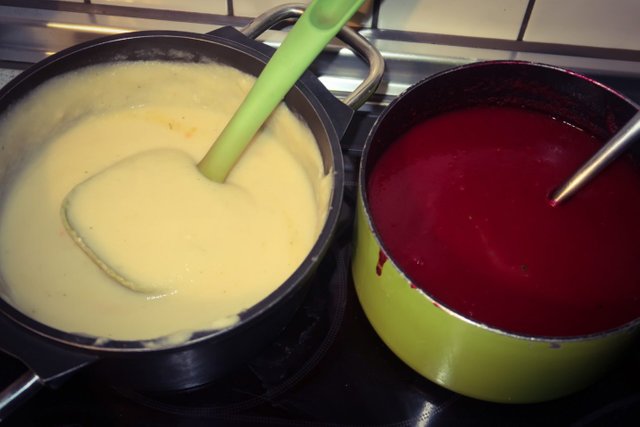 I filled both soups together in the same bowl. This is the "hugging". 😊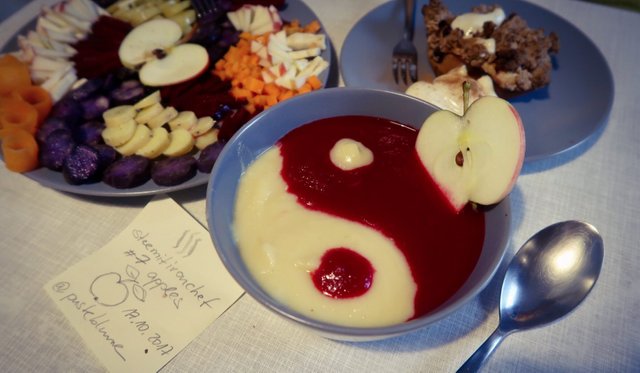 While eating they blend into each other more and more - the look and the taste.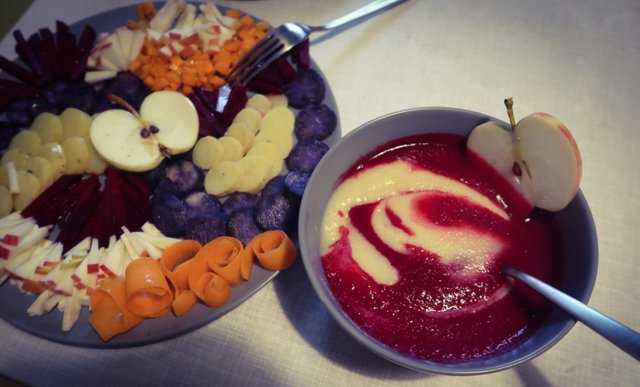 For the salad I cooked some purple french potatoes and some Bamberger Hörnchen potatoes (both very small but with very delicate aromatic taste). After cooling and peeling I cut them in slices and arranged them together with stripes of raw beetroot, celery, carrots and apples on a plate. The dressing was pur and simple: just apple cider vinegar, some lemon juice, sunflower oil and walnut oil, salt and pepper.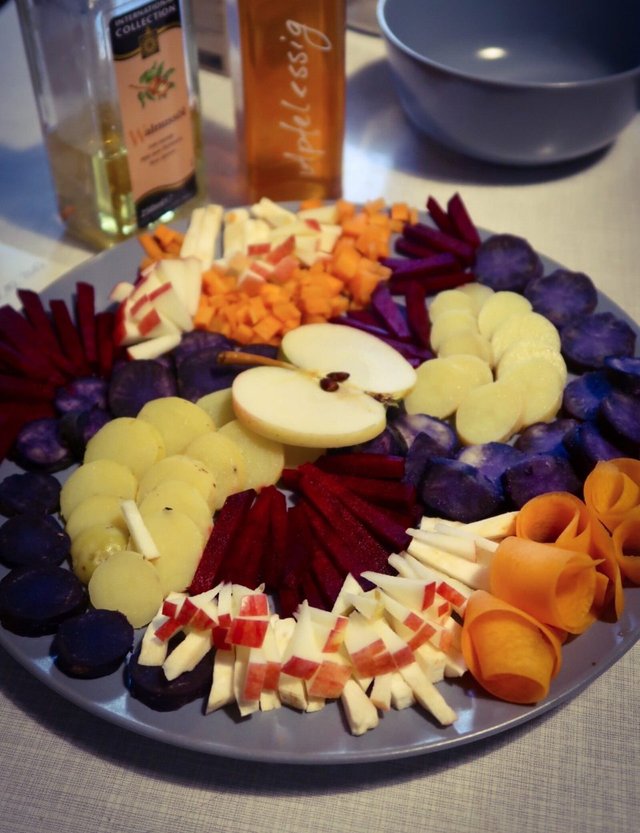 For the dessert I cut apples in halves and filled them with plant based white cream cheese, blueberries and topped them with crumbles made of spelt floor, vegetable butter, granola, brown sugar, a dash of masala spices and cinnamon. I baked the for (more than the planned) 25minutes in the ofen (because of all the other stuff I had to think of, I forgot to take them out ... 🙈) Thankfully it wasn't burned, just the apple was a little bit too mushy. I served it with whipped cream cheeze (plantal). The taste was way better than the look (which I appreciated a lot! 😋)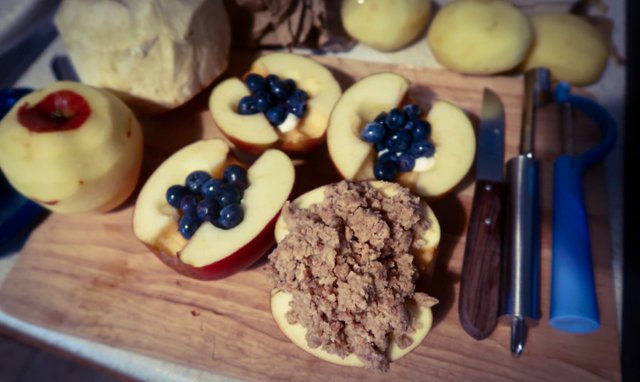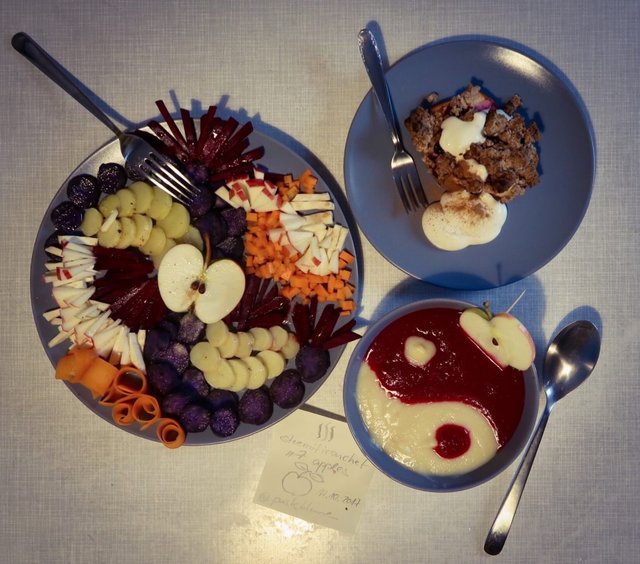 Thank you again @progressivechef  for this fantastic challenge. I love to cook in general but most of the time you cook the things you know and that are quick and easy. This challenge inspires me a lot to try out or create new stuff I would have never tried - probably. It needs some effort and time for all the planning and preparations. But in the end it was always worth it! We enjoyed some really delicious foods in the last few weeks! ☀️