One wild myrtle leaf transforms lentils. When wild blackberry shoots, hedge mustard, and field mustard flowers get paired with homegrown peaches and new beet leaves, the flavors get even more wild -- and delicious!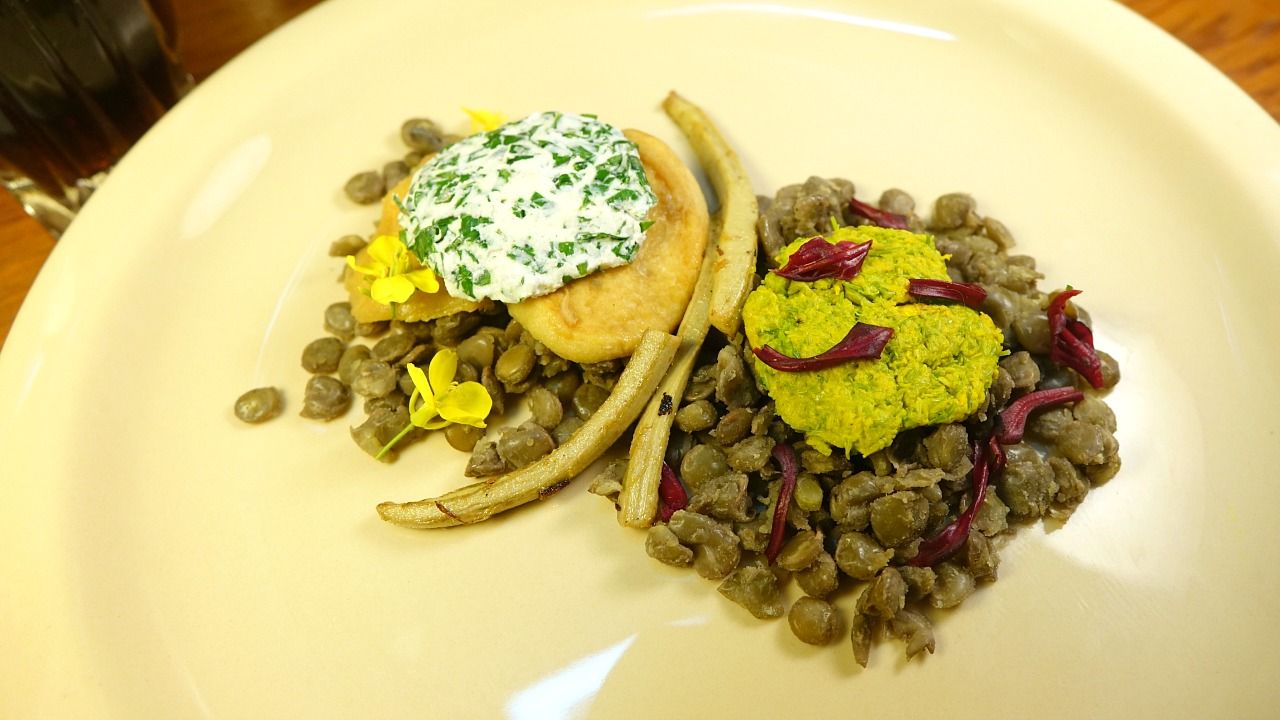 ---
Gathering!
I've been swamped with other projects. So I wandered my yard for ingredients to go with lentils. The wild field mustard is all abloom with its bright yellow flowers. The blackberry bushes are pushing up, like monsters. They grow so fast, but there are some shoots that brand new, less than a couple days old, with soft stems yet. And the Oregon Myrtle shrub is getting out of hand. It's an Oregon native plant that has a small range along the Pacific coast of North America.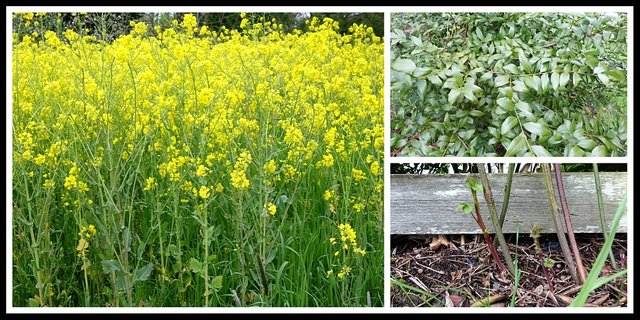 Left: Wild field mustard in flower. This weed has gotten out of hand. Upper right: Oregon myrtle. This shrub is getting out of hand. Lower right: Blackberry shoots. I'm trying to keep these monster blackberry bushes from getting out of hand!
---
Cooking!
I recently dug a Lutz beet out of the sand-filled bin that I use to store them over the winter. The beets are keeping well. All I want from this beet right now, though, are those bright red baby leaves, just starting to sprout from the beetroot.
I have a jar of dried Charlotte peaches, still in my pantry. I was inspired to use them by @prydefoltz, who says goat cheese and dried peaches are really good together. I went back outside and got some wild Hedge mustard, too. It goes so well with goat cheese.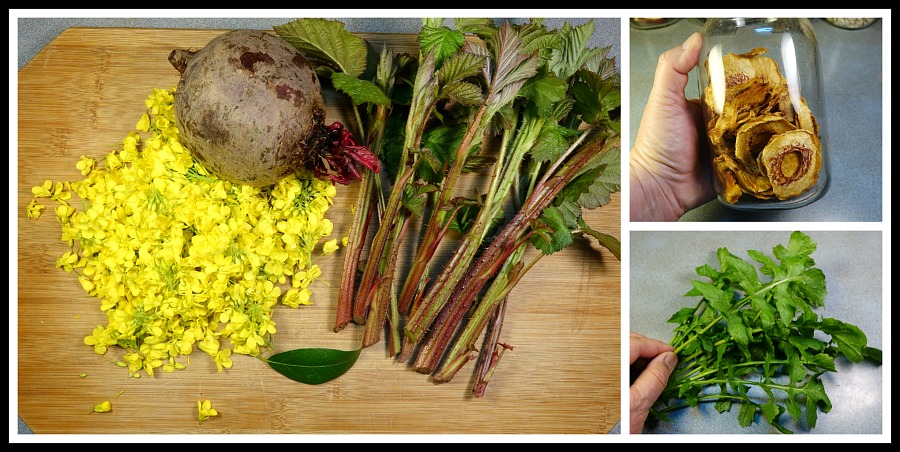 Left, clockwise: Wild field mustard flowers, beet, blackberry shoots, Oregon myrtle leaf. Top right: dried peaches -- they are so good, it's amazing I have any left! Bottom right: Hedge mustard leaves.
I put the lentils on the stove to cook, with some leftover sauteed elephant garlic cloves and the Oregon myrtle leaf. Then I peel the blackberry shoots down to their inner core. The outer part is prickly and the peel tastes like tannin, so it's no good. I blanch the inner cores and then brown them in butter.
I crush the wild field mustard flowers into a paste, with a little salt added to draw out their moisture. I soak the dried peaches in warm water to soften them. And I chop the hedge mustard very fine and mix with the goat cheese.
---
Eating!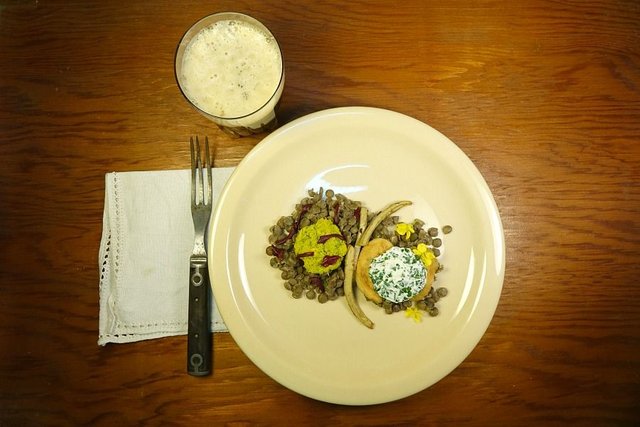 The blackberry stems are mild, with a slight grassy flavor. They are the palate cleanser on this plate of powerful flavors.
Lentils are such a good base for so many flavors. But in this dish, they have an extra lightness with the Oregon myrtle leaf. I used that leaf in my first Steemit Iron Chef entry, Wild Myrtle Tomato Soup. It's such a unique flavor that swirls all through your head.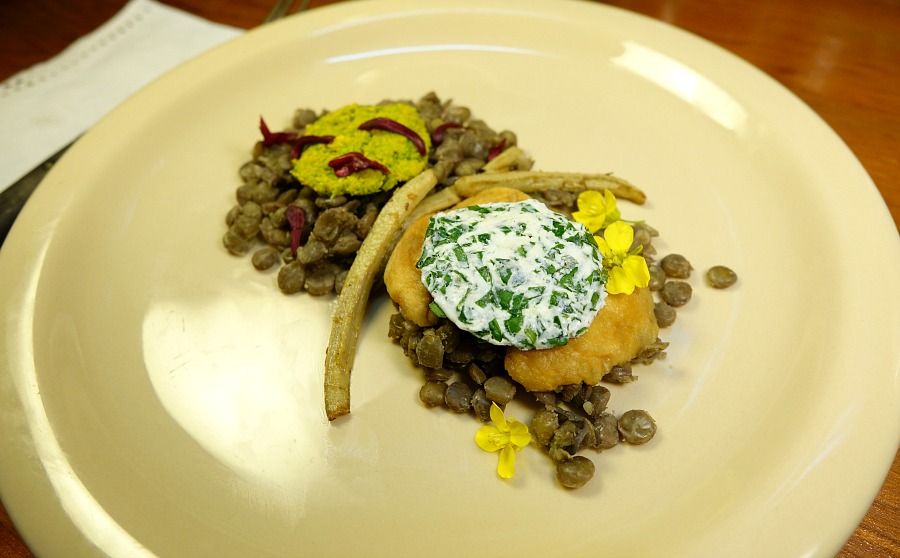 Lentils go so well with fruit. And @prydefoltz is right -- dried peaches and goat cheese are wonderful! The hedge mustard adds a nice bite to the goat cheese.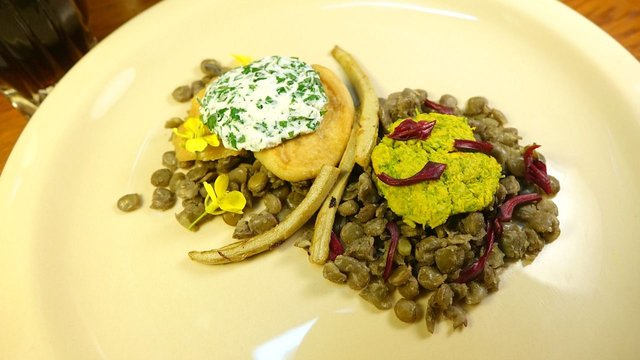 That salty wild field mustard paste is amazing! It's a good match for lentils. And the little beet leaves pack their own little punch.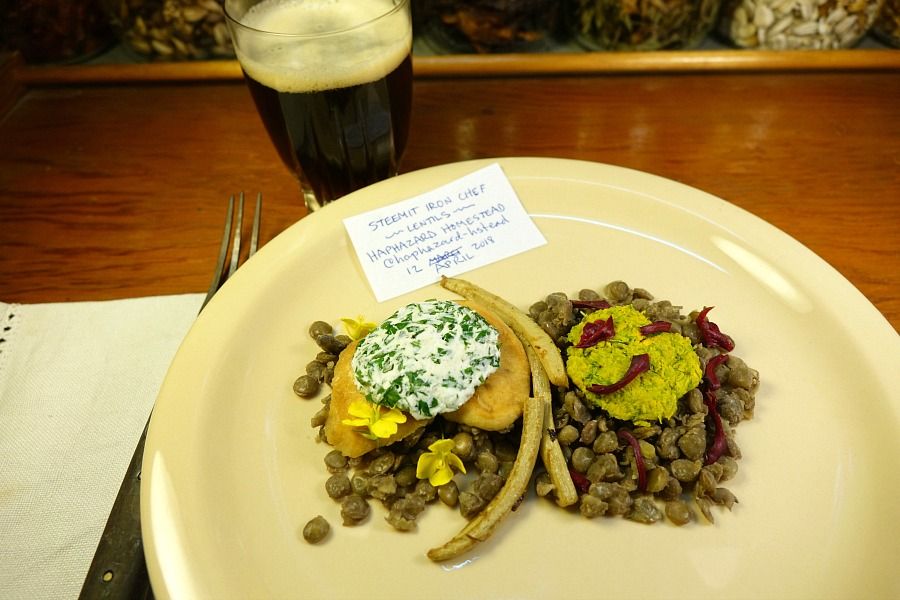 The flavors in these two short-stacks are so different. But so good! They make a great contrast, but in harmonious way. It's really surprising -- and delicious! I'd be amazed with a plate like this at a restaurant. But I don't think I will ever see it anywhere but here in my own kitchen!
---
What Do You Think?
Have you ever used a Oregon-myrtle leaf?
Have you even had goat cheese with dried peaches?
Have you ever eaten wild mustard flowers?
Do you have to fight back blackberry vines?
Would you eat my myrtle lentil stacks?
I eat a lot of wild plants and show you how, because I believe that we can all have lives that are richer, more secure, more grounded, and more interesting by getting to know the plants and the land around us – in our yards, our parks, and our wild places.
Thanks @progressivechef for creating the Steemit Iron Chef contest series!
I try to make content that's interesting! If you found this informative and helpful, please give it an upvote and a resteem.
---
Plant List
Elephant garlic - Allium ampeloprasum - flowers
Oregon-myrtle - Umbellularia californica - leaf
Wild field mustard - Brassica rapa - flowers
Himalayan blackberry - Rubus armeniacus - core of new shoots
Hedge mustard - Sisymbrium officinale - tender leaves
Beet - Beta vulgaris - young leavees
Peaches - Prunus persica - fruit
---
Haphazard Homestead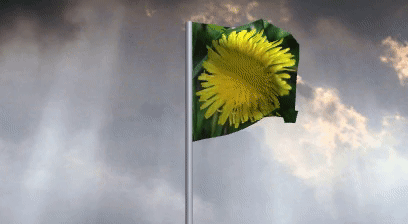 foraging, gardening, nature, simple living close to the land
All content is 100% Haphazard Homestead!
My YouTube channel: Haphazard Homestead