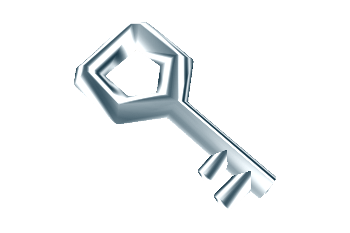 Facebook and Reddit accounts
Hello Steemians who have created accounts using Facebook or Reddit, today I'm going to show you that logging in with our 16+ character password isn't the best idea. We've all probably saved it into our browser or password management application anyway, so we might as well use the more restricted posting key for everyday posting and voting. We can hide away (backup, backup, backup!) the more powerful account owner password for when we need it.
---

I'll make this more explicit: If you start logging into your Steemit account with a posting key you need to be absolutely certain that your original password is backed up and saved somewhere, whether that's encrypted online, printed out or written down and put in a safe place, or tattooed on your butt it has to be kept so that you can collect your rewards.
---
Why is this important?
The password made with a Facebook or Reddit signup controls the whole account, including being able to send SteemDollar or STEEM transactions, and all the other functions. You can even change the owner password/key if you have full control, which we wouldn't want to happen because our accounts are worth something, especially if we've made lots of contributions or invested in Steem Power. Steem has multiple keys for different purposes, including a posting key that can only post, comment, follow, and vote. You should only log in to Steemit with this key if you only plan on posting or voting. You can still log in with your owner password or active key for other functions when you need to.
With the explanation out of the way, it's real easy to do! Visit your own account's profile page on Steemit and click Permissions. https://steemit.com/@youraccount/permissions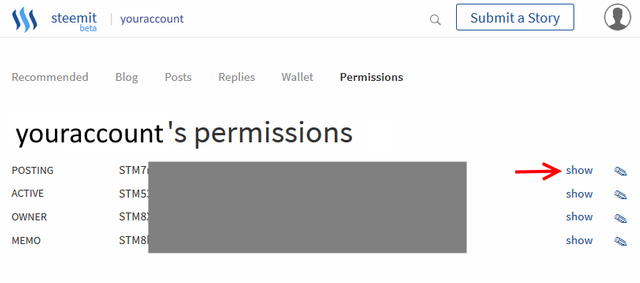 Click the show link as indicated above to reveal your posting WIF key. Copy that and store it in your password manager of choice. First verify that you have saved and backed up your original password in some way, then log out, and log in to Steemit using your posting key as the password. This means that if there's any mishap that leaks keys on Steemit or your computer is compromised, nobody has control over your full account, only posting and voting.
When you need to do something more than post or vote with your Steem account, you can log in with your original 16+ character password you chose when joining Steemit. Again don't lose this.
Changing your posting key, and mined accounts
Do you want to change your posting key? Are you using a mined account that only has one key? You can change your posting key from that same permissions page by clicking on the pencil icon! Obtain a new key by going to https://bitaddress.org and saving the HTML to your computer. You then open the .html locally, do the mouse entropy, click Bulk Wallet, uncheck the compressed address option then click Generate. The WIF keys are on the right, below.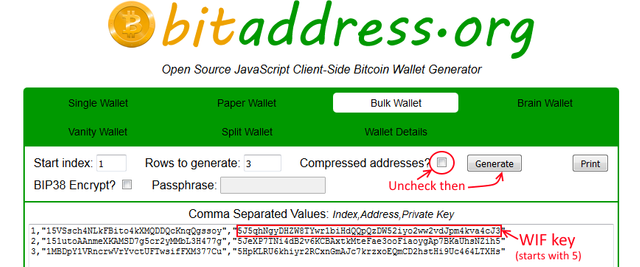 Then click the pencil icon next to the posting key and enter a WIF key (recommended if you'll just be using a password manager anyway) or a nice strong password. Hit save.
Log out and log back in with your shiny new posting key and you're good to post and vote!
---
Also check out:
---
If you found this or my other posts helpful, click here for my blog page and hit the

button in the upper right!