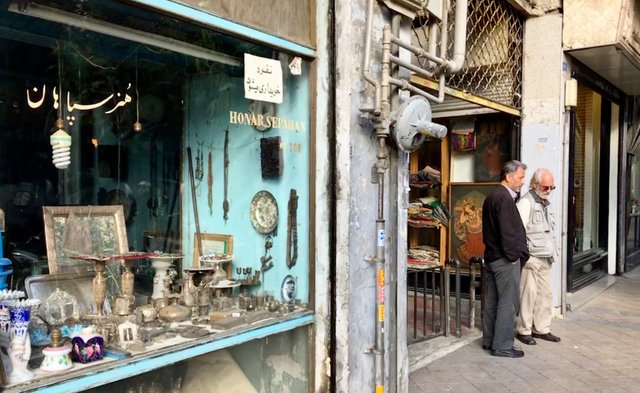 Happy thanksgiving, fellow American Steemians!
I've received some happy thanksgiving Facebook messages from my American friends although this is not really something we celebrate either in Europe, back home in China, or here in Iran. I went to one of the big bazaars in Tehran, Tajrich Bazaar. I didn't get myself anything special from the blackfriday of course but did receive some free snacks in the bazaar.
I haven't planned something special to do during my last couple days in Tehran. It is also difficult to plan any activities in Tehran because of the traffic. After stuck in Tehran's traffic for more than one hour, almost missing the opening hour of Sa'dabad Complex to the north of the city, I decided I'd better just spend my time in the center.
Tehran is a cool city after all. It has a great museum of contemporary art, many nice cafes and the most amazing museum I've ever seen in my life - the national jewelry museum (Photography was forbidden, you will have to come to Tehran for this). It is great to end the trip in the city.
Iran is a great country. Although my stay here is not so long, but I got so touched by the warm-hearted Iranians. I'd like to recommend everyone to visit this country. I'll share more details of my trip very soon, hopefully to get more and more people interested in this beautiful country.
!steemitworldmap 35.692995 lat 51.390610 long d3scr

祝大家复活节快乐!今天在面书收到一些美国朋友的复活节问候,才发现是复活节。其实这个节在欧洲不太过,在伊朗更不用说了。这天我去了德黑兰北部一个大巴扎闲逛,也没特别想买什么,不过有一些店主看我好奇给了我一些小样尝尝。
在伊朗的最后几天,我都待在德黑兰,慢慢逛,也没有安排什么特别的观光活动。其实德黑兰可看的挺多,但是交通太拥挤,一次我去北部的山上宫殿区,结果堵车堵了一个多小时,等我到的时候宫殿都快关门。于是我觉得其余的时间还是市中心闲逛比较好。
德黑兰其实是个挺有意思的城市,属于伊朗国家银行的珠宝博物馆看得我流连忘返,但是这个博物馆戒备森严,多重安检也没办法拍照,我被这些珠宝震撼的不行。如果你们有一天来德黑兰,不用错过这个博物馆哦。另外还有个非常棒的现代艺术馆,如果你跟我一样是个现代艺术的爱好者,一定会喜欢的,其他大部分时间我都是在咖啡厅(德黑兰有很多挺不错的咖啡馆),和无目的闲逛中度过。
伊朗是个非常有意思的国度,虽然我待的时间并不长,但是当地人很容易交流,我也有幸认识了各种各样有意思的伊朗人,他们给了我很多启发。这段旅行的Vblog就发到这里吧,有空我会慢慢写这个不错的国家,希望越来越多的人有兴趣来感受这个美丽的国家。