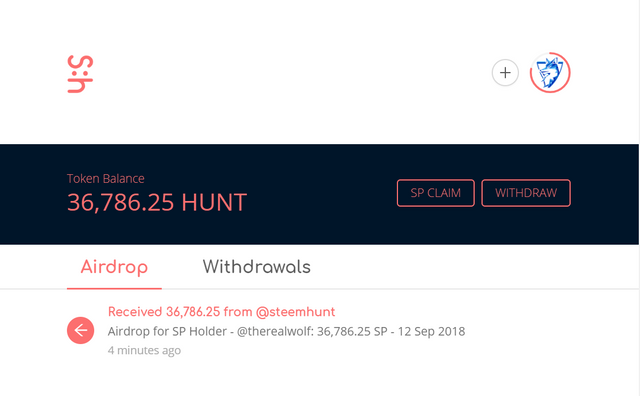 36,786.25 HUNT Tokens were just claimed for @therealwolf
---
A month ago, I published a post: Maximize the Hunt: How to get more HUNT tokens - AIRDROP LIVE; where I explained how to make the most out of the Steemhunt Airdrop.
Now, the airdrop will end tomorrow, 13th September, but I'm not sure which time.
So if you haven't claimed your tokens: now is the time!
Go to https://steemhunt.com/wallet and click on SP CLAIM
Profit: 3,139 More Tokens
Looking back at my first airdrop post, my strategy was to wait until the end to get as many HUNT tokens as possible.
And it worked.
If I would have claimed the tokens right when the airdrop started, I could have only claimed 33,647.12.
But since I've waited and my Steempower increased during this time, I could claim 36,786.25 - which is a net profit of 3,139 HUNT Tokens.
---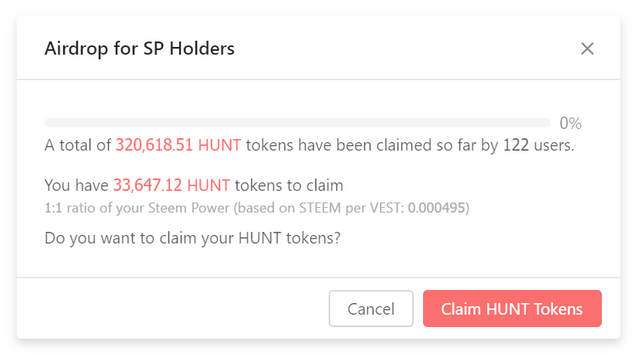 SP Balance and possible claim on 13th August 2018
---
Pretty good in my book.
So, if you haven't claimed your HUNT tokens, do it now!
Go to https://steemhunt.com/wallet and click on SP CLAIM
PS: I'm not affiliated with Steemhunt in any way, it's purely for you guys, to get the most out of your Steempower ;)
Have a great week!
TRW