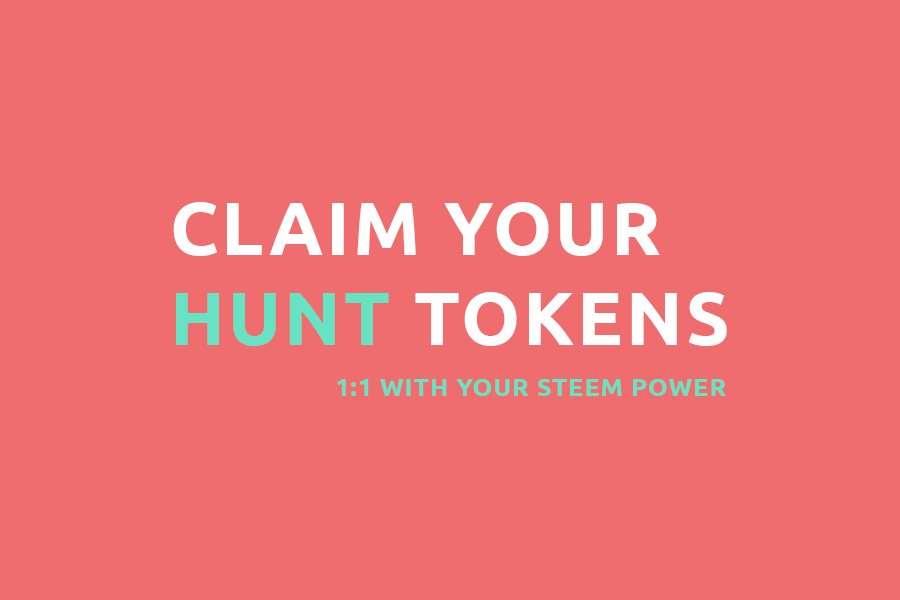 Remember Byteball? This is better! ;-)
A few weeks ago @steemhunt announced their new platform steemhunt.com. Steemhunt is a product hunt platform on which gadget lovers can inform each other on cool new products, upvote, comment, share pro's and cons...
Next to the platform itself the @steemhunt team announced they aim to turn the platform into one of the first SMT's once Steemit Inc launches that huge functionality (which has now be announced to go fully LIVE in March 2019!). The SMT (Smart Media Token) is going to be called HUNT, and: Steem Power Holders are to profit massively from the project! As they say themselves:
A total of 500M HUNT tokens will be issued, and 250M tokens (50%) will be airdropped to Steemians - largest-ever airdrop for Steemit users. SMT-based HUNT tokens are to be distributed in a 1:1 ratio to the ERC20 tokens held by Steemhunt off-chain wallet owners and registered Ether addresses.
Because the SMT's are not live yet the airdrop is first done as an ERC20 token (on the Ethereum blockchain), which will be converted to the Steem Blockchain (however that is going to look like) once SMT's are launched in March.
So, in short: if you have SP, any amount of SP, you can now claim HUNT tokens!
Why would you want that?
Well, for one, HUNT is a token that you can get for free just because you've already earned some STEEM and who knows what you can buy with this 'free money' in the future. But two, and more importantly, I've come to realise the team is making something bigger, something exciting, something of an ecosystem in which you can both earn tokens and be able to spend those same tokens within that ecosystem! In one of their last posts they share they are creating at least two more platforms: Reviewhunt, where hunters can hunt for bounties, and Ideahunt, where you can spend your HUNT tokens on a Kickstarter-like platform!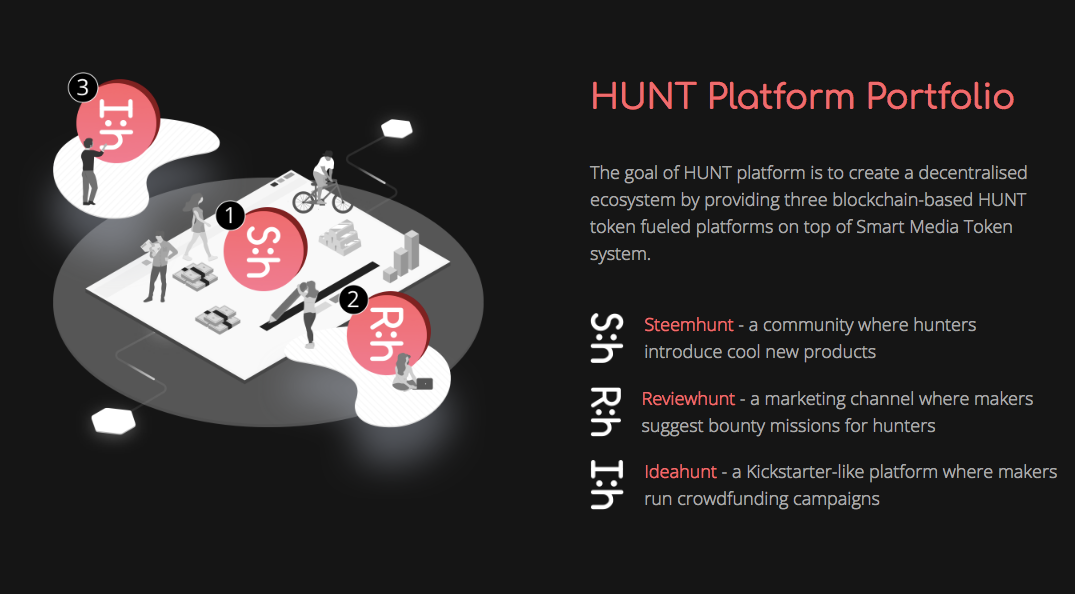 Who doesn't like buying gadgets from coins they get for free?
I'm excited, for one, and if you are too after reading my post or the posts from @steemhunt themselves then here are the very simple steps to claim your HUNT tokens 1:1 with your current total (so delegations don't matter) Steem Power:
STEPS TO CLAIM YOUR HUNT TOKENS:
Step 1
Log in on steemhunt.com - steemconnect will make sure you can log-in safe with your Steem Account
Step 2
Click on your avatar in the upper right corner and click on Wallet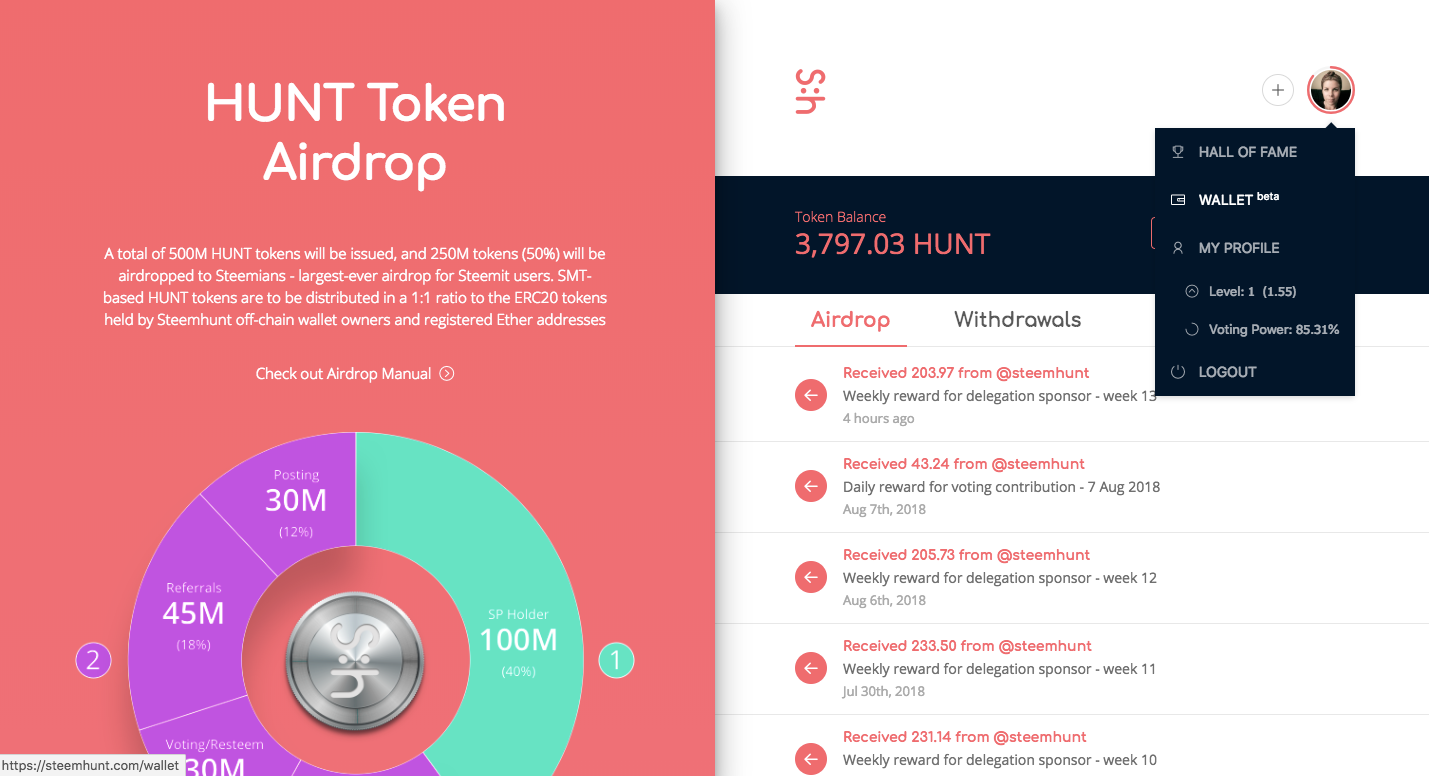 Step 3
You'll see your current balance, which should be 0 if you've never upvoted, commented, 'hunted' before, or any number if you've been active on steemhunt.com like me. Click SP CLAIM.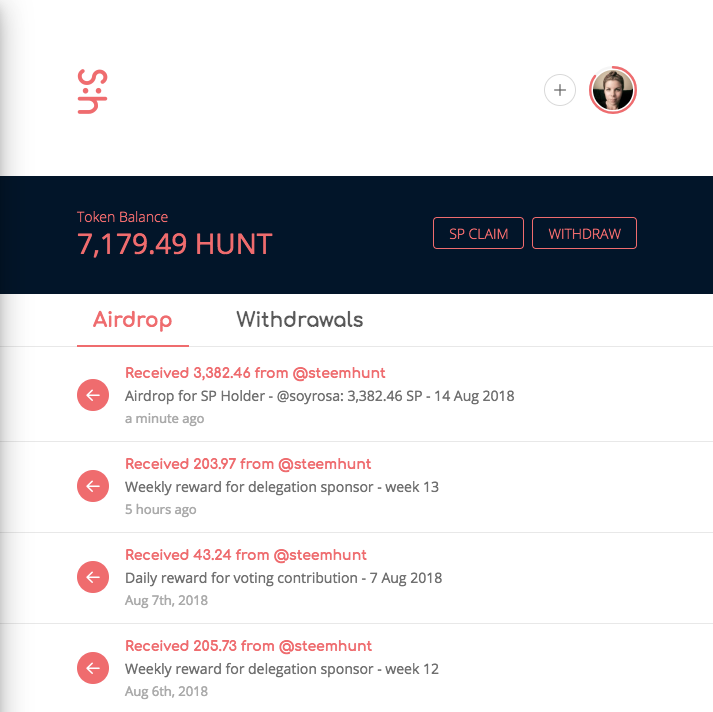 [BTW, those weekly payouts you see in this screenshots are because I'm delegating 200SP to @steemhunt, one of the ways you can get HUNT Tokens!]
Step 4
You will see the percentage of HUNT tokens that are claimed and the amount you will be able to claim. Now, this screenshot is from day 1 of the airdrop since I just wanted to check this 'to do item' off my list. Currently about 9-10% are claimed. Some people are aiming to claim as late as possible because you might grow your Steem Power in the coming weeks which means you can claim more HUNT Tokens. Do what you think is best :-) You can only claim once! But since the @steemhunt team has told us they can almost cover all current vested Steem Power waiting is not a high-risk gamble, so if you're expecting a huge power up waiting might be worth it.
Click Claim HUNT Tokens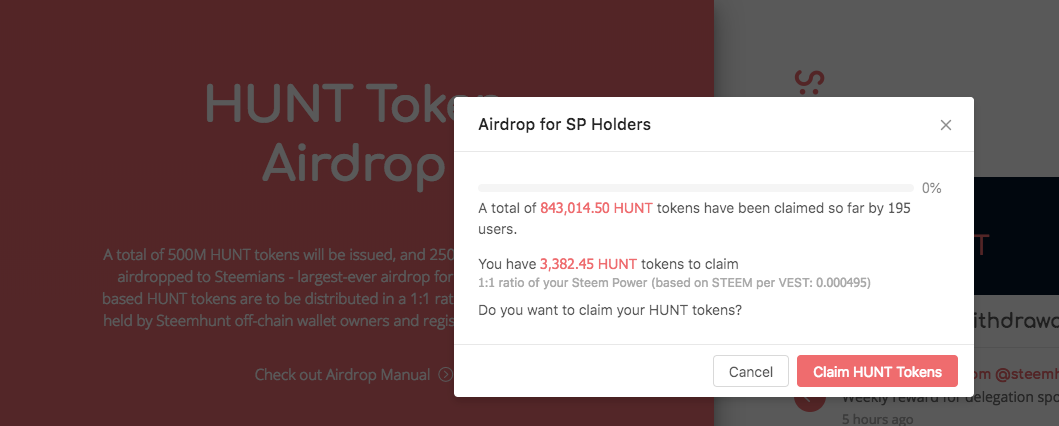 Et voila! They're in your account now.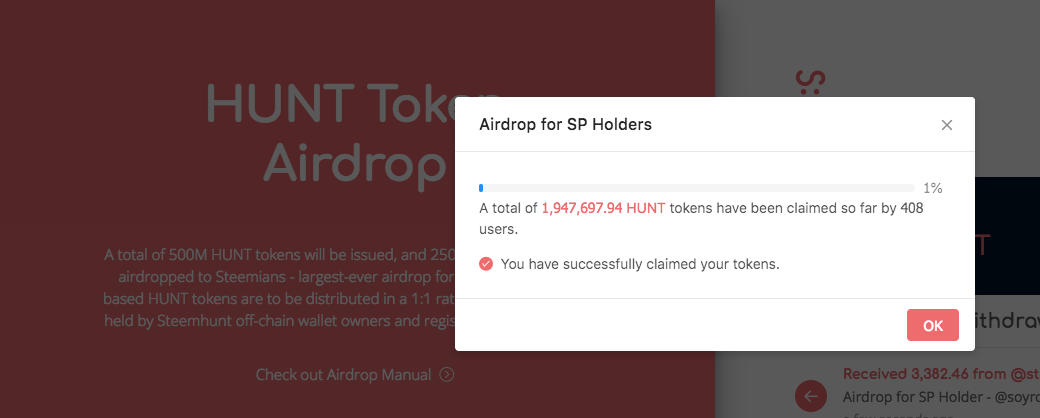 Next steps (optional, but fun!)
Enjoy looking at your HUNT balance, and take your time to explore the @steemhunt account, steemhunt.com, the main website, and the new token.steemhunt.com where they explain the full concept and roadmap!
You could also consider delegating to the @steemhunt account, they pay HUNT tokens to those who delegate weekly. You can create your own hunts, which might earn you a huge upvote from the very high SP @steemhunt account. You could also add some pro's and cons on some of the hunts other people are making, which also might earn you an upvote. Or upvote some of the product hunts - which earns you even more HUNT tokens! Many many possibilities I would say!