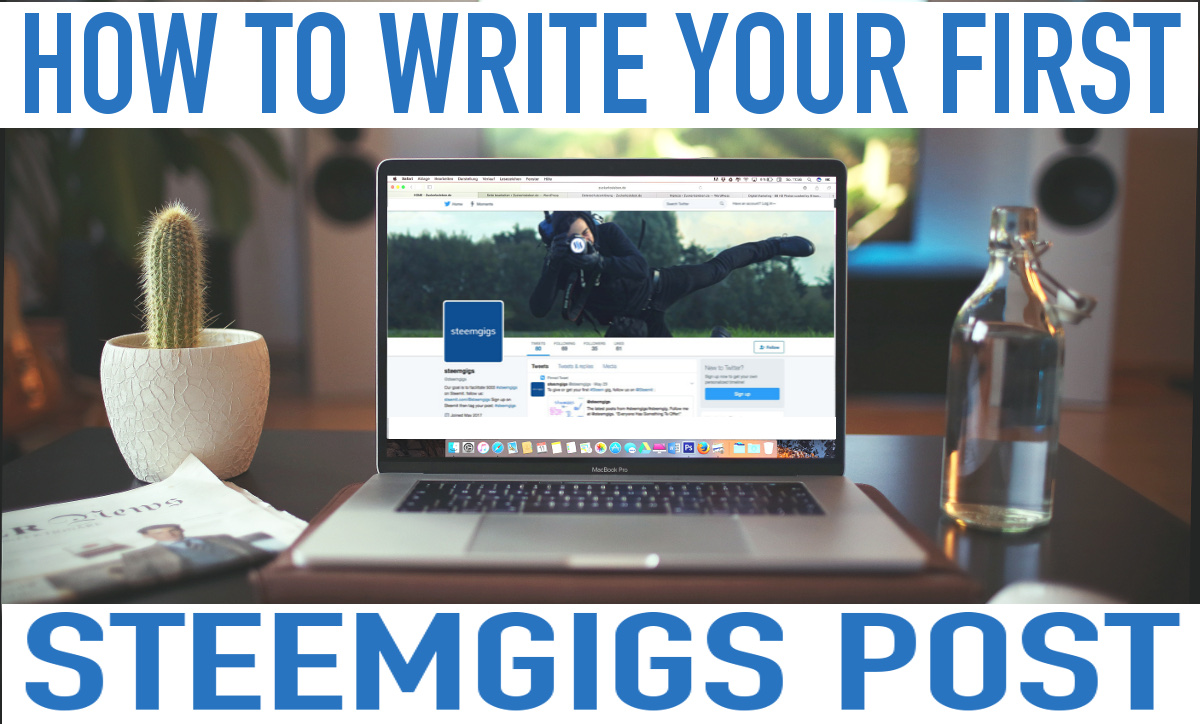 So, you either are looking for a Steemgig or you are offering to hire a Steemian for a Steemgig? If you're not sure how to format your post for a Steemgig, here are some guidelines. Many of us are working behind the scenes to make Steemgigs successful, so following these simple steps will help us, which in turn will help you.
STEP ONE:
Please use the word, 'STEEMGIG' as the first word in your post title.
Example title for someone wanting to find paid work:
STEEMGIG: I Can Create Photocollages For You In Exchange For 10 Steem
Example title for someone wanting to hire Steemians:
STEEMGIG: I Will Pay You 15 Steem To Edit My Video
See this example post to learn how to be clear
Please notice how these titles are specific. Do not make your titles vague! If I can't understand what your are offering, then no one will bother reading your post. THIS IS A KEY POINT. Make your message clear and concise. Using too many words, is just confusing, no one has time to figure out your meaning! No one can read minds.
CLEAR TITLES ARE IMPORTANT!
STEP TWO:
Use the Steemit tag: steemgigs as your very first tag for your post. You need to have it as your first tag because other applications that we use are programmed only to collect the first tag. If you use steemgigs as your second tag, your post won't be collected. This is important.
STEP THREE
Show off your work, in picture form, or description. Post links to your professional pages, websites, and use customer testimonials. Explain exactly what you are offering or what you are wanting to pay for.
STEP FOUR:
If you're a new Steemit user, you would be wise to start forming friendships in here. People will not trust you if you're not connected to others. That's how it works in here. Build up your relationships, comment on other people's posts, and help out as much as you can. This will show people that you are a valuable member of Steemit, not just a user.
STEP FIVE:
Post your Steemgig in the #SteemGigs channel in Steemit Chat: https://steemit.chat/home
I just created a channel in Steemit Chat so we can collect all these Steemgigs in one area, working together to bring some organization and methods for this.
STEP SIX:
Tweet on Twitter using the right tag and mentions: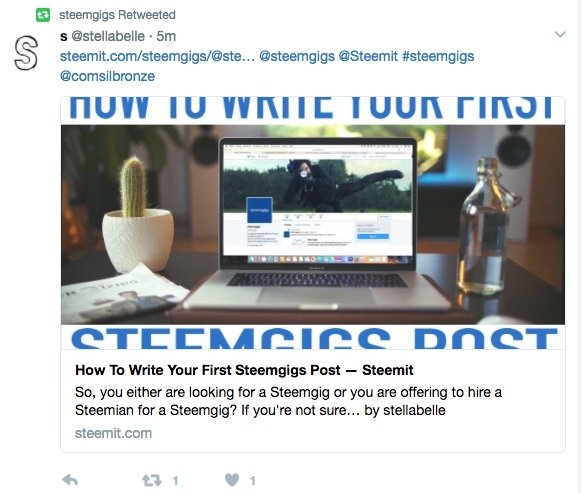 Post your Steemgig on Twitter and mention our account, @steemgigs. Also, use the hashtag #steemgigs in the body of your tweet. If you don't have a Twitter account, make one. We want to disrupt Fiverr, so we need your help in accomplishing this goal. This helps spread your Steemgig to the broader social media sphere. You might want to also mention @steemit, so that the official account can spread your message too.
So, who is working behind the scenes on #Steemgigs?
Well our official Steemgigs account is here: https://steemit.com/@steemgigs so be sure and follow us on Steemit. Steemgigs is the brainchild of @surpassinggoogle. I had a similar idea that I wrote about last year, but @surpassinggoogle is the one whose dream this is....he dreams of creating 5000 Steemgigs for our community, and I want to help as much as possible with this dream.
People who are working behind the scenes to make Steemgigs successful:
@surpassinggoogle, @virtualgrowth, @kus-knee, @thatsweeneyguy, @avarice, @fisteganos, myself and please add your name in the comments below if you would like to help with this project. I don't know if I missed some people, I probably did.....let me know your level of interest and let's see how we can work together.
And please read from @thatsweeneyguy:
"For everyone else, I'll soon be writing a daily article in an upcoming Steem E-zine, all about what steemgigs are being offered and requested. I'll likely also write about successful connections made with steemgigs.
If you have a story about completing a steemgig, or finding someone who can do the work you need done, post these in the steemgigs channel on steemit.chat as well!
Can't wait to see what sort of gigs people get going, and to hear amazing success stories!"
Please Follow Us:
Steemit: https://steemit.com/@steemgigs
Twitter: https://twitter.com/steemgigs
Work With Us In Steemit Chat, We Are The Channel, #SteemGigs: https://steemit.chat/home
If you are good with organizing projects, or a programmer who is looking for a project, please comment below.
I'm an idea person, not a programmer, so we need to get better organized to make this successful. It's getting hard to find all the posts and take action.
Thank you!
Stellabelle
If you don't know about Steemgigs, please read this article I wrote. It explains how Steemgigs could disrupt Fiverr and why that would be a good thing for humanity: https://steemit.com/steemgigs/@stellabelle/5-reasons-steemgigs-could-disrupt-fiverr