Description
---
Hello!
I provide flyer distribution around southern California, USA. I typically charge around $0.20 USD for suburban type houses as I can get about 50 to 100 out per hour. A lot more can go out to cars in parking lots in the same amount of time so the delivery charge for parking lots may be cheaper.
You may provide a flyer digitally to me or I can make one for you for a fee. The production cost of flyers must be paid as well. I am open to picking up fliers at a print shop, if you prefer, but generally, just providing a digital file is best and I can print it out for you inexpensively. Note that flyering is very cost-efficient and is often a better alternative to bulk-mailing and/or internet marketing!
Take advantage of this great service now and get some attention to YOUR BUSINESS!
How will you know the work is performed? I can take some pictures and even use a fitness, step tracking walking maps that show the trails walked and send a picture that way. Plus, I want repeat business, so you can do small orders of just 100 or 200 flyers and see how you fare.
My business is registered in the state of California, as well, and if requested I can send you details prior to you paying any money.
That's it! Order Today! Thank you.
Pricing
---
I will update this gig for a more convenient and informational user experience, but for now, know that we can communicate and figure out what fits your needs and work out the pricing and payment. The production costs are just for ink and paper for printing and sometimes tape or rubber bands, too, if you desire depending on how you want the flyer to be delivered. Commonly, leaving a space on the flyer where the door knobs can fit so each flyer will hang works and if you desire I can cut the flyers for a small fee. Keep in mind and do the math, this is still a very cost effective form of advertising even when you spend on the extras. (You can also pay for thick flyer paper etc just let me know)
Price: Starting at 20 SBD
Delivery: 14 day(s) 0 hour(s)
---
Requirements
---
Is your flyers for homes or cars?
How many of each?
Do you have a flyer designed already?
I need access to the digital flyer or instructions to pick up the flyers.
Do you have a specific area in mind or will you allow the flexibility of my choice?
Is there an alternative way to communicate with you besides through SteemGigs?
The more information the better. Questions are okay too.
  <div class="hide-on-steemgigs">

Portfolio
---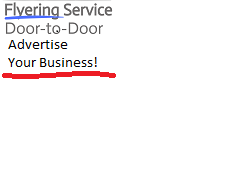 this post was made on STEEMGIGS Where everyone has something to offer