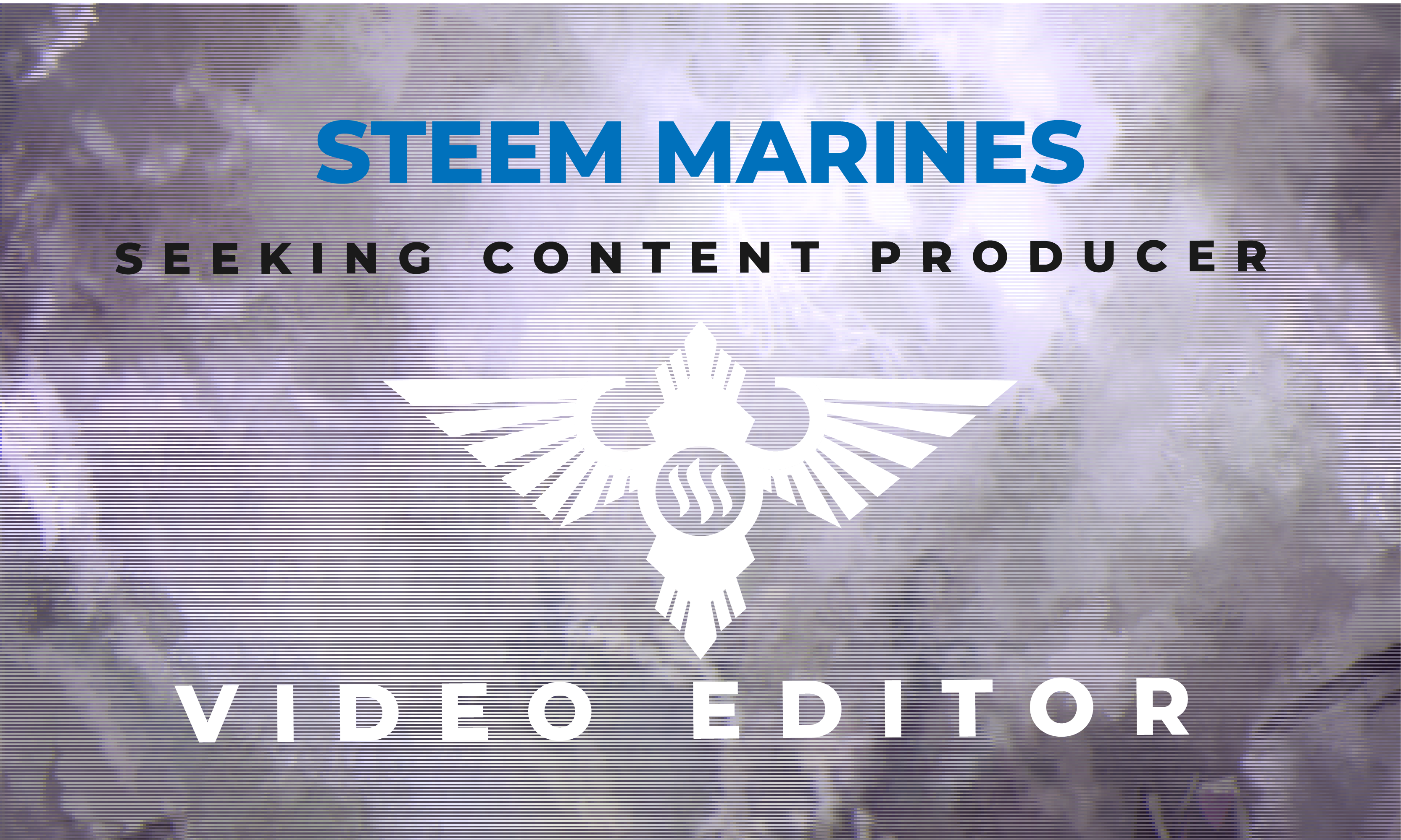 Hello again folks. This is a revised job ad for commission based works for a Video Editor and Motion Graphics production.
After careful review of the first post. I realized that there are some things that need to be changed to make this search a bit more optimized, and a lot more fair for people who are interested.
As you know, STEEM MARINE content will feature a lot of video content, and it's simply too much work for just one person to do, thus why this position.
Below in this post you will find everything you need to know about contracting yourself to this project, and how you can apply, so please review this carefully.
---
Position Specifications
This position will offer commissions per "Composition".
A composition will have a defined specification in terms of what the project needs.
Typically, we're looking at two types of compositions. An intro/outro, or a Edit.
An intro/outro will typically just be that, we're talking use of motion graphics at most here. Possibly 30 secs MAX and an Outro, however more than likely once the outro has been created, it probably won't be needed anymore.
Whilst an Edit will be more along the lines of editing footage and composing so transitions to achieve a more polished and brought together look in terms of that content.
---
What we're looking for
We're looking for someone who has no problem with working with a team. As for now, officially, the project just consists of me in terms of production. I need to be able to discuss things with you and create think flows and brain maps. Share ideas and examples. A professional attitude is a must. And
As the STEEM MARINE's Video Editor, you will be granted the rank of Tech-Priest.
The STEEM MARINES are Custom Army that will be backed by real people. What we want to do is create a very interesting background story for this army, but leave major choices for the community of Steemit to decide.
The compositions that you create will be used for promotion, presentation and even general edits of footage.
---
The Scope of the work
Every month, or weekly depending on pace of production.
I will present you with a description of what needs to be done. Of course, this will be under the 30 seconds max of needed compositions.
Commissions will be based per "Composition".
A Typical Composition will be under 30 seconds of footage.
Completion time would be expected to be 20 per composition.
This will be a long-term project.
Must work well with others.
A composition will require organizational materials such a simple flowchart or brain map to summarize direction
Security Deposits are absolutely fine, but the max is 50%. Escrows will be absolutely okay. But only by a reputable member of steem. I will cover fees.
---
Requirements
Few years experience in Video Editing and production editing
Mid Level - English Grammar
Can create extensive Motion Graphics
Work well with a team
Warhammer Lore Knowledge is a Bonus, not a requirement
Creativity
Much like my other job bid posts. The requirements are not discriminatory. If you can speak decent english and can work well with others, you'll be perfect. But you have to have the experience in the trade. Which is what I'm looking for. No experience with Warhammer 40k is required, but you'll be expected to get into the lore.
---
Your Bid and how to apply
Now if you guys aren't familiar on how a bid works. It's basically an application where you decide how much your commission will be. This is the most fairest way a hiring for creative talent can be.
This bid will be designed in a way to showcase how the steemit platform can be used for hiring.
To bid, please create a post with the following:
Your Desired commission rate per Composition.
I'd also like to see YOUR talent at work.
Provide a few examples of your work.
If you are selected, you will be granted the title of Tech-Priest of the lore, will have a model painted and incorporated into the Steem marine arsenal. As well as be granted your commision rate in STEEM/SBD
Additionally, all server bids will be upvoted full strength by me and @someguy123 and will be exposed to the other early supporters.
When your server bid post is complete, please post a link to this discord channel.
Looking forward to seeing everyone's bids