Przedstawiam bitnal.com - Pierwszy kalendarz kryptowalut zasilany STEEMEM!
Cześć!
Zacznijmy od początku, dlaczego i po co :). Oficjalny profil steemit dla naszej aplikacji jest niezbędny przy promocji. Gdy dowiedzieliśmy się o istnieniu @steemfounders ustaliliśmy jednogłośnie - tworzy profil za pomocą tego narzędzia. Po zapoznaniu się z polskojęzycznymi steemianami (pozdrawiam chłopaków z #polish na steem chat), postanowiliśmy rozpocząć promocję poprzez rodzimą społeczność. Jesteście właściwie pierwszą, zorganizowaną społecznością, która dowiaduje się o istnieniu Bitnala.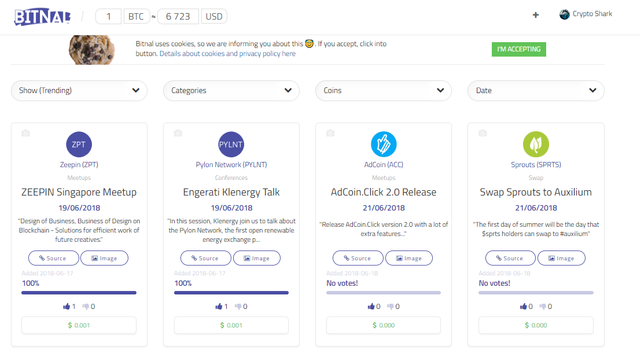 Co z tego będę miał? 🍻
Kto pierwszy, ten lepszy. Jeżeli jesteście inwestorami i na bieżąco śledzicie wydarzenia w świecie kryptowalut - możecie zarobić dodatkowe STEEM. Wystarczy dodać znalezione wydarzenie dla danej waluty (tak jak dzieje się to na coinmarketcal czy cryptocalendar.pro) do kalendarza bitnal.com. Społeczność zagłosuje na Twój content a następnie otrzymasz odpowiednie wynagrodzenie - dokładnie tak samo jak na steemit, dtube czy dlive.
Dlaczego Bitnal a nie konkurencja?
Dzięki sprzężeniu ze Steem, otrzymujesz realne wynagrodzenie za swój content (poprzez głosowanie społeczności). Konkurencja pozwala tylko i wyłącznie na dodanie informacji o adresie portfela, na które społeczność jeżeli chce, może wysłać "Rewards" (patrz coinmarketcal). Zarobek na Bitnal.com odbywa się poprzed jedno kliknięcie - upvote.
Trochę o samej aplikacji
Póki co Bitnal.com jest prostą aplikacją, która ma za zadanie wyświetlać przyszłe wydarzenia w świecie kryptowalut a twórcom tych wydarzeń daje możliwość zarobku. Finalna forma, jaką przewidujemy dla aplikacji to "centrum" bieżących informacji, które pomogłby w oszacowaniu zyskownych inwestycji a twórcom contentu dało więcej płaszczyzn zarobku. Dodatkowym atutem jest przechowywanie tych informacji w zdecentralizowanym rejestrze na który powoli przechodzimy. Zależy nam, aby informacje pomocne w inwestycji były publiczne i ogólnodostępne. Bitnal jest również alternatywą dla grup płatnych, które wykorzystują naiwność nowych inwestorów. Co prawda Steem nie pozwala nam na zrealizowane wszystkich naszych pomysłów ale zawsze możemy uruchomić autorski blockchain, który będzie działał w kooperacji ze Steem.