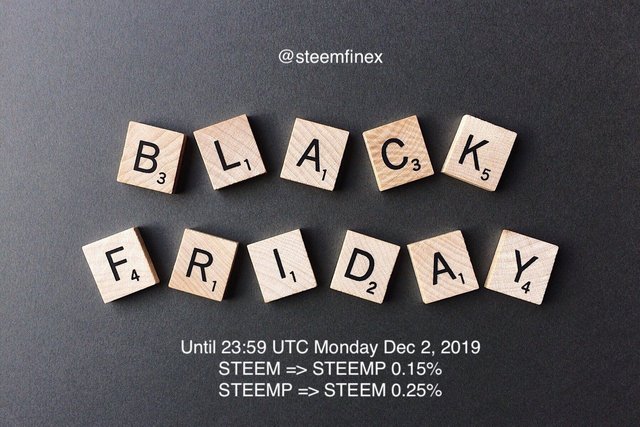 @steemfinex Belated Black Friday and Cyber Monday Event :)
From now on to Cyber Monday 2019, 23:59 UTC
STEEM => STEEMP: 0.15% (discounted from 0.25%)
STEEMP => STEEM: 0.25% (discounted from 0.35%)
discount per hour: 0.005% per hour (same)
min fee: 0.003 STEEM/STEEMP
The fees will be back to normal from Tuesday, 00:00 UTC
Due to the current implementation, fee rate will be based on the actual transaction time, i.e., even if you deposited before Tuesday, if the transaction occurs on Tuesday, the normal fee will be charged.
Currently, there is only 10K STEEMP balances, so exchanging STEEMP to STEEM may take some time.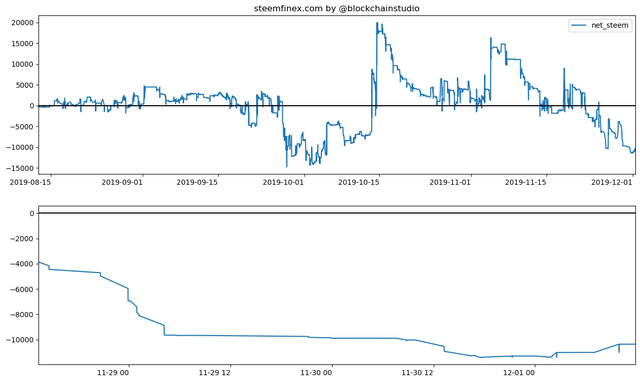 늦었지만 블랙프라이데이 사이버먼데이 기념으로 작은 이벤트를 합니다.
한국시간으로는 지금부터 화요일 오전 9시까지
@steemfinex 수수료를 다음과 같이 할인합니다.
STEEM => STEEMP: 0.15% (discounted from 0.25%)
STEEMP => STEEM: 0.25% (discounted from 0.35%)
최저수수료: 0.003 STEEM/STEEMP
화요일 오전 9시부터 기존대로 적용되고 현재구현상 트랜잭션이 일어난 시점기준이므로 그 이전에 입금했더라도 그 이후에 트랜잭션이 일어나면 기존(비할인) 수수료가 적용됩니다.