SteemFest3 - Find the Sjennon Easter Eggs on the Rollup banners at SteemFest and win a Sweater!
Are you at SteemFest and have a sharp eye? Find me on the rollup banners!
Almost all of us have arrived in the beautiful city of Krakow to father for SteemFest 3. And it's the perfect opportunity to give something back to the people with a sharp eye.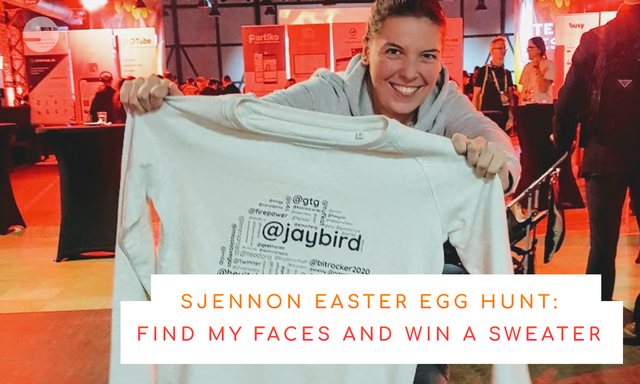 I mean, who doesn't want @jaybird on your boobs?
As some of you know, or have seen, is that I have a black Steemian Sweater which contains about a 100 names from the donations and upvotes of this post. Now, I have a spare white one which I am giving away to the first person to spot me on the rollup banners.
Find Sjennon (2x) on the rollup banners and win the white sweater!
P.S. The sweater is a Women's M.
Zeh rules
Find me on the rollup banners
There are two of me to find
After you found me, head over to the desk to find me and proof it!


Track your followers with SPECTACLES



My name is Shannon, I am a digital designer. Born and raised in Amsterdam, living in Berlin. I write about travel, Steemit, design, food, life and any thoughts I have!