SteemFest⁴ updates - New names, heading to Bangkok, get ready for SteemFest Bangkok Bowling Bonanza and Win tickets (new!)
Excuse me not checking in last week. As we were heading to a family weekend I was crazy busy. Also we had the broker coming to finalise our house rental. This week was all about prepaying downpayments with several suppliers for the event, working on the SF4 program booklet & map, design issues, SteemFest Mobile app updates and... slowly preparing to head to Bangkok: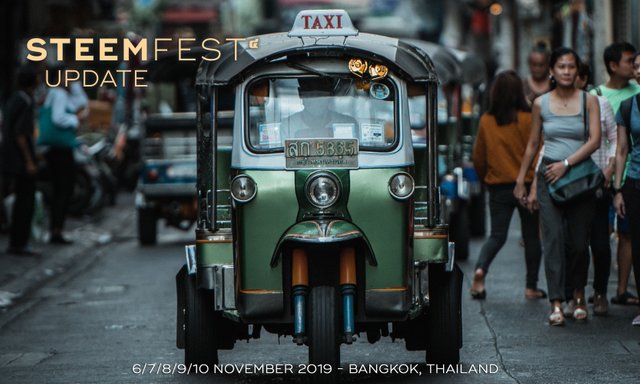 Tuktuk by Joshua Rawson Harris on Unsplash
This Tuesday we'll be (finally) flying out and touching down on Wednesday in Bangkok. After touchdown I'll be helping on bringing the family to our temporarily "new home", a compromis I made with my GF. She: "Yes we can go to Bangkok three weeks prior to SteemFest, but we are not going to stay in a city center hotel for 4 weeks". So we found a place in the outskirts of the city, with about 45 minutes travel time to downtown, but where kids and gf (and daddy after prep duties) can chill laidback in a lush garden (it's the end of rainy season now) and a small pool. Also it's cost-efficient compared to the hotels in the city.
After checking in, zombie after 11 hour flight/15 hour travel, I immediately head back to the city for location inspections of closing dinner and... the SteemFest Bangkok Bowling Bonanza - which is in a bowling alley we will occupy at the end of Conference Day 1, after an (optional) visit to a nearby Temple: Wat Pathum Wanaram. The SteemFest Bowling Bonanza will be held in Blu-O Bowl @ Siam Paragon mall where we also have dinner options served, as well as some Thai Rum (if you want). The (amateur) tournament is on and I encourage you to form teams of 4 prior to heading to Bangkok. IIRC the winners of last year's Bear Bowling are back to defend their title. A combination of group games and knockout phase will ultimately lead to the SteemFest 4 Bangkok Bowling Bonanza Champions.
On Thursday I'm out in the city again for a full day trip together with the main catering supplier, as well as the audiovisual supplier and the livestream people to visit almost all venues for the 2 conference days and conference day 2 evening location. On Friday I'll be meeting with the Prince Palace Hotel to finalise the offering and make sure that all packages I'm sending there will actually be stored away for me :)
By the way, as I am typing this, I'm actually drinking a "Chang", one of Thailand's beer brands, brewed in Ayutthaya: I found a supplier here in Amsterdam and got a box, for our goodbye drinks with friends & family tomorrow. I like it. The beer has a history tho, word is, back in the days it used to have an extra high alcohol vol. resulting in sudden drunkness. Nowadays that is regulated, but it still got it's reputation :)
Oh... and this week Nate from @steemstyle-io announced his epic SteemFest t-shirt design which is available via SteemStyle.io:
New Names Announced:
Win tickets for SteemFest4 with Peerplays Grants!
The latest SteemFest sponsor is Peerplays Grants, presented by Peerplays Blockchain Standards Association (PBSA) - They are raffling 2x an entry ticket to SteemFest4 in Bangkok.
Check the post here
to join in!
Reminders:
Have a great weekend!
@roelandp
Rewards from this post will go to organising @steemfest
(simply by setting the beneficiary)
SteemFest's ticket reductions are made possible by generous donations from: