Sure, much time goes into this thing, but please don't feel sorry for me. I am currently "awaiting" a wedding in Greece (island of Crete, see @timsaid's recent timtravel posts) so my office / laptop has moved to a terrace on the beach for a couple of days :)
Gosh,... that tidal noise is disturbing....
Headlines!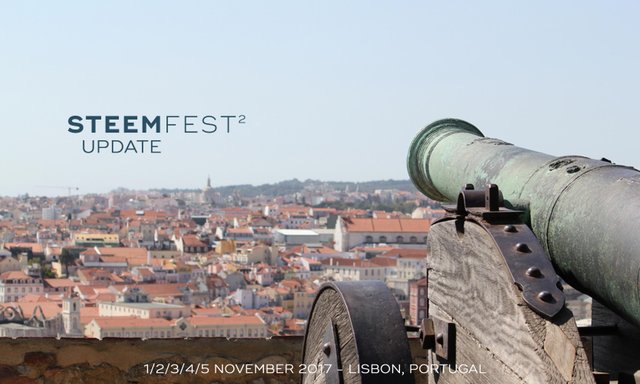 New names talking / performing at SteemFest² announced:
---
Week updates
This week was mainly about working on the draft schedule and seeing whether requests for talks where able to be fitted in the program. But actually whenever you try to set things in motion other stuff comes on your path. Steemit.chat chatting, writing invite letters for visas, trying to get hold of that one person in Lisbon, sharing the
SteemFest Press Release
with (blockchain) media outlets, getting the word out about the
SteemFest Blockchain Hackathon
, which Mitchell got to crosspost/co-host on
'Portugal Blockchain' meetup group
with 800+ members.
Additionally some work on the #ArtAtSteemFest for which more info will be released soon but across the blockchain you might already find some hints. Furthermore more wheeling and dealing with locations, more prepayments, prepping the livestream, preparing the maps and other prints.
---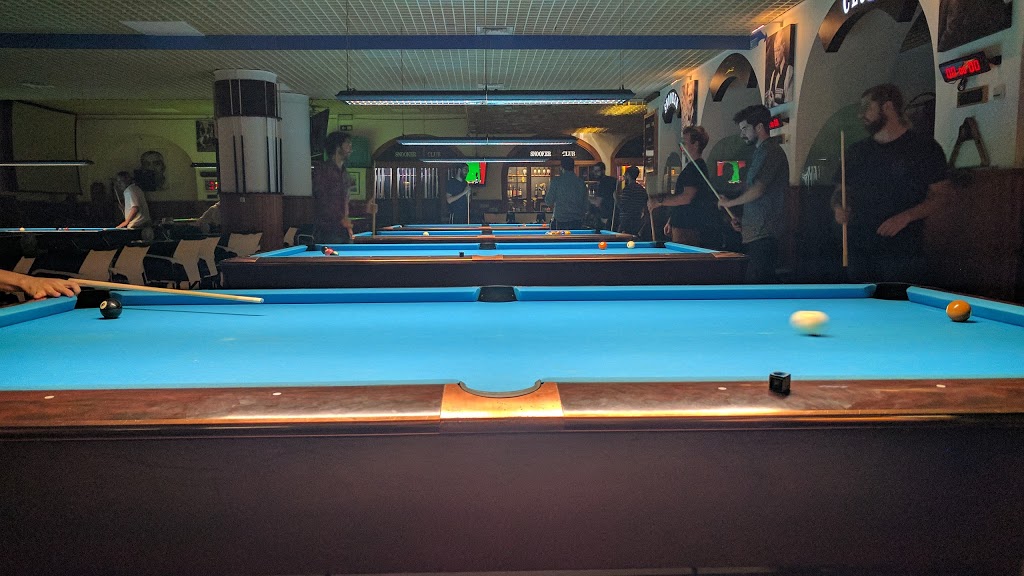 Venue Spotlight: SnookerClub Lisboa - Mingle, Pool & Dance!
After the dinner in Conference Day 1 in Centro Cultural de Belem, the busses will take us to
SnookerClub Lisboa
. This Snooker & Pool hall is a bit quirky but I like it as it fits the colourful mix of people Steemit is known for. Party anywhere is the motto, as long as we are with a great group of people. The SnookerClub Lisboa consists of 10 pool tables, has a darts area, and is run by 2 of Portugal's national champions together with Isabel. It has a fun bar and we'll make sure to put on some music. All night pool tables, drinks and some snacks to keep your stomach happy too :) At the end of the night it is
only a short stroll
up the Avenida da Liberdade to the Praça Marques de Pombal / HF Fenix Hotels area. Alternatively you can dance the night some more away at neighbouring clubs & bars, however don't forget conference day 2!
---
More names and location updates to be announced :)
Please... Don't forget to book a room in HF Hotels starting at € 82 / room / night including breakfast. Book directly through the HF hotels or Booking.com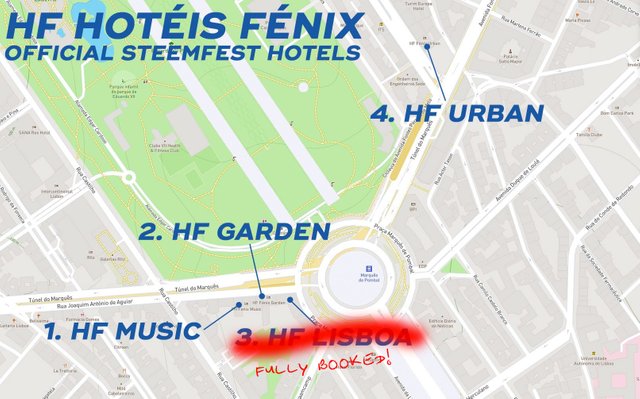 | | | | |
| --- | --- | --- | --- |
| 1. | ★★★ | HF Music | brand new with a swimming pool on top |
| 2. | ★★★ | HF Garden | build in 2008 with several awards and a city garden |
| 3. | ★★★★ | HF Lisboa | cosmopolitan 4 star hotel with city garden and spacious lobby - this will be the SteemFest homebase |
| 4. | ★★★★ | HF Urban | spacious rooms (at 500 meter walk from the above 3 hotels) |
If you have room booking problems, please use a clean incognito browser, remove your cookies and pick from the dropdown in the topbar on the hotel site: 'All Hotels in Lisbon'. If you still continue to have problems use the contact form or call the hotel directly. They are very helpful in getting you a place to stay!
---
Wishing you a great weekend already,
Greetings from Chania, Crete, Greece,
---
Liquid rewards from this post will go to organising @steemfest