This is my entry for the second phase of the @blocktrades & @thewritersblock Steemfest ticket giveaway, hosted by @anomadsoul. The theme was 'write a story about the challenges your protagonist must overcome in order to reach Steemfest.' I hope you enjoy.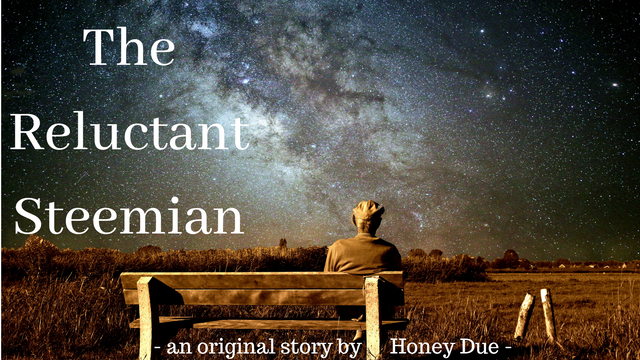 Tobias Menderson was a tall, distinguished individual who, at the age of seventy-five was entitled to hate everyone and everything and he did so, accordingly. But the thing Tobias hated most in the world was other people.
And although he went to great lengths to keep them away from him, there were times when dealing with others was simply unavoidable. So it was that that, on an early Wednesday morning, Tobias found himself sitting on the window seat in row 34B of a great big plane headed for Poland.
He was going to Poland to attend his company's annual meeting. I won't bore you with what Tobias' company did, only that it made loads of money and of course, being his very own passion project, the meeting would be a party of one.
Mr. Menderson had gotten in the peculiar habit of dining out, in a reserved conference room fit for 500 attendees all by his lonesome. And he couldn't be happier.
The downside was that his private jet was being repaired just now and so, he was forced to board a regular airplane and be surrounded by peasants for the next three hours.
He sat, doing his best to ignore everyone around him, including the mightily annoying ladies explaining what to do in case of emergency. On his personal plane, he would've never had to sit through such boring blabber because his plane would never have an emergency. It knew better than that.
But in the name of passion, sacrifices must be made.
Tobias is dreaming of the quiet to come when an irritatingly cheery voice interrupts him.
'Are you going to the conference?' the voice asks, undoubtedly coming from the jolly looking chap to his right that he's done his best to ignore ever since he boarded.
Tobias opens his eyes slowly, wondering how on Earth did this imbecile know of his conference.
'What in Heaven do you mean?' he asks, glaring at the man.
'The conference, you're going to Steemfest3, right?'
'Most certainly not,' Tobias replies, relieved.
'Come on, I know you, you' re @longfellow63, right? I've read some of your stuff,' the man pushes on.
'Look here, I am not this long fellow of which you speak, nor am I going to your bloody conference, now would you please stop talking to me?'
'Suit yourself,' the man shrugs, 'but I just bet you'll jump on me when I least expect it and go bah, fooled ya.'
'Yes, you go ahead and bet that,' Tobias closes his eyes again.
'I can't wait, you know, it's so exciting, I mean I don't even know most people there, it's going to be such fun,' the man blabs on, ignoring Tobias' wish for silence.
Tobias groans, turning away.
'I don't look it, but I'm really not a joiner, you know, but I figure what the hell, let's do something fun, right?' the man grins.
'And man, I'm so nervous, like what if I say something stupid, I mean I don't know that much about cryptos and surely, there'll be people over there who are like–'
'Excuse me,' Tobias bellows, 'but can you shut up? For one damn second, can you be quiet? I am not going to your silly conference and I do not care about what you think about it, what you've packed or whatever the hell cryptos are! Now, be quiet!'
It is not in Tobias' nature to yell in such a manner, but he must admit it gets things done.
Tobias closes his eyes, reveling in the blissful silence and sleeps undisturbed, through the rest of the trip.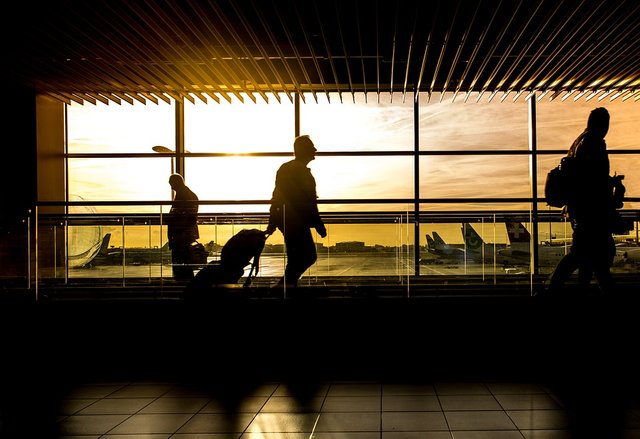 He opens his eyes to see the early November morning sky glaring over the outskirts of Krakow. He smiles when he notices that the seat beside his is deliciously empty.
Outside the airport, Tobias thanks whoever is up there – it's all downhill from here, he thinks, as he hails down a cab. One short trip and he will be in his hotel room, unperturbed by this plague that is humanity and then, he will be free to enjoy his annual meeting of one.
'Why are we not moving?' Tobias asks once he's inside the cab.
'Driver shortage, sir,' the cabbie replies, 'I can't just take you.'
'What do you mean?' Tobias insists. The prospect of sitting with someone else sickens him. 'I'll pay you double.'
'Don't work, sorry,' the guy shrugs and Tobias is about to reprimand him, to tell him that it's his money and...But he doesn't get to open his mouth because just then, the other door opens and in scuttles none other than the annoying man on the plane.
'Oh,' he says, sitting down.
'Where to?' the cabbie asks, oblivious to the awkwardness.
'The Qubus hotel,' the two reply in unison. They stare at each other, one with a grin on his face, one with a frown.
'I knew you were coming,' the guy says quietly.
'What the Devil, do you mean to tell me your silly conference is taking place at the same hotel as mine?'
But that can't be, the staff knows he prefers an emptier hotel. And if these Steemfestians are anything like this man, they will fill the hotel with their disgusting cheeriness and noise and they'll probably crawl everywhere. This would totally disrupt his conference.
The man just sits there, nodding. 'Guess so, I'm Peter, by the way, lovely to meet you. Listen, I know we got off to a bad start on the plane, but do you think maybe we can start again? It'd be a shame not to since we'll be neighbors and all,' he says, putting out a hand.
Tobias, ignoring it, scowls. 'We will not be neighbors in the least, you will not disturb my conference. You are probably too poor to dine where I dine, so you will not bother me at all.'
Despite Tobias' obvious unease, Peter goes on to tell him, in detail how he came to join this Steem thing and why he's going to this conference. And despite himself, Tobias listens and it seems silly to him – to go all this way to meet some people off the Internet. Having to deal with people on a daily basis was terrible enough, but why travel and actually spend hard-earned money to meet more?
It must be some sort of cult or something, he concluded, nodding every now and then. He's established, by now, that it wouldn't do to ask Peter to be quiet, so he just played along. He'll be rid of him soon enough.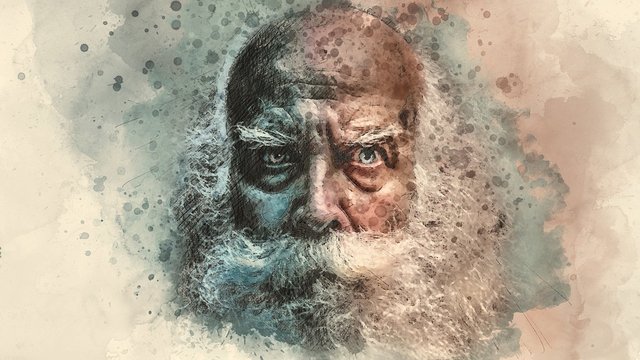 When the taxi stops in front of the Qubus hotel, Tobias is the happiest man in the world. He's already dreaming of the long soak in his tub. Alone, not a sound around.
He mutters a farewell to this annoying little man and walks up to the reception desk. He vaguely recognizes the girl behind it. She doesn't look at all at ease. Join the club, Tobias thinks.
'Mr Menderson, yes, we've been expecting you,' she hesitates. 'I'm afraid I have some bad news. Your usual conference room was overbid by an international conference and all the others were booked, so we couldn't, um, find you a...room. For your meeting.'
She's staring intently at her shoes now, cheeks burning bright.
And Tobias feels as if he's been struck by lightning.
'What do you mean overbid? Since when can someone overbid a reservation? I've had the conference hall booked a year in advance, what sort of travesty is this?'
'It's the new hotel policy, sir. Our board of directors decided it would be silly to keep the room when someone was offering much more and for an actual conference.'
'Actual conference? I've been having my annuals here for over twenty years, how dare you call them fake? They didn't seem fake when you were taking my money, did they?'
'Sir please,' she says, 'we've spoken with the Steemfest organizers and they said they'd be glad to let you join them for free.'
He stomps away, red in the face and cursing the entire country.
'Sounds like we'll be neighbors after all,' Peter chuckles, behind him.
Without replying, Tobias goes up to his room and pours himself a hot bath and then sleeps and then has another bath. But then, how many baths can one take? He becomes bored by even the sight of the tap and so, against his better judgment, he puts on his suit and goes down to the conference floor. Just a peek inside, he tells himself. Might even be amusing.
But when he looks inside the Steemfest conference room (his room), it is not amusing, it's hell. Inside, masses of people are chatting and laughing away. They're embracing and yelling out across the room as if they haven't seen each other in a long time.
And Tobias stares, mesmerized as well as appalled. How can someone be so happy to see another human being? Seems absurd.
'Hey, you made it,' Peter says, seeing him from quite a long way away. Oh no, now he's busted.
Tobias tries to slide the door closed, but the damn thing is jammed.
'I knew you'd come,' Peter grins, motioning him inside. 'Come on, the conference is about to start.' They sit down in the back row and Tobias sees that indeed, a young man has appeared on the stage and is asking people to quiet down.
'This must be the boss,' he whispers.
Beside him, Peter laughs. 'There is no boss. He's a big shot, yeah, but there's no leader.'
'What do you mean no leader?' Tobias asks, outraged. In all his years as a businessman, he's never heard of something so mad.
'That's a thing of the past, man,' Peter says. 'Have you never heard of a blockchain?'
Tobias shakes his head. It's a word Peter mentioned in the car, but he wasn't paying much attention. Must be one of these gadgets young people are so fond of.
'Boy, you're in for a ride,' Peter grins.
And he couldn't be more right. Tobias Menderson is in for the ride of his life. He sits quietly at the back and for once in his life, he listens. He watches the parade of people on stage and sees the audience interacting. And he sees this great big world he knew nothing about open up to him. And the strangest thing happens, he begins to smile.
He realized, a few months ago, that his company was lacking something. But that wasn't quite right. His life was lacking something and he has the unnerving feeling this is what it was.
He follows these so-called Steemians to dinner and listens to their jokes. He allows Peter to introduce him to all these welcoming, smiling people.
Late at night, he walks to his room a changed man. The phone rings and he recognizes the voice of the reception girl.
'Sir, I pulled a few strings and was able to get you a private conference room, if you still–'
'It's alright,' he cuts in, 'I don't need it anymore. I've already got Steemfest to attend.'
The End
Thank you for reading,