STEEM FEST III - ♠ ♦ POKER TOURNAMENT ♥ ♣
The STEEM Fest P♠KeR Tournament!
---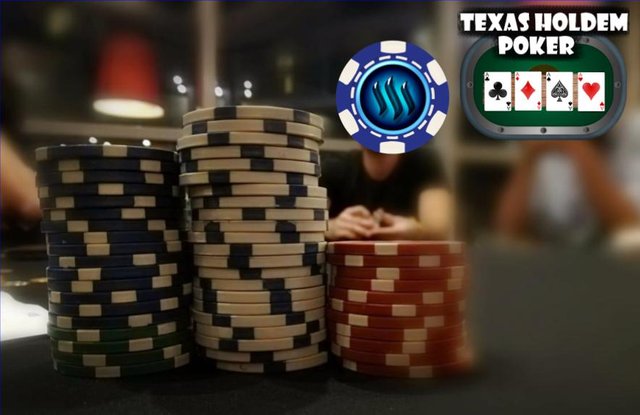 ---
I was so looking forward for this tournament, which was an excellent activity to share good moments and meet new people. Thanks to @anomadsoul for organizing it! He did not expect so many players, and neither did I. We ended up being a total of 15 people, split at two tables, and I know there were many more wanting to play but could not make it.

The Poker Players:
At table 1, with very experienced people: @leotrap, @nanzo-scoop, @gargon, @aggroed, @pgarcgo, @bubke and @zlatan-spielberg
Then at table 2, also we some experience people: @cryptogee, @anomadsoul, @lizanomadsoul, @blocktrades, @martibis, @gexi, @theaustrianguy, and myself.
---
I did not know what to expect, I just wanted to have fun. But it wasn't until I bumped into one of the poker players in the elevator, who was wearing a hoodie and dark sunglasses already ready with his poker face, that I thought: "Oh sht! What am I getting myself into?". After laughing together I was convinced it was going to be a fun night and nothing to worry about.*
---
So for this tournament, organizers decided how the prizes were going to be split and everyone agreed:
1st place 800 STEEM
2nd place 400 STEEM
3rd place 200 STEEM
---
While we were waiting for the distribution of the chips and the tables to be organized, we shared our Steem Fest experiences so far with nice cold Paulaner Beers from the bar of the Hotel. I took the opportunity to introduce myself to my opponents who were also new friends.
Everyone got their chips and took their seats… GAME ON! Blinds were raised every 15 minutes, both tables took a while to see the first players leaving the game. Everyone was playing safe and analyzing each other. We were all having fun...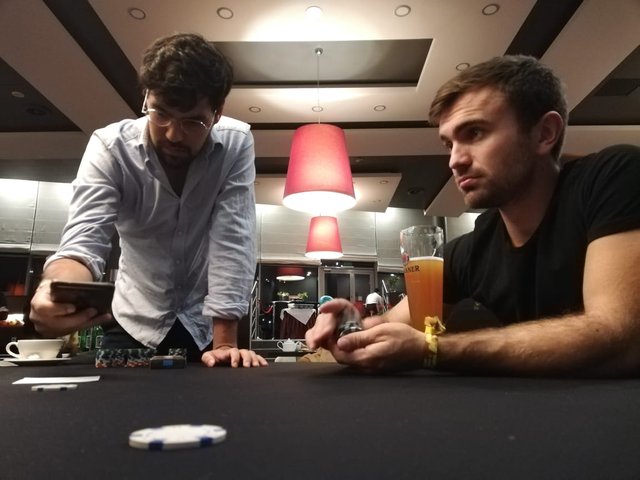 When you play in a tournament, sometimes you have to go for it, if you don't risk you will never win right?
After the flop, everyone folded, it was only me and him, I had nothing with the flop but I was running for a high and a low straight and even a possible flush… "ALL IN!" I said, expecting @cryptogee to fold, but no, he decided to call. For a second I thought, this is the end. The turn came up and my percentages of winning dumped hard, but luckily the river saved my ass with a 7 that gave me the straight I was hoping for.
When I play poker I get excited, that night I believed I behave well, but right after @anomadsoul gave me that 7 on the river (he was dealing), I shouted loudly: "SEVEN!!!" letting my emotions get the best of me. The waiters of the Qubus restaurant looked at me in a way of discomfort, I had to say "sorry" lol.
As a sign of respect I shook @cryptogee's hand, he was playing well and also running for a winning hand. That was for me an exciting moment at our table.
---
"This is it young lady"
That's what I said like 3 times to her when I went all in when we were against each other looking for that nice pot. This time she decided to call instead of folding, but the luck was on my side.
I did acknowledge that @lizanomadsoul, the only woman representing the SteemFest females, played very well and took out several players. She ended up 5th, definitely a really good player. The Queen of Steem Fest PoKeR Tournament.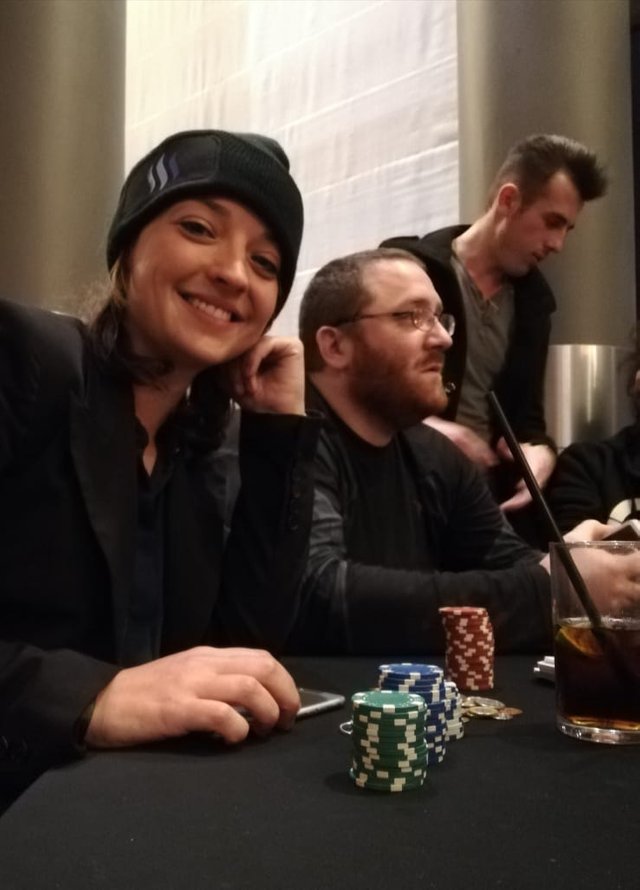 She even came with a fan for this tournament, @gtg who supported her all the way until she could no longer continue. Clearly a good friendship right there!

I had no idea who @blocktrades was until the day after the game, a very quiet poker player who played safe during the tournament. Very hard to read, he made it to the final table. I bet he didn't have strong hands most of the time and I am sure the story would have been different if so. According to the people in Steem Fest, he is known as a good poker player.
Maybe it was good for me not to know too much about the skills of all the amazing poker players, otherwise my result would have been different.
@martibis came with a good strategy, which for me was not to have any poker face. I could not read him neither so I decided to play safe against him and fold when he was raising. He made it to the final table as well, and a very fun player to play with.
It would have been cool to see in the final table the rest of the Spanish speaker players: @zlatan-spielberg, @gargon, @anomadsoul, and @pgarcgo, only @leotrap and me survived.
I am sure that a lot of good hands were played in Table 1 as well, which was considered the heavier table in terms of experience.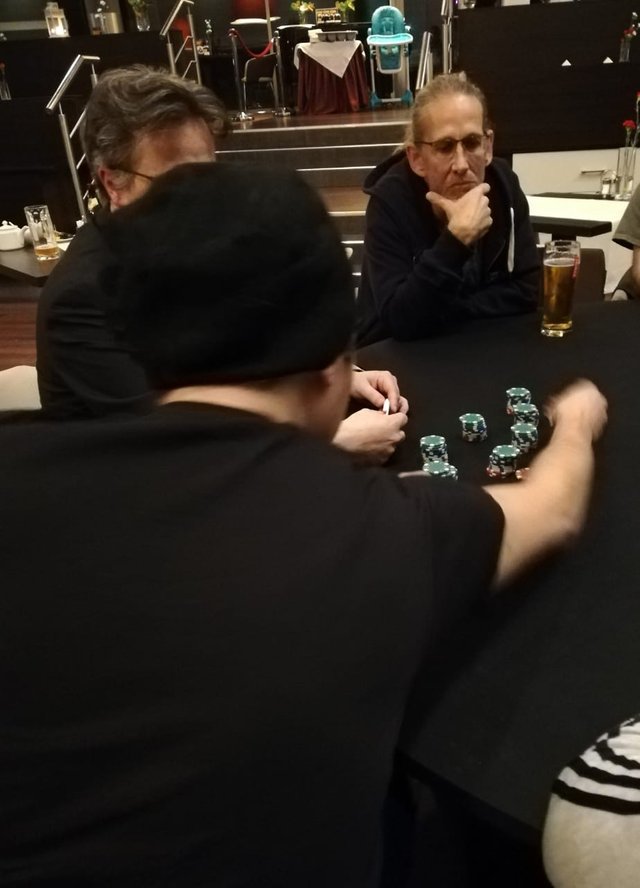 The final 4:
@aggroed, @theaustrianguy, @bubke and myself, sitting looking at each other and wondering how this was going to end.
At this point, no more jokes and laughs, the atmosphere turned heavy with players being concentrated in their game and we only heard the sound of the poker chips, there was silence at the table, even among the audience.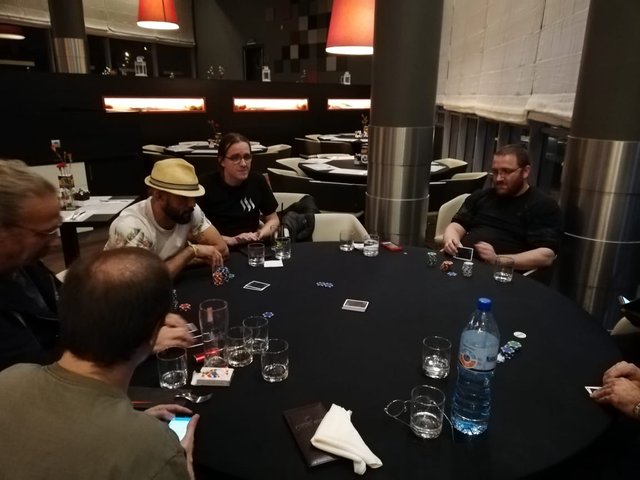 "Aren't you guys having fun?" @aggroed said! This helped to remind we were there initially for the fun more than for the money. We all started to laugh and jokes kept going.
I do want to say I did not know who @aggroed was until I heard him during the 1st day of the conference. As the @steemmonsters creator I thought that I was facing for sure a card game lover and a serious player.
After a few hands, mostly folding from my side and @theaustrianguy, @bubke with an Ace and King won a strong hand against @aggroed who had an Ace and Ten and which luck was not on his side in that moment.
Well, it was time for a toilet break and beer refills before the 3 finalist table started.

The New Champ
We, @theaustrianguy, @bubke and myself felt more relaxed, we all knew we were going to recuperate our buy ins and win more STEEM.
Many good hands were played. Everyone played very well there. After many folds and winning the blinds, @theaustrianguy decided to go all in, @bubke called and I folded. @bubke had the winning cards, and it was time for the 3rd finalist to leave the game.
Only we were left, so @bubke and I decided through a friendly consensus to split the pot (700 Steem for him and 500 Steem for me). Since he got a bit more chips than I did, he is declared to be the # 1 for this version of the Steem Fest PoKeR Tournament.
---
Cheers to the champ: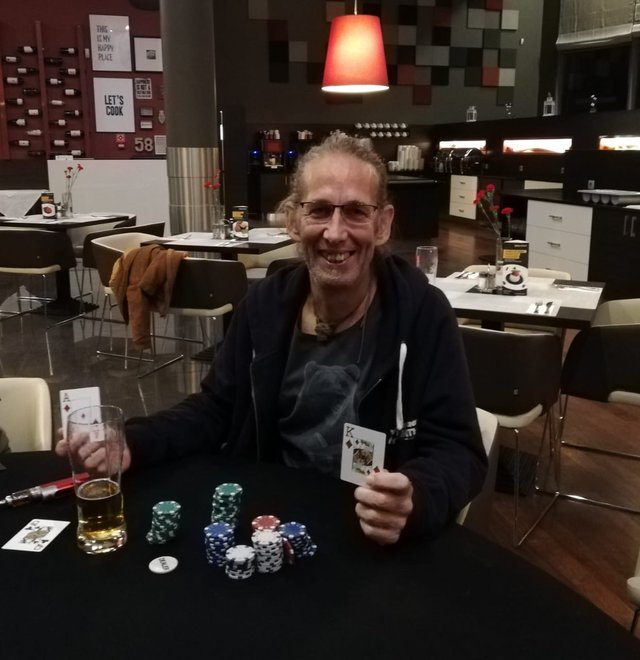 ---
The Finalists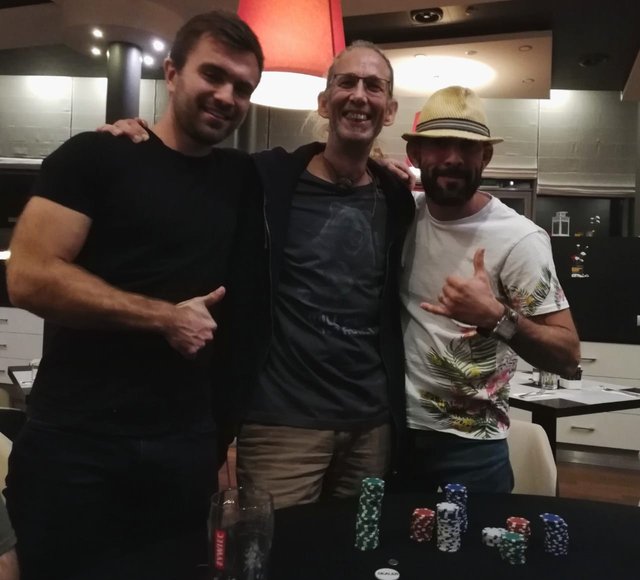 ---
Finally I just want to say that I appreciate the support and cheering from @zlatan-spielberg everytime I won a good hand: "VAMOS PANAMA!" he said it several times, which in English means: "Let's go Panama!"
I can't leave out @guyfawkes4-20 who was also giving me positive vibes throughout this tournament.
---
Once again thank you guys for being there and share good moments while playing cards and enjoying drinks.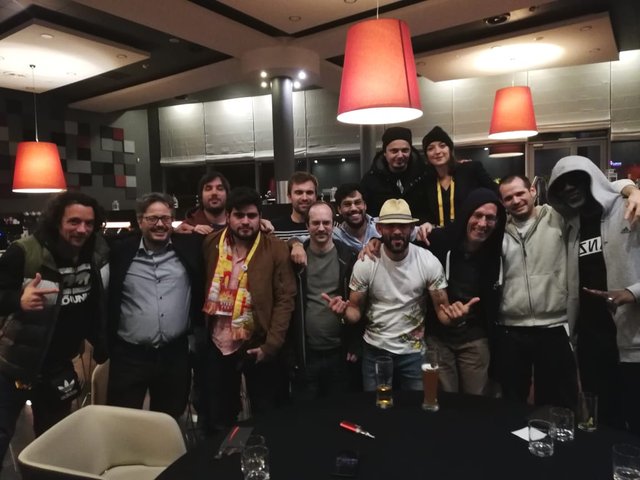 ---
I hope we will see our faces next year, I know everyone will come back hunger. If I make it to Steem Fest IV, I will be there sitting playing cards with you guys again. It was a great night.
Thank You!

---
Image Source: