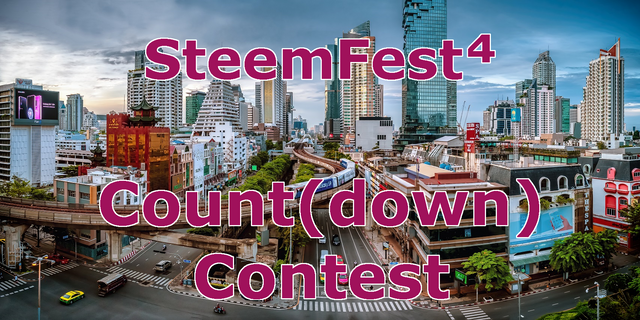 Only a few hours left before SteemFest will start. I'm currently at the airport and I have a few hours to waste turn into fun. So, why not create a quick contest?
Do you know how many Steemians will go to Bangkok and attend the most anticipated event of the year? Hmm... guessing that number will be quite easy... let's make it a bit harder ;)
Remember each time one attends SteemFest, she/he receives a commemorative badge from @steemitboard. The more SteemFest she/he went, the more stars on top of her/his badge.
Last year, at Krakow, there were 274 Steemians who get a SteemFest badge, among them:
189 got a 1 star badge
49 got a 2 stars badge
36 got a 3 stars badge.
Here an exhaustive list of all the 3 stars veterans:
@anahilarski, @andrarchy, @anyx, @arcange, @blocktrades, @dan-atstarlite, @danea, @demotruk, @dobranoc, @ekitcho, @exyle, @ezzy, @felixxx, @firepower, @future24, @gandalf, @gargon, @good-karma, @hilarski, @kevinwong, @knozaki2015, @logic, @mammasitta, @mrs.steemit, @mysteem, @nanzo-scoop, @ned, @pharesim, @rea, @roelandp, @scan0017, @schererf, @shortcut, @sjennon, @timsaid, @twinner
Contest rules
Guess how many Steemians will attend SteemFest in Bangkok per star category!




1 Write a comment like below this post like:
My guesses are:
1 star:123
2 stars: 23
3 stars: 12
4 stars: 3
You must comment before 6th November, 15:00:00 BKK time (SteemFest registration opening)
Prizes
If it will be quite easy to guess how many veterans will attend, the number of "first-timers" will be harder to guess.
Hence the following prize distribution:
| Category | Prize |
| --- | --- |
| 1 star | 100 STEEM |
| 2 stars | 75 STEEM |
| 3 stars | 50 STEEM |
| 4 stars | 25 STEEM |
Same player can win all categories
Winner is closest guess
If multiple players "win", the first guess take the prize (blockchain comment time)
Go, guess it and have fun!

---
Support me and my work for the Steem community.