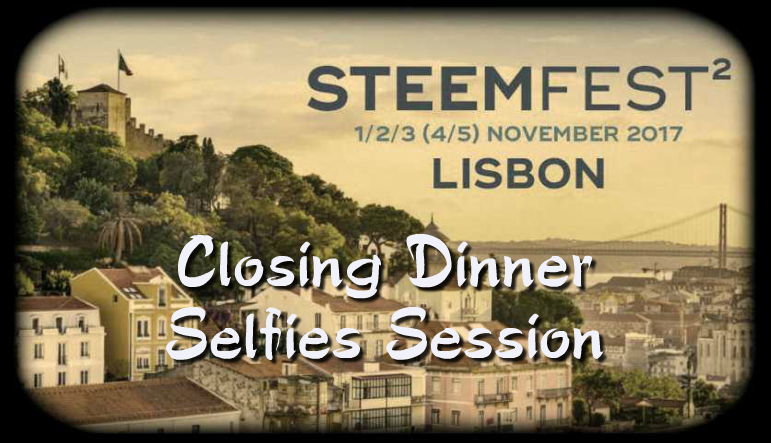 I have always been a noob at taking selfies and been the laughingstock of my children for long.
Fortunately, the Steemfest Closing Dinner offered an unexpected opportunity to trains myself and put an end once and for all to this insolence.
I noticed that everyone was sitting in his chair, enjoying the delicious meal that was served to us, quite static. The perfect moment to take a selfies with all my new friends, without having to buy an overpriced stabilizer.
I also wanted to get a souvenir of ALL the nice people I met in Lisbon, and why not, share it with them.
Thanks to their kindness and complicity, I have done 163 selfies in a row. And now , I can proudly announce that I became "Selfie Certified Level 1".
Unfortunately, level 1 is not very high. In the video below, where I compiled the best of my pictures, you will sometimes notice poor quality in the footage. Out of those 163 selfies, only 87 survived my lack of experience.
Anyway, here is the result of Steemfest Closing Dinner Selfies Session.
I apologize to anyone I missed. I did my best to catch you all in my session.
I also apologize to anyone who did a selfie with me and is not on this video.
To the others, survivors of my training, if you recognize yourself and want a copy of the picture, feel free to contact me on steemit.chat
A very special thanks to:
@roelandp for making this amazing event each year so unforgettable.
@steembirds for making such entertaining songs. I couldn't find anything better to put on my video. You guys rock!
Thank you all, for the wonderful moments I spent with you!
Steem on!
---

footer created with steemitboard - click any award to see my board of honor
Support me and my work as a witness by voting for me here!


If you like this post, do not forget to upvote or follow me or resteem