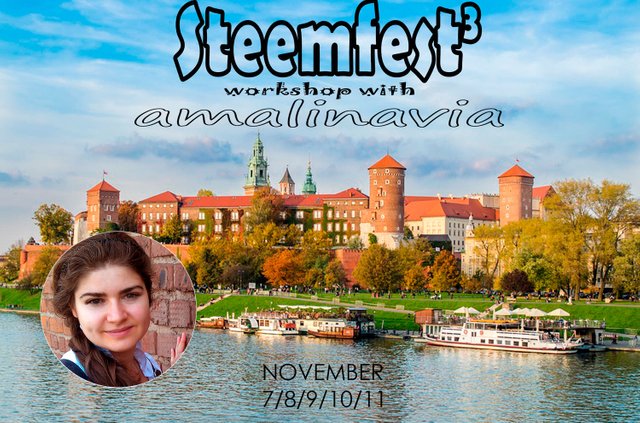 Master Class
Today I want to talk about what awaits you at Steemfest 3. As you know, this year I will make a workshop in drawing. My name is announced on the official page of the event
here
and it's time to uncover some details.
@roelandp and I thought that it would be cool to draw at Steefest. So, I proposed to draw a sketch about a trip to Krakow. I have prepared some sets of markers, which I will share with partisipants at the workshop, and the sketchbooks that you will keep in memory of Steemfest.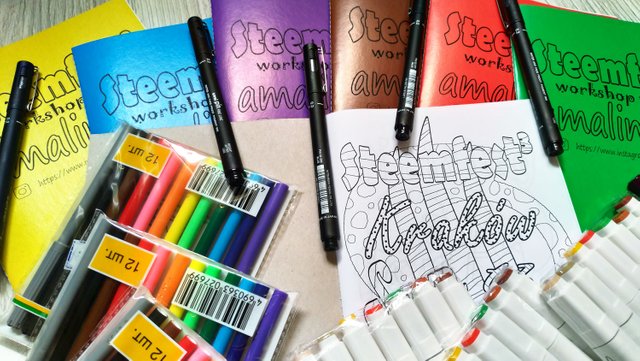 What awaits you in the book? I take a video about what's inside! It is very short, only twenty seconds to watch)))
Did you notice what is in the sketchbook? There are 4 coloring doodles with inscriptions in Steemfest theme, and several blank sheets of paper, on one of which we will draw on a workshop. You can fill in coloring pages afterwards, for example, in an airplane. Or give the children to draw! Included with the sketchbooks I will give you some felt pens for these purposes.
Everyone who comes to my workshop, will receive this set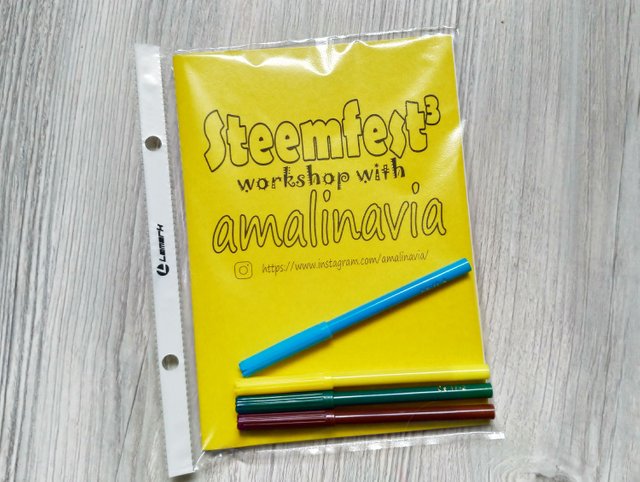 And now a little about the master class. As you know, I draw with alcohol markers. I draw a lot on various topics, but most of all I love sketches from travels. Therefore, we will draw with you with these markers: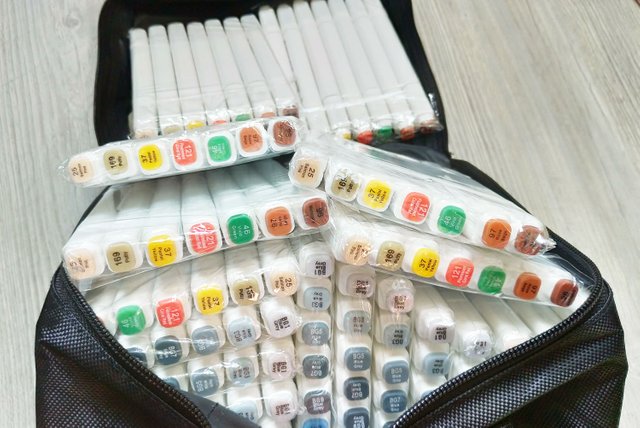 Something like this. I've already figured out what it will be, but I don't want to show it ahead of time))))) So just look at the approximate versions of the possible sketches!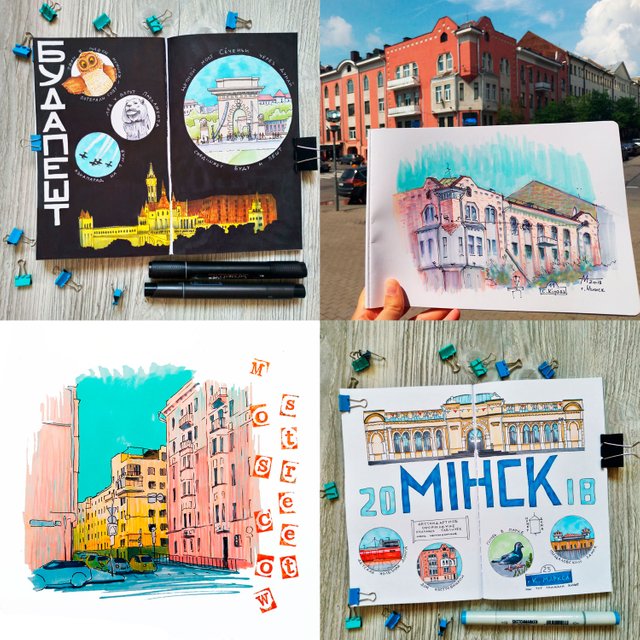 The master class is designed in such a way that even those who have never painted will make a picture! I will tell you what needs to be done in what way, but you will do all the work yourself! I need to know how many sets to prepare. - write in the comments, it would be interesting for you to participate in such a master class?)))
The master class is free, the main thing let me know if you are interested?
A bit of self-promotion:
In addition to it, I have two propositions:
1.. I prepared for printing some
@steemit
stickers (stickers on self-adhesive paper), but in order to print them I need to invest money.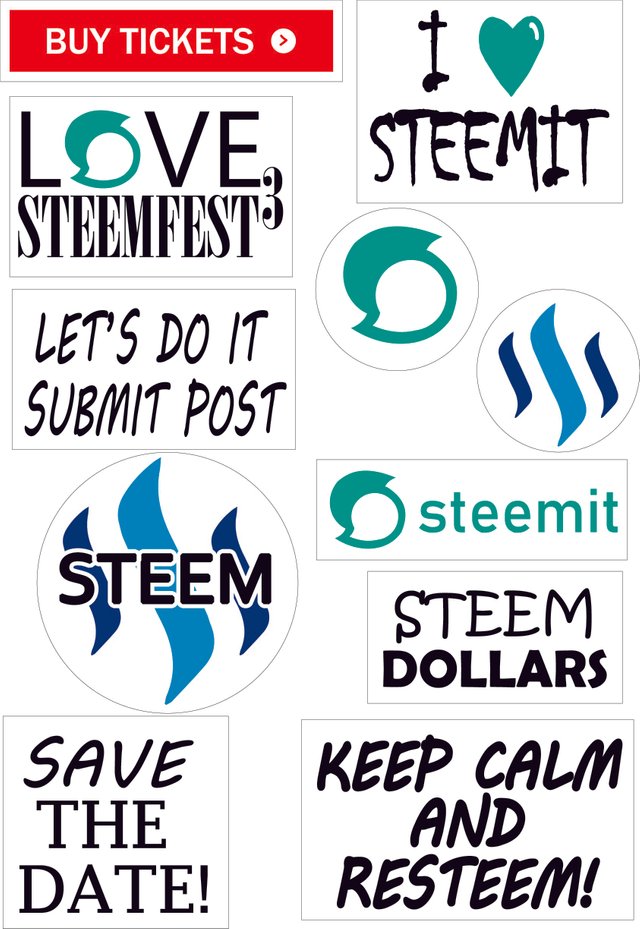 If you want such stickers for yourself (a5 common file format) - then I accept donat to print them. Transfer steem / sbd to my account with mark «stickers». Stickers can be obtained at Steemfest from my hands))))
2.. I draw not only markers, but also with a 3D pen. Recently, I had a post with this vase. And before that, if you walk on the blog, there were several other options for using it.
If you want, I can bring my 3D pen to the fest. Write in the comments, would you be interested ?. Then I will bring my pen to the fest and it will be able to draw. If you want a master class with a 3D pen, then I also accept a donat with a note that this is for workshop in drawing with a 3D pen. Unfortunately, I have only one pen, so for the workshop I will need to rent some 3D-pens or buy them! Something like this =)
Summarize:
I am waiting for you with my markers on Steemfest 3. More details, date, place and time will be soon. It is absolutely free. Just sign up for coming in comments))
If you want the stickers set that I drew, I accept donations addressed to @amalinavia with a note "for stickers". 1 steem/1 sbd. I'll bring stickers on Steemfest.
If you want to try a 3D pen, write in the comments, and I will definitely bring it with me. It's also free. You can try it and draw with it.
If you want a 3D pen, then I can bring it with me. The cost of such a pen is 90 steem/76 sbd. You can transfer to @amalinavia with a note "for 3D-pen". These pens will be yours. If you hesitate, you can "book" a pen (for 1 steem/1 sbd). I will bring it for you, you will try - and if you like it, then transfer the remaining steem/sbd.
Do you have any questions? Ask them in the comments!

See you at Steemfest 3!
---
All my paintings can be bought for sbd/steem
---
Thank you for watching!


Join us @steemitbloggers
Animation By @zord189

P.S. It is hard to write in English, because my native language is Russian. But I'm learning. If you notice serious errors in the text that interfere with the correct perception, please let me know about them.