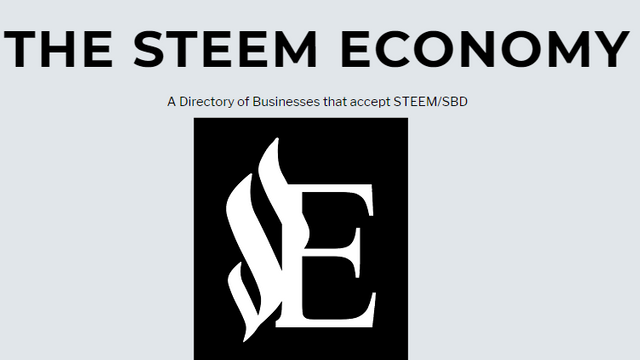 Last week, I announced the launch of SteemEconomy.com - an up-to-date list of businesses that accept STEEM/SBD as a form of payment. The reaction to the site has been great! I have also received several requests to add additional businesses to the site.
Today, I added nine new businesses:
Steem Gigs
SteemGigs is the first freelancing social network on a decentralized blockchain with the power of Fiverr, Upwork & Freelancer combined. They will passionately & proactively help you bring your innovation, dreams, vision, enterprise etc into full-blown life.
https://steemeconomy.com/steem-gigs/
SILVERengines
This agorist enterprise offers the finest high-technology, fully automatic colloidal silver making machine on the planet. They are a cottage industry that does not voluntarily support oppressive human governments.
https://steemeconomy.com/silverengines/
Bodram Chicken – Seoksa Branch
A delicious chicken shop in Korea.
https://steemeconomy.com/bodram-chicken-seoksa-branch/
Xopus SteemPress Hosting
Xopus is a hosting company that will host your SteemPress website.
https://steemeconomy.com/xopus-steempress-hosting/
de Gudde Wëllen
de Gudde Wëllen is a Cafe-Concert in Luxembourg that accepts SBD as a payment for beer.
https://steemeconomy.com/de-gudde-wellen/
Steem Host
Steemhost is a website which works within the Steem blockchain environment but opens up new opportunities for both visitors as well as people in the Steem community who wish to encourage more people to participate. Steemhost offers businesses, organizations and individuals to set up pages which is primarily focused on specifically on them or their contributors to create an online magazine with a Steem twist… hosts and visitors share in the rewards of advertisements found on the site.
https://steemeconomy.com/steem-host/
Liberty Property Management and Brokerage
Los Angeles based property management and consulting. They can squeeze lots of extra value out of a property by subdividing, creating privacy, strategically making alterations, proper marketing, and pricing. Brokerage is available for the right deal. Owner is a voluntaryist and wishes to associate with others like himself.
https://steemeconomy.com/liberty-property-management-and-brokerage/
DGameMarket
DGameMarket is a service to sell and buy games between users.
https://steemeconomy.com/dgamemarket/
Hostel Del Lago
Hostel Del Lago is one of the best known hostels in Guatemala, including a hostel, bar, cafe and events space with daily yoga and a spa. Recognized for their fair prices, events, tasty food, community vibes, creative spirit, and beautiful views of volcanoes at a magical lake which has no measured depth…. yet endless opportunities! If you are seeking the perfect hustle and bustle get away for your vacation, visit Hostel Del Lago in San Marcos La Laguna Atitlan.
https://steemeconomy.com/hostel-del-lago/
Know of Additional Businesses Accepting STEEM/SBD?
If you have or know of a business that accepts STEEM/SBD which is not already on the site, please submit it via the website's contact form.
Check out the Site
If you haven't checked out the site yet, be sure to visit SteemEconomy.com!