Why?
Some of us would like to actually use the blockchain network for sending money rather than speculating on its USD value. Do you pay for movies? Do you pay for books? Certainly the Steem network could be used for that. In fact, https://www.steemfiles.com and https://www.peerhub.com/ are stores for buying and selling digital and non-digital goods respectively
Pegged Assets Currently In the Crypto-Currency Space
Nubits are trading at 17¢! Not a good stable coin.
There are five others: bitUSD, Steem Dollar, Tether, True USD, and nUSD!
| x | bitUSD | NuBits | Steem Dollar | Tether | True USD | nUSD |
| --- | --- | --- | --- | --- | --- | --- |
| Current Value | $1.10 | $0.17 | $0.96 | $1.00 | $1.01 | $1.00 |
| 60 day change | -0.4% | -62.2% | -26.2% | +0.3% | -0.4% | N/A |
| 7 day change | 10.4% | 5.2% | -7.8% | 2.2% | 0.0% | 1.3% |
source: Coin Gecko
Nubits was the first pegged crypto-currency. On the same blockchain there are NuShares that are used to back the NuBits. Anyone who wants to create a pegged-asset currency needs to read about and understand why this failed to maintain the peg in the long term.
bitUSD was a second attempt to create a USD pegged asset. It works on the bitShares blockchain. Long before Tether came out there was bitUSD. BitUSD must be backed by some multiple of a USD in bitShares (I am not sure which value, I have heard different values). Why can we often buy bitShares on an exchange but not bitUSD?
Tether came out as a Omni protocol asset which is to keep the value of one USD. It uses the bitcoin blockchain. A single company keeps the USD money for exchange of the tether assets.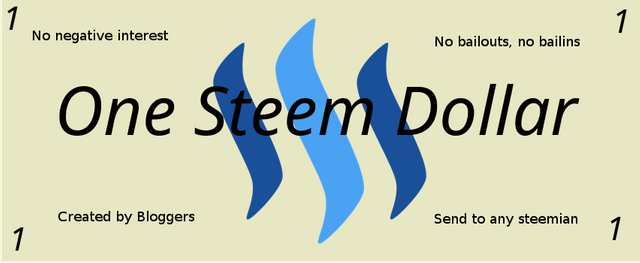 Steem Dollars, hereafter refered to as SBD, are tradable on a trustless market (via blockchain) into Steem (but only Steem), in order to trade them into other assets you require an exchange. You may also trade them with external exchanges but the trustless blockchain market allowed me to get a better rate for buying my SBD. Steem Dollars can always be converted for one US dollar worth of Steem in a blockchain operation. A short while ago, I noticed the Steem Dollar rate was sitting at 93¢. I immediately converted my Steem Dollar holdings using the convert method via Beem because Steemit Condenser devs have decided to remove the convert feature from the UI. It takes the price out of a 3.5 day average, so it may mean this will leave me with less money instead of more if the steem dollar goes above 1 USD and stays there for the next few days. It immediately recovered back to 1 dollar. Certainly this mechanism provides a way for owners of Steem backed dollars to correct the situation should it go below. By converting you lower SBD supply, and you get your value out of it (although it did take time).
Although the holders of Steem Dollars do not complain, the Steem Dollar does have a problem of getting too high in value. A pegged asset should not deviate too much from the US dollar. If you buy when it is high and there is no guarantee it will not go back down to one US dollar, you may find you lose US dollar value on what you buy in Steem Dollars.
TrueUSD offers a more transparent mechanism through use of an "escrow". The funds are not handled by the ompan
These three Tether, trueUSD and nUSD are the newest of the new. It uses Ethereum.
Noomins (nUSD) uses the Ethereum blockchain has a sister asset and has a fee-schedule that pays holders of another token and that other token backs the nUSD. Similar to how bitUSD works but running on Ethereum rather than bitShares.
The winners for the use case of a pegged assets are for now:
TrueUSD, Tether, and perhaps Noomins. Because the combined market cap of all Ethereum tokens is so high, the money tends to be enough to provide the liquidity for contracts like what was hoped for in bitShares. Bitshares and Steem, having much lower market caps, have pegged assets that do not maintain the peg.
Nubits issuance and monetary supply was controlled by people who had a large amount of NuShares. Those who had Nushares didn't suffer from the loss of the peg immediately. The nuShares network had kept it's price correctly for a very long time.
See also
Get some Swift with an ad free faucet: https://www.swiftdemand.com/?referred_by=leprechaun