About a month ago, I discovered a feature on Golos that I really wanted to see migrated over to Steemit, and made a post about it :

The topic got a lot of support, and users seemed pretty positive about wanting the feature implemented here.
I dug through the golos code at the time, figured out roughly what was needed to make it happen and made an elite github issue to track it :

Now that I have some server resources, I've spun up my own copy of Steemit, made the required changes, and tested that nothing else somehow broke along the way.
Here's a screenshot of the votebox on my original post about this issue, running locally with vote percentages being displayed :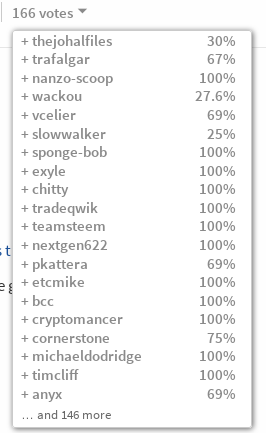 I'm convinced it all looks good, and I've submitted a pull request to make this change live for everyone here :
Fingers crossed everything is well and we have this feature enabled soon!
Like what I'm up to ? Consider voting for my witness!
Current rank: 48

Lets connect !
steemit / twitter / gab.ai / keybase / steemit.chat / patreon
I also made :
steemviz / steemvids / steemcap / steemleak / more tools / post index