Welcome to Day 19th and final day of the 1st SteemDecathlon
Only 1 of the contests had no winners so we are going out with a bang and reoffering that contest!The previous week Steem has roared up the coin market capital list from 32nd to 25th.
For QuickShot #5 We discussed that all invest in altcoins,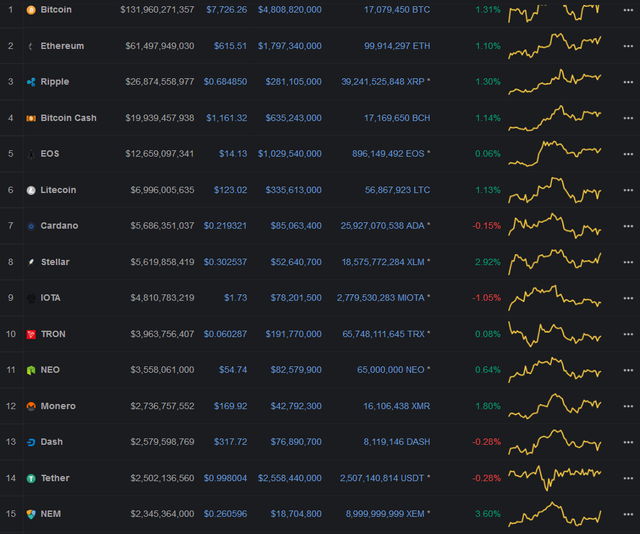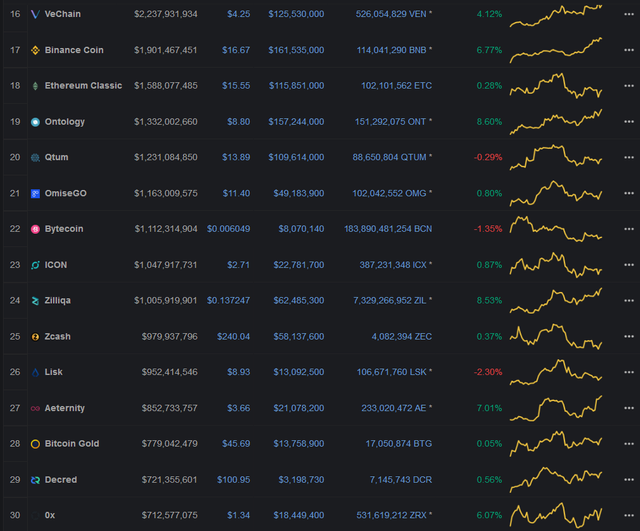 It was the only week in the previou 20 that a new coin did not break the top 20!
right now the top 30 are:
1 Bitcoin Bitcoin

2 Ethereum Ethereum

3 Ripple Ripple

4 Bitcoin Cash Bitcoin Cash

5 EOS EOS

6 Litecoin Litecoin

7 Cardano Cardano

8 Stellar Stellar

9 IOTA IOTA

10 TRON TRON

11 NEO NEO

12 Monero Monero

13 Dash Dash

14 Tether Tether

15 NEM NEM

16 VeChain VeChain

17 Binance Coin Binance Coin

18 Ethereum Classic Ethereum Classic

19 Ontology Ontology

20 Qtum Qtum

21 OmiseGO OmiseGO

22 Bytecoin Bytecoin

23 ICON ICON

24 Zilliqa Zilliqa

25 Zcash Zcash

26 Lisk Lisk

27 Aeternity Aeternity

28 Bitcoin Gold Bitcoin Gold

29 Decred Decred

30 0x 0x


Lets see how well you are doing your research!
Just about every day a coin moves into the top 20.
Here are the rules.
![separatorline_smrjs_wide.jpg](https://cdn.steemitimages.comsa/@richatvns/faqs-for-the-steemit-decathlon-contest-where-the-steem-community-competes-for-recognition


Every participant must complete all the tasks in this list for their entry to be valid.

If you violate any of the instructions in this list your entry will not be valid.

You can only have 1 entry.

upvote and resteem this post, and follow me before you put your entry in, so we can get your friends invited, build the reward pool, and so you know when the next event winners are announced.

You must make your entry prior Tuesday Evening

POST YOUR ANSWER HERE and ONLY your full reasoning on your personal blog post!

Setup a Blog Post with the following Title:
"Steem Decathlon #1 D19E01 "Quickshot!" - Theme - "Cryptocurrency" - The next top twenty coin is: [name of coin]

And set your tags #steemdecathlon #cryptocurrency #investment #[the coin] #contest

Make sure to only place your steemit name, symbol and the reasons why it's going to move up, if you got the info from someone else MAKE SURE you tell us... That's good research . If you used a chart software, to take a picture tell us from where you got it!
After you make your blog post, reply to this post with a link to your post Every correct pick gets a points upto 10 points where first pick gets the most. Also your description right or wrong will be rated for informational content and editing
anywhere 1 to 20 points. So you literally could just choose the only coin that cracks the top 20 but because you did nothing else you would get only 10 points. Grammer, spelling and reasoning count a long way!
The extra credit for this one is post a picture of the Token here and a link to their original white paper.

The first new currency to hit the top 20 after midnight June 6th will be the winner. If more than one contender wins with a match the first to have entered gets first place and that coin is not avaiable for 2n d or third place! can nit be valid unless it dropps back out of the 20 in order. the reward pool distribution will come at 7 days when the upvote rewards on this post are sent to me.

The top 3 places will split the reward pool for this event 50, 30 , 20 (you can only win one reward per event)

Points will be distributed as outlined in the FAQ. The winners will be announced here and the leaderboard will be on Steeminati.com after the events close.
Want to help out contact me on the discord channel