Boys - you want to know where to go!
Children are not always as easy-care as parents want it to be. This often applies to boys in particular. They often need more leadership and clearer messages than girls, so that behavior is socially appropriate and education does not get out of hand. Setting limits is twice as important to most guys.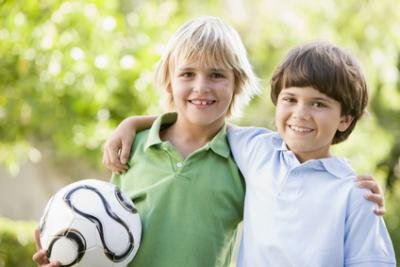 © Fotolia.com
Boys can be so challenging that parents often do not know what to do anymore. In many cases, then an "overautoritarian" behavior begins. The exuberance of children should be limited by hierarchies and penalties. Boys need something completely different, namely clear announcements and sufficient support. Boys need what girls usually take for granted: a lot of love, understanding and attention. This is not easy, is anchored in many guys but a lot of resistance and lust for battle.
Are our boys really that difficult?
How difficult parents feel about their children usually depends on their own perspective. This way, mothers and their boys often reach the limits where their fathers can not feel at all. What women already consider scary as violent is just normal male and boy behavior for men. The reason could be that women are educationally and possibly also biologically conditioned, in need of harmony. They want to smooth out the waves and can therefore endure aggressive boy behavior and motor restlessness. A son then quickly turns out to be difficult - even though he basically behaves according to his equipment. What is partly subjective perception, on the other hand, certainly has a hand and a foot. Restless or aggressive boys are much more common than girls with the same characteristics. This is also because the environment of children has changed. The need for movement of our boys can often be met only with difficulty, often the living conditions do not allow this. Meetings with friends and carefree and unguarded play back behind the attendance of events and events, where the children consume passively to a high degree.
Boy or girl?
It's not easy for our boys today. Educators in kindergarten, teachers, but also the parents often wish for a boy who is more in line with the classic image of the good girl. Gentle, adapted, calm, understanding. The fact that boys have to rage about their very own needs, to be loud and sometimes have to suppress something like that is partly due to very trivial necessities. In crèches and kindergartens, women usually have the helm in their hands and they want it to be quieter and more harmonious. Large groups become an additional problem: there is hardly any room and time for individual romping and being a boy. In the end, even very small boys quickly feel that they are not ok the way they are. Some adapt, others covet and make life difficult for adults and parents.
What makes our guys aggressive
If boys are really overweening and aggressive, there's always a good reason for that. Frequently problems in the family are triggers for unadapted behavior, also influences from circle of friends and school can play a role. After all, the search for boundaries in many cases is one reason why parents struggle with their sons hard. Guys like to measure themselves - including their parents - and go as far as they can. Temperament differences as well as the whole life style also play a role. Too little exercise, too much PC time and the use of violence in the media affect boys in many ways negative. This will get rid of parents and the environment - and the boy has quickly put his stamp on it.
Show your boy where to go!
Especially boys need very clear limits and rules. In many cases they will rub themselves anyway, because they would not be boys if they accept borders without resistance. Nevertheless, it is precisely the small bullies who are helped by a clear, if not rigid, boundary structure, to orient themselves and find a place in social interaction. In many cases, a reduction of television and PC helps to put a load on boys and limit their wildness. Lots of exercise, free play and sometimes boredom leave room for development and ultimately provide more satisfaction and balance.
All parents do the balancing act between freedom and the border and it is not always easy. In addition to all parenting advice, also use your common sense. Above all, fathers can make important contributions here: What was fun in the past, where would you have wished for more limits and what freedoms do you consider absolutely necessary. Empathy with your son can eliminate many minor and major difficulties and lead to loving interaction with clear structures - and that's exactly what our boys need today.
Guys are(n´t) a problem!
Educators, teachers, mothers all too often find boys are a problem. But they are just children with their very own characteristics and needs. What can our boys say that raging and rattling, "macho" grooming and game are no longer appropriate in our world? It's a pity - because boys need it all to live, socialize and find their own identity. Our advice to parents: Let your boys be just as they are and whenever possible. If boys have to suppress some of their personality at an early age, it will eventually break and then in a way that is far more dramatic than throwing it in the dirt and throwing away sand from infants.