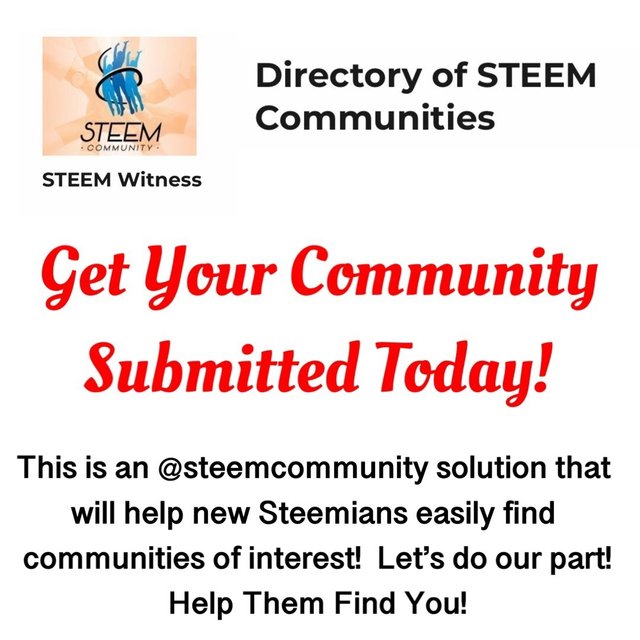 We all love Steemit! It's great being here and sharing our passions, meeting new friends, engaging in contests and discussions and learning new ideas and techniques within our communities...
But wait! What if you haven't found that special community, the place where you can call home here on Steemit? It wouldn't be as engaging and interactive nor as fun and interesting. This is how new Steemians are feeling as they are lost and get overwhelmed with the abundance of information. How much easier it would be for them if they had like minded, relatable people they could reach out to and interact with...those people that make them feel at home.
@steemcommunity has the solution. They are currently working on a List of Directories that is growing as I make this post! Newcomers will be able to search keywords to help find their niche communities to be apart of.

How You Can Help!
If you're a community leader please get your community listed! You can also assign someone to do this for you.
Community members please reach out to your leaders and make them aware of this project!
Make reference of this project at the end of your posts and share the links listed below.
Submit Your Listing
View Directory
Search Directory
I believe with these types of initiatives in place Steemit would have a better retention! I hate to see people come and go because they feel alone and out in the cold. Some newbies are blessed to be found by community members that pull them in and make them feel welcome but not all are that fortunate. Lots of them slip by without us having the chance to help them find where they belong.

Submission Process
The submission process is set up in order for you to submit your community with ease.
First Section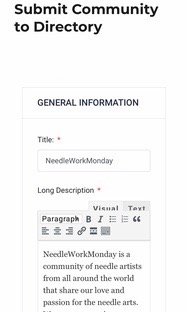 This section involves entering the name of your community and a detailed description ie. what niche does your community cater to, what does it have to offer. For more tips on what to enter in this field please visit @paulag's post.


Middle Section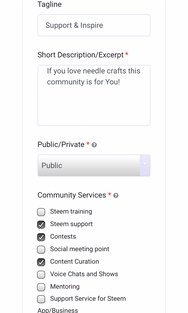 In this section you have an option of entering a tagline that will be displayed right under your community name. What's your community's motto?
Next you can enter a short description or excerpt of your community.
Then you choose whether your community is public or private and select the services it offers from the provided options.
Last Section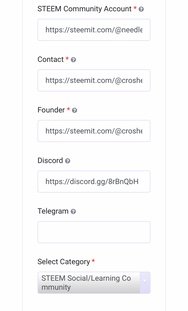 Finally the contact section! Who do we contact to ask questions and get more information? Here you list the url for the community account, the contact for the community, the founder and the Discord link.
There are two options for you to choose for which category your community falls under...
STEEM Social/Learning Community
App/Steem Business Support Community
You can also add your logo image at the end!
Done! Now you just wait for approval of submission and for your community to be listed!

Thank you @steemcommunity for caring! Thank you for the hours and work you are putting in to making people feel more welcome and to easily find a place that suits their needs and interests :)
Information on the directory was taken from @paulag's post. Submission process are screenshots taken directly from my iPhone.
Doing my part to spread knowledge and awareness!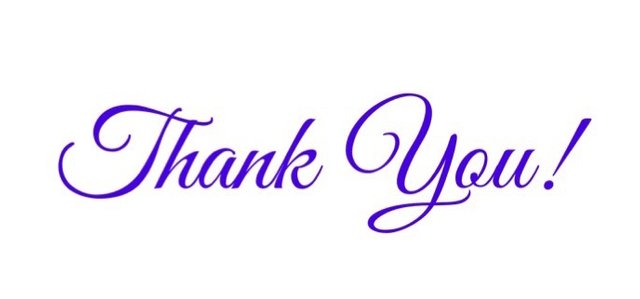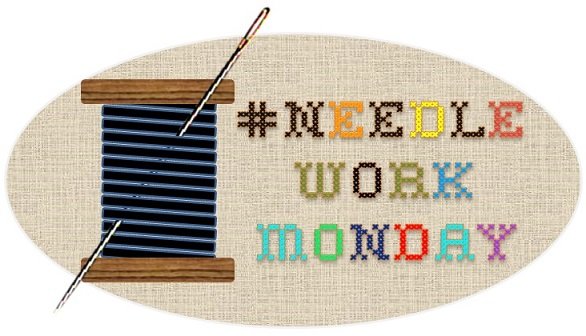 Logo/Banner created by @rigaronib!