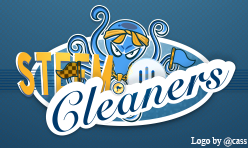 ---
Steemcleaners Posts & Guides:
Tag Spam & High Frequency Posting Guide
Plagiarism Guide
Identity & Content Verification Guide: When to Ask and When Not To
Adding Value to Steemit through Sharing
When is sharing another contributor's content appropriate?
Why Cite Sources
---
If you feel that a comment left on your blog post or a flag was unwarranted, you may respond to a comment from @steemcleaners or speak with someone in steemitabuse-appeals.
---
Anyone wishing to contribute to the project or report abuse can find information here:
Announcing SteemCleaners, the Steemit Abuse Fighting Team!
The SteemCleaners Guide for Dealing with Abuse on Steemit
---
Please use the Abuse Reporting Form to report abuse. If you are unsure if it's abuse please feel free to visit steemcleaners-public or discord chat to ask about it.
Note: Due to the high volume of abuse on steemit and bugs in mentions those mentions of @steemcleaners most likely will not be received and investigated.
---
Report
---