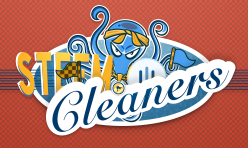 ---
Recently numerous random users have received flags from accounts that sport the @steemcleaners banner. These accounts do not belong to the @steemcleaners team in any way shape or form.
There are currently approximately 90 known accounts belonging to a user who flags Steemians for no apparent reason at all. The flags are tiny and typically cannot damage an account. All of the accounts were recently created through the Steemit faucet and have the default delegation.
Flags issued by an account with a lesser reputation than the receiving account cannot negatively affect the receiving account's reputation. Flags issued by accounts with tiny, baseline delegations, may only have a negligible effect on projected post valuation, if that.
If you received a random flag by an account that's either named after the @steemcleaners or a member of our team or sports our logo or a version thereof, please be aware that this is not ourselves.
This is the official list of accounts that are part of the @steemcleaners family:
@steemcleaners
@steemcleaner
@cheetah
@spaminator
@mack-bot
@sariel
@guard
@plentyofphish
@broombot
Our team member accounts are:
@anyx
@patrice
@pfunk
@logic
@guiltyparties
@pjau
Our accounts and team members do not randomly flag users as we operate within a pre-defined scope for reducing plagiarism and abuse within the Steem ecosystem.