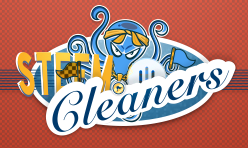 ---
This is an exciting time for @Steemcleaners and for the STEEM ecosystem in general! We had so many great entries that we decided to double the rewards!
1st Place = 200 STEEM
2nd Place = 100 STEEM
3rd Place = 50 STEEM
Please note that this is NOT a tag contest -- we need you to comment with your entry for us to receive it!
Note that by submitting an image to the contest you are granting the @Steemcleaners team the rights to your image.
Current Entries
We've had some amazing entries thus far in our Avatar Contest. Here they are so far and more are coming in. All the participants have done a great job!
Please note that these have not been checked for similarities to pre-existing entities and works. That will be done during the evaluation phase.
Several entries are currently being reworked by their creators due to their incorporation of the Steemit Inc logo. The seafoam green Steemit logo is copyrighted and may not be used. We will do another update highlighting the complete list of entries.