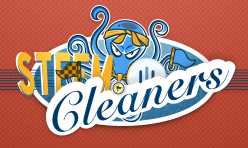 ---
Typically members see the Cheetah ban as the malicious destruction of their profile. They may have gotten a few @Cheetah comments in the past, a few @Steemcleaners comments, maybe a flag here or there. Maybe they ignored them, maybe they replied with a few choice words. All in all, the issue was not corrected and the member was repeatedly found to be plagiarising, copy/pasting full texts without anything original, not citing sources, or pretending to be someone else. And now, suddenly, they are @Cheetah banned and the bot announces their misdeeds to the world.
Not a Bad Thing
Receiving a ban from @Cheetah or the often-unwelcome attention of the @Steemcleaners team is not necessarily a bad thing. Accounts that fall within this category are not getting the rewards they could potentially deserve by going against what the general community desires to see, which is 'original content'. When you plagiarise, copy/paste, comment farm or do anything else that constitutes abuse, you are only harming your own account. You are sabotaging yourself and your potential.
If no one provides feedback for our work past the standard "nice post", we as bloggers have no idea if we're on the right track. Feedback is good. It keeps us grounded, it keeps us inspired, and it keeps us on the path to improvement. This is exactly what the @Steemcleaners team aims to achieve; to provide members with feedback geared towards halting abusive ways to utilize the STEEM blockchain and encouraging them to reassess their blogs and activities.
So You Got Banned

If you see this comment on your blog posts, you've made it onto the blacklist. It's annoying. Everyone knows your content is not to be trusted now. You look at the comment and then you follow its instructions and log into Steemit.chat to appeal it.
Before you start proclaiming your innocence, typically because you did not know better, you should take a moment and reflect on why this happened in the first place. Did you repeatedly copy/paste other users' posts and claim that they were your own? Did you take other users' photographs and edit them to add yourself into the scenery? Did you use Google Translate to plagiarise books written in Urdu and then claim that you wrote them? Did you really think that this was the right, moral and correct thing to do in order to get rewards from the STEEM ecosystem? I think we all know the answer to this question.
How to Appeal
The first part of appealing a ban should consist of a post on your behalf containing the following:
(1) Make an Apology Post
The title must be: My cheetah blacklist. My apology to the Steemit community.
Include links to all abusive posts made by you.
You must write what you did wrong and why it was wrong.
Finally you must apologise to the community.
(2) Post Original Content
Must be a minimum of 7 posts over at least 7 days.
(3) Finally
Please share your appeal on https://discord.gg/YR2Wy5A after posting or jump on the chat prior to writing to receive clarification.
The purpose of this is for you to showcase that you understand that what you did was wrong and to address the community in its entirety. If you don't understand, don't worry. The goal of @Steemcleaners is to educate and assist. Someone will go through your posts with you and ensure that you are fully versed as to why your ban occurred and what took place.
Following your post, you should resume using your account in a responsible and abuse-free manner. Cite your sources properly. Write original posts. Use your own photographs rather than someone else's. You know, be the kind of member others would want to Follow.
Do this for a week or so. After a week, jump back on the chat and show us your profile. We'll be more than happy to remove the ban and get that pesky @Cheetah away from your posts.
Zero Tolerance Cases
Identity theft is a zero tolerance situation. Profiles purposefully designed and registered to steal another person's identity and work will not receive any sympathy from ourselves or from anyone else on the STEEM blockchain. No one steals the identity of another person "by accident". Pretending to be a talented photographer, for example, and then creating a profile using his name, biography and samples of work isn't accidental. Aside from receiving unjust rewards, this also severely victimises and harms the individual being impersonated.
Identity deception is a closely-related offence. Identity deception takes place when a person creates a false identity using the information, work or photographs of a real individual. For example, that can entail finding a picture of a person on Facebook and claiming that person is really the member.
Both identity theft and identity deception are severely frowned upon by the community and may have severe legal repercussions on the offender. They are serious matters that will be treated with zero tolerance. Additionally, users who have been granted an appeal in the past but have gone back to committing the same abuses again are very unlikely to receive further consideration.
But I'm a Real Person!
If your profile has been inferred to be a case of identity theft or identity deception but it is actually you and your own work, you will be asked to verify this as being the case. Verifying can be done by:
Posting a link to your Steemit profile from an established social media account
Mentioning your Steemit profile in a video posted on your established YouTube account
Linking to your Steemit profile from your official website
If you are really who you say you are these should be simple tasks that are relatively easy and only take a moment. However, if you are an impersonator, they are a monumental obstacle.
Improving Your Blog
Remember how earlier we said you should resume using your account in a responsible and abuse-free manner? "Easier said than done!" you may think. "If I stop what I'm doing, I won't get rewards!"
That is incorrect. Here are a few simple ways to revamp your account in a profitable manner that showcases you as a creator of quality original content:
Instead of copy/pasting full articles -- Use a few quotes from the original article, link to the source, and add your opinion about the article
Instead of plagiarising random Wikipedia pages -- Write a post about something you actually know about or are interested in (ie. if you studied accounting in school, write about accounting)
Instead of looking for a picture on Google Images for your #colorchallenge -- Grab your cellphone and go outside to take a picture
Instead of posting random one word comments and upvoting them -- Look for posts you're interested in and write thoughtful comments other people would want to upvote
Instead of using Google Translate to plagiarise recipes from the internet -- Take a picture of your breakfast and lunch and write a few sentences about it
Instead of using popular tags that have nothing to do with your post -- Use relevant tags that describe your content and help others find it
There are many ways to create original content others would want to read and value. Optimizing your blog for quality will help you earn better rewards and keep @Cheetah away.
More information can be found in the Abuse Guide - 2017.
---
Do you have specific topics that you'd like @steemcleaners to address and clarify in our future posts? Let us know in the comments.