SteemChurch - God will never leave you alone.
God will never leave you alone.
Sometimes, when something terrible has happened in our lives, we feel very insecure ... as if no one held us, almost as if we were falling into the void without a network of protection. This can bring a feeling of much fear.
But the Bible has something to say about it. Hebrews 13: 5 says: "I will not forsake you, nor will I leave you ..."
I love that verse. There God speaks with us! Every time I read that verse, I imagine a father teaching his little daughter to swim. I see the dad in the water, extending his arms to the girl who is at the edge of the pool looking at him, very nervous to jump. The dad says: "Come on, jump into the pool, honey, I'll catch you, I will not let you go."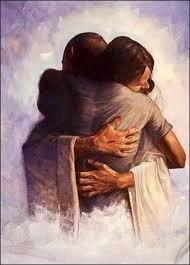 And trusting that her dad will catch her, the girl jumps and is picked up by strong arms in a safe hug. "I have you, baby, you're safe," says his father. He will not let go or leave her. Surely not!
So is your heavenly Father: he will not let you go or leave you. Surely not! He has taken you and you are sure, it does not matter how deep the water is.
After the sudden death of my husband I felt as if the foundation of my world was trembling; I read this verse of Hebrews again and again until it took root in my heart. The moment came when I was convinced that this was true for me: God held me tight; He would never leave me or leave me. It is the same with you. He will never leave you.
"You're not alone"
When you are going through something difficult, it is easy to feel that no one understands what you are going through. Possibly you are very lonely. That makes you feel weak and vulnerable. I know what that is, that's how I felt after my husband died suddenly at the age of 37.
But here's the good news: You really are not alone. I can try it.
First of all, God himself is with you. In 2 Corinthians 12: 9 He says, "And he said to me, My grace is sufficient for you, for my power is made perfect in weakness." Therefore, I will rather glory in my weaknesses, so that the power of Christ".
When you feel weak, God is strong. He is with you. He knows your weaknesses, but He does not say to you: "Come on, lift up your spirits!" No, He already knew that in some occasions you would feel weak and alone, so He says: "Do not worry, my grace is enough for those moments". He wants you and me to know that we are not alone.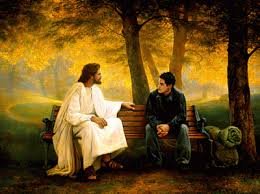 Not only that, but you also have angels around you (Psalm 91:11). I travel all over the country and around the world, and sometimes I take a traveling companion, but very often I travel alone. People often ask me: "Are not you afraid to travel all those places alone?" And I have to answer: "Oh, I'm not alone, God is with me, Jesus is in me, and there are angels around me, wherever I go there is a crowd with me!"
And besides God and all the angels, God has other people praying for you; some of them you do not even know them. Years after my husband died, I discovered there were churches and friends around the world praying for me, for my children and for our church. It was a surprise! But I should not have been surprised because that is what the Bible promises. Wherever you are, wherever you go, no matter what is happening, you should know this: You are not alone.
I think it's okay to ask all your difficult questions to God. I tell people to write them and date them. But what you do after asking those questions is what determines what will happen in your life.
Psalm 23: 4 says: "Though I walk in the valley of the shadow of death, I will fear no evil, for you will be with me." God knew there would be shadow valleys in our life, but the key word is "in". Hold onto the hand of God when you walk in those valleys of the shadow of death until you reach the other side! Do NOT put your camp in the land of questions and pain.
Ask all the questions you have to ask, then leave them in the "background" of your life, while you focus on God in the "foreground." That's what you and I have to do after asking our questions: Let them simmer while you focus on the front burners: focused on God. Continue to trust in Him, believe Him, read His Word and grow in Him. Continue to look forward to a bright future.