Remember to keep my shirt spotless, that's all He asked of you!
So gory is the scene, as the two friends fought inseparably over an insignificant argument that gone weird. People were seriously holding them down, when the older one slipped away from grip, and picked up an empty liquor bottles with his two hands, broke it against each other, and was sending it repeated on his friend's chest, stomach, and head mercilessly like someone punching a bag of sand, the other person was seriously wounded, which resulted in too much bleeding and lost of blood, he died.
Mr strong, seeing that his friend has died, started running as the angry mobs were angrily pursuing him with all kind of weapons to avenge the death he caused..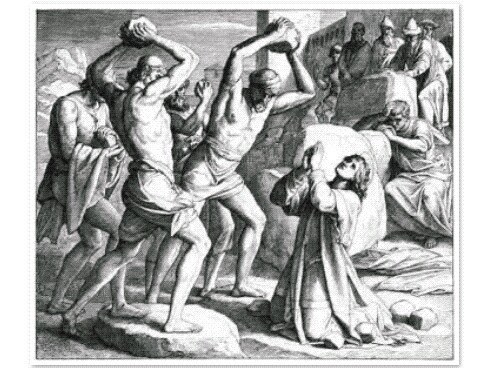 He ran to a Christian house, knocked and the door was opened, behold a man with his cloth covered with blood; what is the problem, young man?...the owner of the house asked.
Please sir, there is no time for question now, can you hide me in your house, some people are after me and they will kill me, if they catch..the man let him in, and then, he explained all of the incident to him.
The man watched outside and saw the crowd running towards his house, he called the boy and ask him to off his cloth and give to him, they exchanged their clothes, the man now is the one on bloody clothe, when the angry mob knocked, before he open the door, he said to the boy.. "REMEMBER TO KEEP MY CLOTH SPOTLESS" he came out with the bloody clothe, they took him, dragged and beat him up, he's almost dead when the policemen intervened, he was taken to court, and later convicted and sentenced to die by hanging...
At home guilt conscience, was tormenting the boy, to the extent, that he couldn't bear it again, he raised and appeared before the court and tell the judge that, the man he sentenced to death is innocent, that he is the true murderer; the judge said to him that it's too late, he's already sentenced to death by hanging, he rushed to the execution ground, lo.. and behold him laying dead on the ground;.
He wiped bitterly and all he could hear is the man's last word; "keep my cloth spotless". He died my death, that's all he was crying out!
He left the ground so sorrowful and later turned to Christian.
Are you keeping the clothe spotless, remember he died your death, He was killed for your sin, what are you doing to show concern for what He has done for you?.
Didn't you know that you are suppose to be living for him alone?
That's exactly what Jesus did for everyone living on earth, He died for us.
Turn to Jesus, proclaim His name in every nation, make His salvation reach every heart!
Jesus is the only way, why are you wallowing in darkness..... Come to the light!.