Grace and Favour be yours. Amen!
---
As always, I feel thrilled and excited each time I write to the church. I pray the church continues to blossom and may God's blessings continue to abound with each and everyone of us. Amen.
For those who do not know this, my local church goes with the name Christian Fellowship Evangelical Nigeria Incorporated. It has four main active departments which are the Men, Women, Youths and the Children department; that makes it complete body. We come to see that each part is important for the growth of the church. The youth ministry is also being seen as the engine room of the church which implies that if there are no youths then continuity will be a problem in the church. Hence, the youths came up with a name Banner Bearers. We are flag bearers of the church and as such we got to raise really hard and firm.
By the special grace of God, I was being chosen to be the secretary of the department and I have been carrying out my administrative duties quite well. I came to understand that what makes one stand out in life is the thing he knows whereas what causes others to remain in the crowd is because they do not know what they are supposed to know. God says, my people perish because of the lack of knowledge. Knowledge is indeed power!
I knew that there were many things te younger generations should know if they must excel in life. Owing to this, I came up with a programme that will be running every month for the youths, which is tagged: REVELATIONS. The essence of this monthly programmes is to unravel the hidden truths to the youths and others.
For the month of February, we decided to host the programme on the 14th of February with the theme The Real Love. The event is oranized to be a dinner nighT where we will come and celebrate the love of Christ and also learn the concept of love and many other teachings.
John 15:13 Greater love hath no man than this, that a man lay down his life for his friends.
---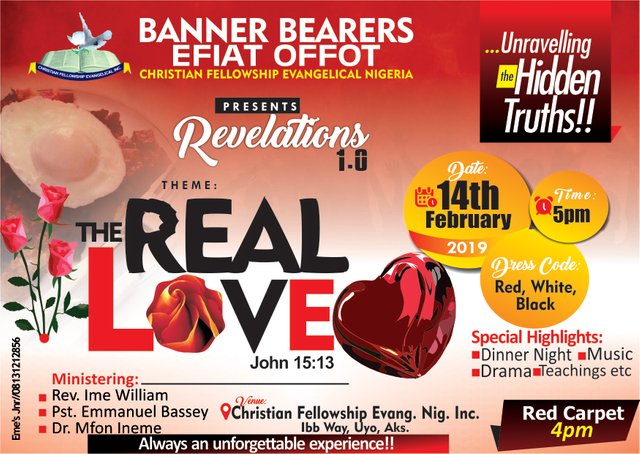 ---
There series of varieties we have in mind to showcase to keep thhe service going. There is going to be song ministrations and lots more. We are going to have a three course meal. Couple's are also going to play games and there will be interactive session for the youths to ask questions and get clarified.
It is going to be a great programme and I look forward to lives being changed and transformed during this move.
You can always support the programme in any way you can. If you live around the church, you can always come around. Thank you and God bless!
---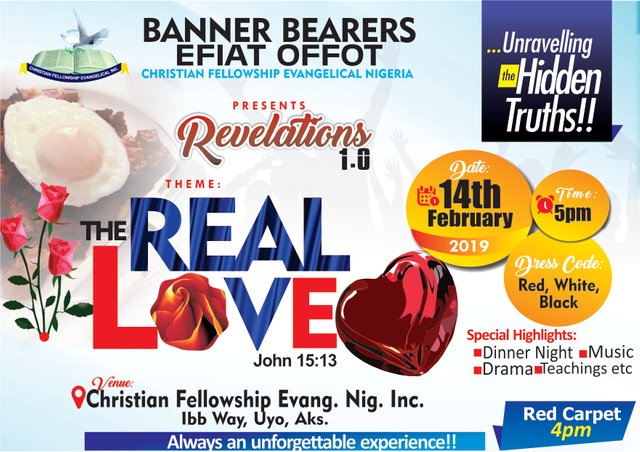 ---
Remember it is a season of love. Show love to your neighbours and enemies. Do not give room for hate!