1 John 3:11-15~For this is the message that ye heard from the beginning, that we should love one another.
---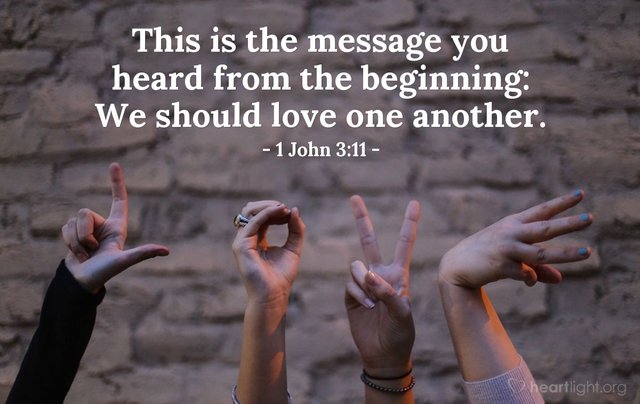 Image source.
---
Not as Cain, who was of that wicked one, and slew his brother. And wherefore slew he him? Because his own works were evil, and his brother's righteous.
Marvel not, my brethren, if the world hate you. We know that we have passed from death unto life, because we love the brethren. He that loveth not his brother abideth in death. Whosoever hateth his brother is a murderer: and ye know that no murderer hath eternal life abiding in him.
---
Bible Copyright Reference: "King James Version", Holy Bible.
---
Join christian-trail curation trail @ https://steemauto.com , register and help in encouraging one another in steemit.



Please read this post for building the christian community on steemit here: https://steemit.com/christian-trail/@wilx/christians-on-steemit-let-us-follow-and-support-each-other-pt-7-join-


Support @itestify for curating testimony post. He is doing wonderfully here!
Thanks for reading.
If you found my article nice, please resteem to your friends and support it with your up vote, it's highly appreciated.
You can also follow me @korghawk