Where you are is not God's best for you, move on to higher heights. If you become stagnated, you will never see what God has kept for you.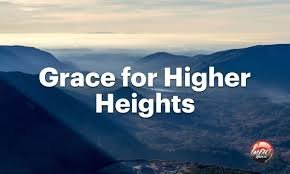 https://www.google.com/search?q=higher+heights&client=firefox-b-ab&source=lnms&tbm=isch&sa=X&ved=0ahUKEwi9qJqJzKDgAhWdRxUIHegsAoQQ_AUIDigB&biw=1280&bih=686#imgrc=LCLj_xYSZbi9dM:
God desires you move higher. So expect some unnecessary discomfort, striving and opposition to push you to where God has kept for you.
In the cause of moving on to higher heights, there are hindrances to it which are:
Unfaithfulness in your present level (Luke 16: 11- 12, 19:17)
Laziness or slotfulness (Prov 6:6)
Un-repented sin (Prov. 28:13)
Lack of vision (Prov. 29:18)
Wrong Association (Gen 13:14)
Fear and Unbelief (Heb 3:18 -19)
I am @giftakpan.
Thanks for visiting my Blog