Greetings to you all in the name of our Lord Jesus Christ.
I have already taken a long break from my series on Following Jesus. Today, I will continue with the series.
In my previous posts, I listed the conditions for following Jesus Christ as outlined in Luke 9:23, which are
Deny yourself
Take up your cross
Follow Him
Today, I'm going to discuss the second condition which is ''Take up your cross''.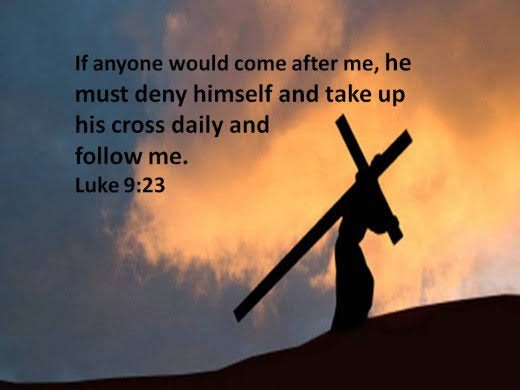 source
Luke 9:21-27
21 Jesus strictly warned them not to tell this to anyone.
22 And he said, "The Son of Man must suffer many things and be rejected by the elders, the chief priests and the teachers of the law, and he must be killed and on the third day be raised to life."
23 Then he said to them all: "Whoever wants to be my disciple must deny themselves and take up their cross daily and follow me.
24 For whoever wants to save their life will lose it, but whoever loses their life for me will save it.
25 What good is it for someone to gain the whole world, and yet lose or forfeit their very self?
26 Whoever is ashamed of me and my words, the Son of Man will be ashamed of them when he comes in his glory and in the glory of the Father and of the holy angels.
27 "Truly I tell you, some who are standing here will not taste death before they see the kingdom of God."
Today, different meaning and things have been been associated to the cross. The cross has come to mean different things to different people. Some of these include,
the cross is a symbol of religion
it is an ornament for decoration
it is a symbol put on obituary announcement
a sign to be made over a meal and so on.
The focus here is to identify what Jesus meant when he spoke to his followers and what the followers then understood it to mean. I will also talk about the implications for us as the followers of Jesus today.
The cross during the time of Jesus was the Roman's means of executing criminals who were guilty of capital offenses deserving death. The criminal was expected to carry the cross through the city in full view of the people to the place outside the city where he was to be crucified.
In the Bible verses above, Jesus also mentioned the following as regards to his death on the cross: suffering and rejection.
At the same time he called the attention of his disciples to losing their lives for Him and not being ashamed of Him.
Thus we can say that the cross was symbol of the following:
a. Death
b. Rejection
c. Suffering
d. Shame
Thanks for reading. In my next post, I will talk about the implications of taking your cross daily.
You can check the previous posts here:
https://steemit.com/steemchurch/@fatherfaith/following-jesus-reasons-why-some-people-follow-jesus-75ccaf8d56004
https://steemit.com/steemchurch/@fatherfaith/following-jesus-reasons-why-we-should-follow-jesus-dccfc46e45877
https://steemit.com/steemchurch/@fatherfaith/following-jesus-conditions-for-following-jesus-8dfdca4c35c95
https://steemit.com/steemchurch/@fatherfaith/following-jesus-conditions-for-following-jesus-ii-3728d34a7e0e
https://steemit.com/steemchurch/@fatherfaith/deny-yourself-2c4aa0d20819b

To be part of the steemchurch community
Join the our telegram channel here and the steemchurch telegram community here
Register on the official website of Steemchurch
here
And Join us on Steemchurch discord channel here
Don't also forget to delegate to steemchurch. Check here to read more about it.
You can make use of this tool for easy delegation.
Check this post to read more on how to use the tool.
Also, join the expansion move of steemchurch to Telos. Follow @sc-telos for updates.
---
Click here to join the Steemmonsters battle.
---
Use my referral link below to download and log in to Partiko
https://partiko.app/referral/fatherfaith
You will also earn 2500 Partiko points after making the first Partiko post
---
Earn some Steem token and magic token for yourself by playing the Magic Dice game.
https://magic-dice.com/?ref=fatherfaith
---
You can also join the Drugwars game through this link https://staging.drugwars.io/#!/ref/@fatherfaith