Hi Steemians,

here I have three hopefully not too difficult chess puzzles for you, all from master pieces from Bobby Fischer.

The first one from a game, played by Fischer against the Mongolian Chess Champion Lhamsuren Myagmarsuren at the interzonal tournament of 1967, at that time the first FIDE-tournament held in Africa. Sadly, Fischer was later disqualified from the tournament because of repeatedly not showing up to games (although so far unbeaten) – already there his strangeness has emerged.
Fischer with the white pieces had established an impressive attack on the King side while Myagmarsuren was trying to gain something on the Queen side.
With which 2 moves Fischer forced Black now to resign?

Liebe Steemianer,
im Folgenden 3 ich hoffe nicht allzu schwere Schachaufgaben für Euch, alle aus Meisterpartien von Bobby Fischer.
Die erste aus einer Partie, die Bobby Fischer 1967 gegen den mongolischen Schachmeister Lhamsuren Myagmarsuren im Interzonenturnier in Tunesien gespielt hatte, übrigens damals das erste FIDE-Turnier, das in Afrika ausgetragen wurde. Fischer war übrigens in diesem Turnier wegen wiederholten Fernbleibens disqualifiziert worden (obwohl bis dahin ungeschlagen) - schon damals zeigten sich seine Allüren/Absonderlichkeiten.
Fischer hat mit Weiß einen fulminanten Angriff am Königsflügel aufgezogen, während Myagmarsuren am Damenflügel zu wirken versuchte.
Mit welchem Zug (und welchem Folgezug) zwang Fischer nun Schwarz zur Aufgabe?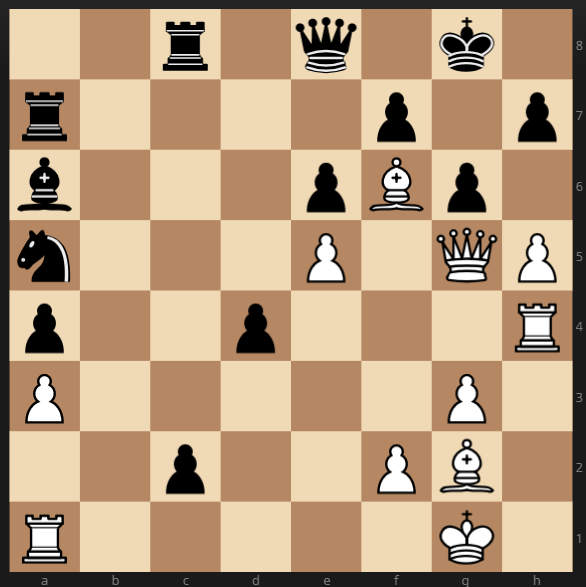 White to move
Here a game which Fischer had played 1963 against Reuben Fine in a skittles room! It was a sharp variant of the Evans Gambit in which Fine was punished severely for his greed in only 17 moves.

How did Fischer with the white pieces execute Fine?

Hier ein Spiel, das Bobby Fischer 1963, damals 20 Jahre alt, gegen Reuben Fine gespielt hat (in einem Kegelklub!). Es war eine scharfe Variante des Evans Gambits, in dem Fine schwer bestraft wurde für seine Gefräßigkeit.

Wie machte Fischer hier (im 17.Zug) mit Weiß mit seinem Gegner kurzen Prozeß?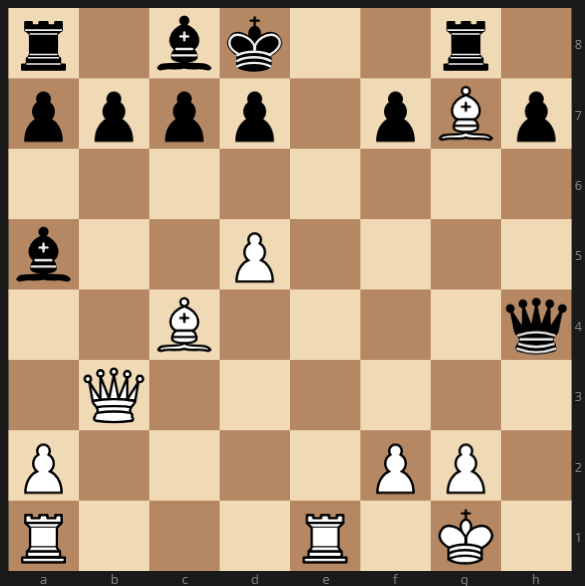 White to move
The last one is from the US-championship of 1963 where Fischer created a 21 moves chess masterpiece against Robert Byrne. This position is actually a variant because Byrne had resigned before, what made Fischer "bitterly disappointed". He would have loved to unfold this forthcoming combination.

What star move had Fischer with the black pieces here to play?

Das letzte Rätsel für heute ist ebenfalls aus 1963, von den US-Schachmeisterschaften, bei denen Fischer hier ein Meisterstück in 21 Zügen gegen Robert Byrne ablieferte. Diese Stellung ist eine Variante, da Byrne schon vorher aufgegeben hatte, was Fischer "schwer enttäuschte" – hätte er doch gerne die folgende Kombination sich am Brett entwickeln sehen.

Welchen Meisterzug hatte Fischer hier mit schwarz in petto?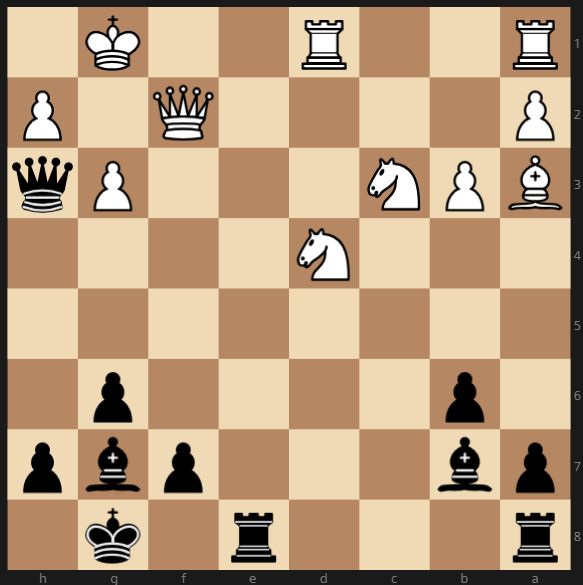 Black to move

All 3 games to replay here, with great analyses:
Zum Nachspielen alle 3 Partien mit exzellenten Analysen hier:
all pics from www.lichess.org
alle Bilder von www.lichess.org
---
PS: Don´t forget: Every Saturday 10 to 11pm (CET) the Steemchess Blitz Tournament, organized by @schamangerbert!

Everybody can participate (you just need a free Lichess-account), all infos here:

PS: Nicht vergessen, jeden Samstag 22-23h (CET) das von @schamangerbert organisierte Steemchess Blitzschachturnier!

Jeder kann mitmachen (man braucht nur einen gratis Lichess-account)! Alle Infos hier:
https://steempeak.com/steemchess/@schamangerbert/reminder-steem-blitz-chess-tournament-saturday-08-september-20-gmt-erinnerung-steem-blitz-schach-turnier-samstag-08-september-22