I can't stop thinking about the new format of audio and video makers that are building out portals and personal brands of themselves and who are currently pulling in audience, in some countries like Thailand that's people on computers for an average of TEN hours a day in front of a screen (think about that for a minute in terms of a consumption audience) ready for activation.
do you have those feelings when you wake up that you just can't wait to get started, like you have a mission to do, you have things to work on, you wanna jump in there and get as much out of the hours you are awake as possible — I do, everyday at the moment, it's a balance between making and communicating what you are making.
Most people would just concentrate on one project at once but they kind of crossover all together at the moment, originally I was gonna just build out an MVP of the @vlogging part but it's grown much bigger than that and I realise now that the actual tool can be used to raise awareness about our @vlogging group which will help massive with speed to roll this out if we have content makers onboard.
So, what's the triple threat? Read on! (We've been busy!)
---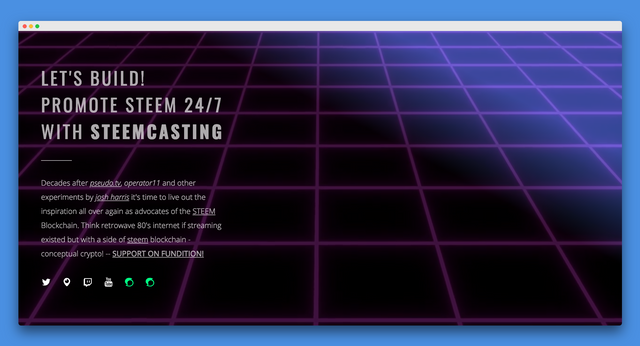 one of the inspirations for @steemcasting and why I just could not stop thinking about it was that I know it's a stream type that exists out there, just at the moment for a looping video and an audio stream of hand selected music — so it got me thinking why could that not be for video, video clips, steemians from Steem, courses, shows, tutorials, playbacks of discord shows and such like.
I'm reaching out to some whales (@exyle) content creators (@redrica, @coruscate) today and over the coming weeks to let them know about it, I'm still fine tuning the idea of course but right now I think I'll be building out some overlay graphics for each show initially so we can keep the branding on point, branding that brings people back to steem's many on-boarding points like steem.ninja or @steemhunt so they can get an account.
BUT WAIT, THERE IS MORE! :)
before I even started looking at @steemcasting at the end of last week (basically the stars aligned and all the tools I needed presented themselves!) we have been working on two other little side projects, one is a landing page for all the steem onboarding content I've made recently and also a residual micro business that also accepts STEEM payments - we also accept soup and ramen for themes from an amazon wishlist but we are just working on that still.. .. so yeah, ampsteem is coming ;)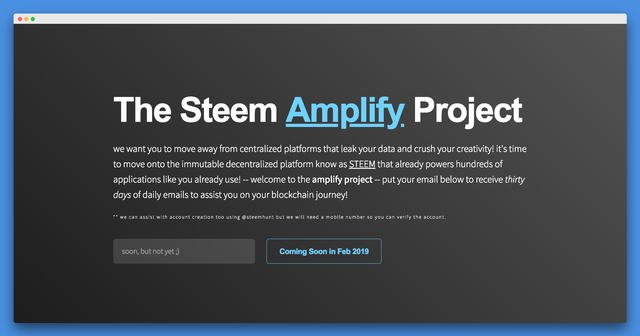 Launching this week in basic version and then continuing to work on what the 'thirty' days of emails looks like, will be looking to build a small team of about four people to assist with this so we can frame it properly, will probably be a project as part of @vlogging month on our frame.io setup for the original adventube squad.
i've got a lot of plans for ampsteem but the main things are below.
centralised place for all the content I put out in an easy to find place on different decentralised platforms (planning to put on lbry too, already on skillshare, udemy and youtube)
put up our projects and businesses (@steemcasting and template biz) and future ones
have a fully SEO searchable with text video player so you can search for keywords you might hear around the STEEM blockchain and jump straight into a piece of video about it, at present that $1 a minute for doing that so that's a big cost but one we want to do on existing content.
will be a great place to activate all the other STEEM account ideas we've had for years, centralised portal to it all — things like @radio-taiso-n-so, can't wait to get into that! :)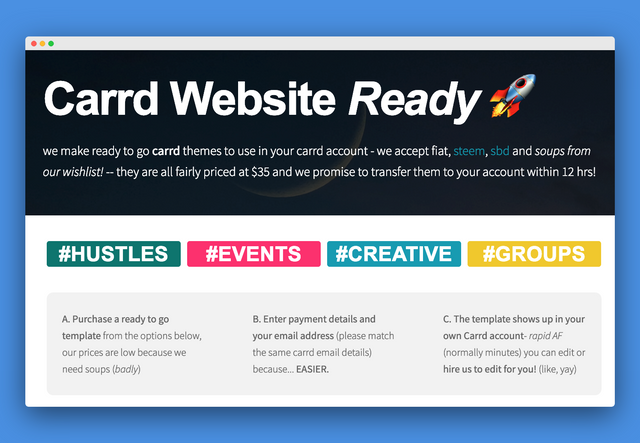 So we are not ready yet, we still have a number of templates that we are working on but it's coming together nicely, we are hoping to launch properly this week, currently we are getting 1/2 templates done each a day for it, we hope to launch with around 18 theme style designed — not only are we operating it as a STEEM business accepting steem for our theme designed but also we will have a sister service if you want us to then work on that theme for you on your own account.
The big plus about having all these themes as well if that we will combine this our live shows or offline content as we work on a template design for a steemian while streaming over a few hours, we will have an assets structure for people to send in graphics, text etc and we will build it out for a selected steemian and host the site for them — should be pretty neat, eventually I'd like to work with @sambillingham and @finallynetwork on embeds and frontend designs, I think we could build something sweet and eventually white label it for different communities.
---
So yeah, if you don't see me around for the next month you know what's taking up my time as we get all this pushed in an acceptable format. If you can show you support for @steemcasting over on fundition that would be awesome, I'm already building out the structure and framing what that looks like and using a few new sites to build out a 'schedule' for what a day to day looks like streaming out — I'm currently only pushing little course videos to periscope but once we have a good block of time it's gonna be running for at least three blocks of four hours (12 hrs)
Excited, I've been wanting to build something like this for years.