SteemCampUK takes place in Leicester on Saturday 6 April from 10am until 4pm at the Phoenix, 4 Midland Road, Leicester, LE1 1TG.
Tickets for the day are £10 including booking fees and are available at https://steemcampuk2.eventbrite.co.uk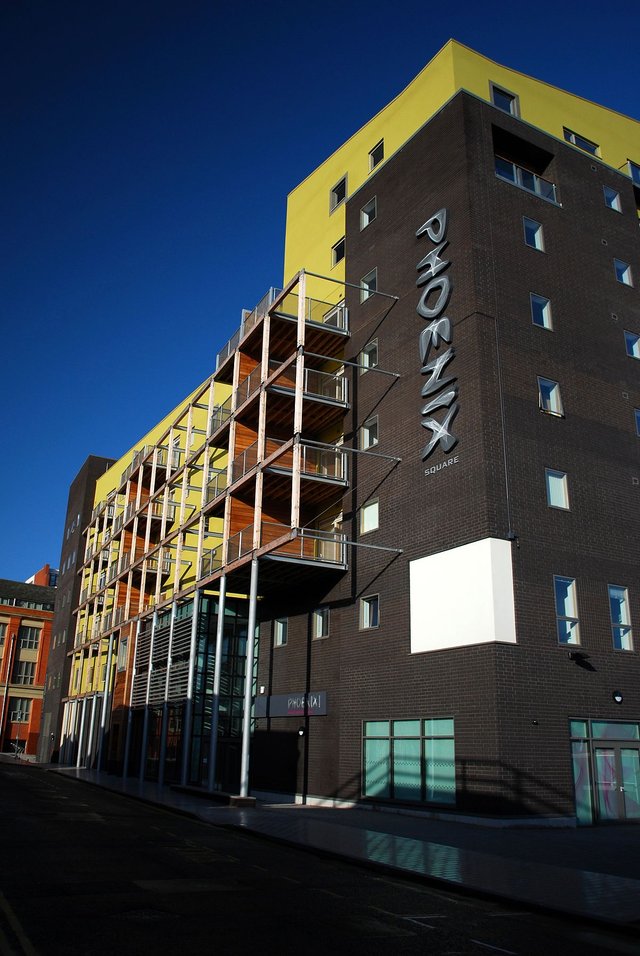 The venue for SteemCampUK 2 - turn right when you leave the rail station and you will see it in the distance. It's about 10-15 minutes walk.
As I mentioned previously, I'm the only Steemian in town in a 25 mile radius. When @lloyddavis said he was thinking about running @steemcampuk again, this seemed like an ideal opportunity to promote Steem to a new audience.
There's been a lot of discussion on the various Steem front ends and in the SOS discord channels about how to bring to new people to Steem. I'm writing here about one approach, which I suppose is niche marketing, and uses ideas about the diffusion of innovation - how new ideas are adopted by people.
I'm co-hosting the event with @lloyddavis, who is a skilled facilitator of unconferences using Open Space Technology. This is a method that enables people to talk about the things that are important to them, rather than following a prescribed agenda. At the same time, it's reassuring for participants - there is some sort of structure and someone who will help them.
An advantage of this style of facilitation is that it brings people with different experiences and understanding together very quickly. This will be important for SteemCampUK 2 because participants will range from very experienced Steemians through to people who may not have been on Steem and may know little about blockchains or cryptocurrencies.
I also have a few ideas in my head about what I would like out of the day. It is always inspiring to spend time in the company of other Steemians and I'm really looking forward to meeting new people and old friends. What would also be a really good outcome is if there are three or four people who, at the end of the day, are interested in developing things in Leicester.
Venue
I was able to get a venue for very low cost in the city centre, a short walk from the rail and bus stations. The Phoenix is in the Cultural Quarter along with the LCB Depot which hosts about forty creative and technology businesses, and Leicester's Business Growth Team.
The Phoenix has always had a close association with De Montfort University and a focus on digital arts and cultures. It has a little cluster of creative entrepreneurial people that hang out in the cafe bar and at events and are interested in technology innovations.
There's a dedicated space for SteemCampUK 2 where we can meet without distraction, but there's also plenty of space for relaxing or talking in small groups in the cafe and lounge and, if the weather's nice enough, outside.
There's lots of neighbouring cafes, bars and eating places if people want to continue chatting after the event, and its a short walk into the main shopping and restaurant areas.
Participants
There's already been some interest from Steemians which is great! In addition, I've put together a list of potential participants who will be new to Steem. As I mentioned earlier, I'm using ideas about the diffusion of innovation, and I'm looking for people who fall into the early adopter category.
For our purposes, the most important characteristic of early adopters is that they are opinion formers and leaders and tend to influence a lot of other people. In addition, there's been quite a lot of discussion around Steem about attracting smart investors.
I would describe a smart investor as an early adopter who will influence lots of other people, who has some resources (this could be funds to invest, or it could a community of talented people who are interested in doing work) and who quickly realises that Steem - blockchain and currency - has a use or potential use of benefit to them.
In a previous post I wrote that Steem has potential for addressing some of the growing problems we face. In public life, it offers new opportunities for fundraising, fund distribution and demonstrating social impact. For creative people, there are wonderful arts, music, writing and film communities and the blogs offer a huge learning, talking and thinking resource.
Top Ten Target Influencers
So I've selected, as a starting place, my top ten influencers. These are all people that I have met personally at one time or another, or that I know through another personal contact. They may not be the right people, especially in an organisational context, but they are my way in to starting a conversation:
Leicester City Council - economic regeneration
NHS Clinical Commissioning Group - health and long-term conditions
De Montfort University - Institute of Creative Technologies
University of Leicester - Innovation Hub
Leicestershire County Council - Libraries and Digital Services
Phoenix Arts Centre - digital innovation, arts and culture
LCB Depot - creative and technology businesses, business growth team
Voluntary Action Leicester - charities and voluntary organisations
Music and writing communities
Environmental communities
I've already had conversations with four of these, and two of them have led to other contacts and conversations. If I'm able to attract ten influencers to join SteemCampUK 2 on Saturday 6 April, I'll be very happy.