After the initial launch of Steem Apps just 4 days ago (phew, time flies) I've worked 'round the clock to improve both the UI and logic/tech-side (this took way longer).
I have also planned to release a post (today/tomorrow), going deeper into the tech-side of Steem Apps, but in this post, I'm going over what has changed since the initial launch.
---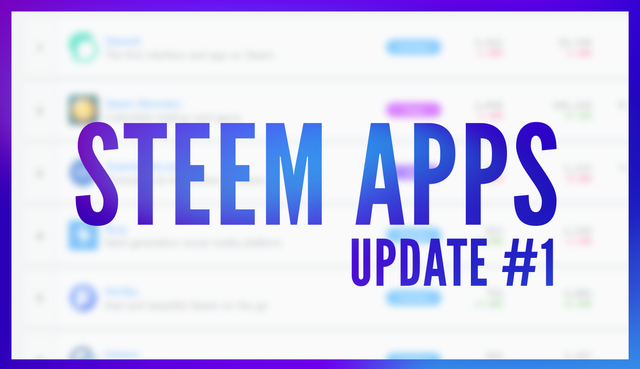 ---
Let me start start with a pretty cool new feature.
You're now able to filter based on App Type. Right now, there are 3 different types: app, dapp and interface.
While it's not easy to seperate between those three, I've tried my best to make it as accurate as possible, but if you feel that an app has the wrong type, please let me know.
Now with that said, here is the new feature in action:
---
SteemApps.com
---
Pretty cool, right?
Daily Average Users
Next up, one of the most taunting things I've been working on is the correct calculation of the Daily/Weekly/Monthly Average Users (DAU).
Initially, I was calculating it without checking for uniqueness of users between different types of transactions (transfer, benefactor_reward, custom_json, etc.) and between weeks & months.
For the 24 hour metrics, most data were very accurate, but for the rest, not so much. Since other services (like State of the Dapps) are relying on the correctness of the API, this was something I've been working on as fast as possible.
More Detailed DAU Calculations
I also implemented DAU calculation based on benefactor rewards (which makes @steempress user numbers quite accurate).
On top of that, I also added DAU calculation for outgoing transfers (previously it was only incoming). This is important for apps like Peakmonsters, Smartsteem.com, Minnowbooster, etc.
I'll go more into depth about the whole DAU calculation the next tech-post - but you're probably noticing that interfaces have actually higher numbers (via voting & passive reading). Right now, I'm not able to get this data pinned to a specific app, but maybe in the future.
Rank Algorithm
Calculating the ranks is not easy, but I've increased the weight of unique active users and reduced the weight of transactions, volume & rewards.
One goal is it to bring the human element into the rank algorithm as well.
API Documentation
Since there were some changes in the calculations, the API documentation also changed a bit. More specific: some parameters are different.
So if you're using the API, make sure you check it out: https://steemapps.com/documentation
What's next?
As I initially wrote in the announcement post, there is quite a lot planned for Steem Apps.
Version 1.1

Add all remaining apps, dApps & interfaces
Improve data for existing apps (More about this further below)
Improve algorithm for rank-calculation
Add more data-points (post-payouts, ...) for apps
Contact sites like https://www.stateofthedapps.com, https://www.dappradar.com & co. for a listing of Steem Apps (possibly via API endpoint)
Fix Bugs



Version 1.2

Add detail pages for Apps (for detailed overview and more data)
Implement search engine
Implement submit a formula for easier App-onboarding
Create a stats overview for all Apps & Steem
... and more



Version 1.3

Currently, STEEMSQL is being used, but the goal is to leverage a private node to get all the data
... and more
The main goal that connects everything is to build the best website possible to showcase the value of Steem and also make it easier for 3rd party websites to integrate Steem data.
Also, apps will be listed as soon as the submit-form is implemented. Doing it manually takes too much time and is not effective enough.
---
Github Links
Next time I'll make a PR - forgot about it this time
Frontend > Github Commits 19.12.2018:
https://github.com/therealwolf42/steemapps-frontend/commits/master
Backend > Github Commits:
https://github.com/therealwolf42/steemapps-backend/commit/fe2a2629aa7abeccc1c71451c952f1f05a418238
https://github.com/therealwolf42/steemapps-backend/commit/cbd3b4d56b890fc187fd761b5174375b58dd4b1b
---
All the best,
Wolf
---

Do you believe that my work is valuable for Steem? Then please vote for me as witness.