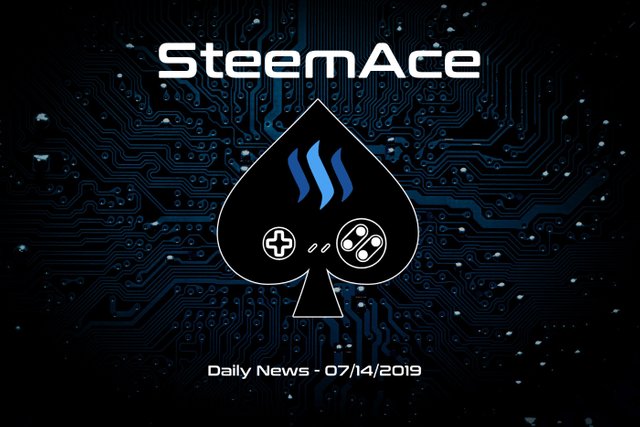 On a daily basis we will provide you with news about what is going on in our gaming community. If you haven't heard of SteemAce check out this post to inform you what it is all about. Also feel free to join us on Discord to ask any questions or to get in touch with the community.

AceTube is live now!
We are happy to announce that our video sharing platform for your gaming content is live now. It is called AceTube and can be accessed on Tube.SteemAce.io.
It is an integration of our community into Dtube. We think it looks really good.
Finally you can start sharing your video content with us.
Important: GG Token burn
Our team has decided to take a small part of the earnings from the miner sales and use it to buy GG tokens from the market every day. All bought GG tokens will be sent to @null, an account in Steem used for burning tokens. These tokens will be lost and out of the circulating supply for ever. We will start with it in about a week. We see multiple advantages in this kind of buyback plan:
Raises the value of any single GG token
We take away sellers who are not interested in the platform
Gives value to the ones that are really interested in the platform and gaming content
In the future we plan on using gaming relevant advertisements on our site. Part of these earnings will also be used for buying back even more tokens so we can burn them.
Looking for Chinese and Korean Curators
To make sure all good content creators will get rewarded with GG Tokens, the team members of SteemAce curate posts with gaming related content. Furthermore, we delegate GG Tokens to (trustworthy) curators to help us reward gaming content authors in all areas and languages.
At the moment we are looking for Chinese and Korean curators. If you have any recommendations please contact @thebluewin or @ladywalker on Discord or comment on this post.
Curation report
Content creators on SteemAce can benefit from upvotes of the @good.game account. It has 103k SP and 7.5k PAL to curate good quality content even more. In order to receive an upvote you need to have staked GG Tokens. The more you have staked the higher the upvote will be.
These are the posts of today's upvotes:
Splinterlands Beta Booster giveaway
Every day for 30 days we give away 4 Splinterlands Beta Boosters to 4 different GG Token stakers. You can increase your chance of winning by staking more GG Tokens.
.
Here are the winners of today's giveaway (day 1):
Congratulations to the 4 winners. The Beta Boosters have been sent out to you.
(Rewards of this post go 100% to @good.game except for GG tokens)

Important links