[Review] Phemex – Leverage trade crypto, traditional, and Forex assets!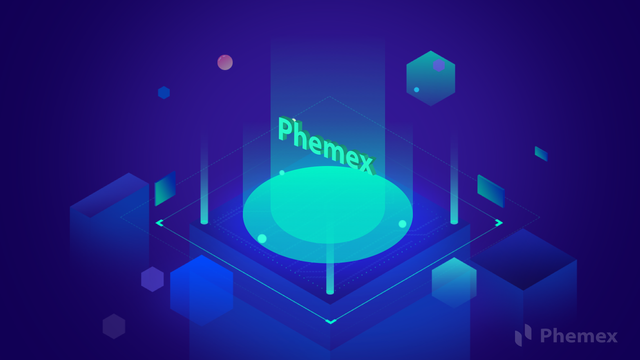 Cryptocurrencies futures trading has become extremely popular in recent times. Here at TTM we have reviewed many other derivative exchanges including PrimeXBT, ByBit, CoinEx, and more.
Today, we will be talking about a newcomer on the scene, Phemex.
Let's get started with a little look into some information about the company itself.
What is Phemex?
Phemex is a new crypto derivatives trading company launched in Singapore is looking to bring institutional-grade derivatives trading to the crypto space.
Phemex was founded in 2019 by Jack Tao, a former Morgan Stanley veteran. The exchange is owned and operated under the company name Phemex Financial Pte. Ltd – a legally registered entity in Singapore.
Led by a team with a vast Wall Street trading experience, Phemex joins an expanding pool of crypto derivative brokers establishing a presence in Singapore.
The Phemex team consists of several Morgan Stanely executives with extensive experience in providing services within the financial sector.
According to their LinkedIn page, Phemex has between 11-50 employees.
Features
When looking at a potential exchange for derivatives trading cryptocurrencies with leverage, it is always wise to be aware of the features of the platform in order to make an informed decision on whether or not you would like to use it in the future.
So, let's dig into some of the main features of the Phemex trading platform.
BTC & USD contract settlements
Up to 100x leverage trading
Multiple order types
Hierarchical Deterministic Cold Wallet System (HDCWS)
2 factor authentication
Sub-accounts
Referral and affiliate program
Native mobile apps
0.5 USD min price increment
300k transactions per second (TPS)
Trade traditional contracts like GOLD with crypto
Traditional and Forex pairings coming this year!
Great UI/UX
Customizable trading interface
The exchange opens up great opportunities for profit, using excessive leverage combined with an unregulated platform can lead to large losses, so trade responsibly.
Supported Coin and Asset Pairs
So you might now be wondering what you can trade on the Phemex crypto exchange. Below I have made a list of all the pairs offered on Phemex along with the currency the corresponding pair is settled in.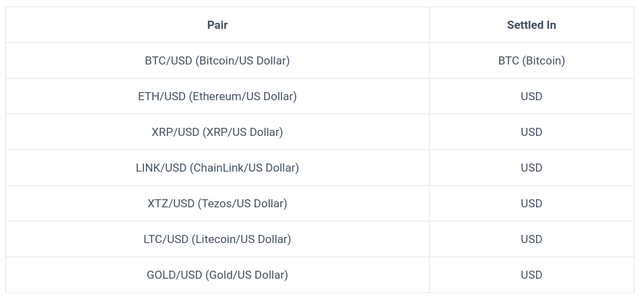 I am impressed with the pairs listed on Phemex, they appeal to a broad range of crypto traders. It's also important to note here that all the pairs on Phemex are perpetual contracts and there are currently no other futures contracts available.
According to the Phemex website, they will be adding more traditional and forex assets in 2020. Some of these include S&P 500, Nasdaq, Dow Jones, silver, usd/jpy, etc. This will give them a nice advantage over some of their competition.
Order Types
Phemex offers several different kinds of order types. Advanced order types are listed below with short descriptions. More information on all of these order types can be found here.
Market Orders — order set to execute at the first time available (can be immediately in some cases)
Limit Orders — sets a "limit" on prices that a trader would buy or sell at
Stop Orders — an order to buy or sell an asset once it reaches a specific ("stop" price)
Protection Orders — an option to limit losses or protect profits on any trade or order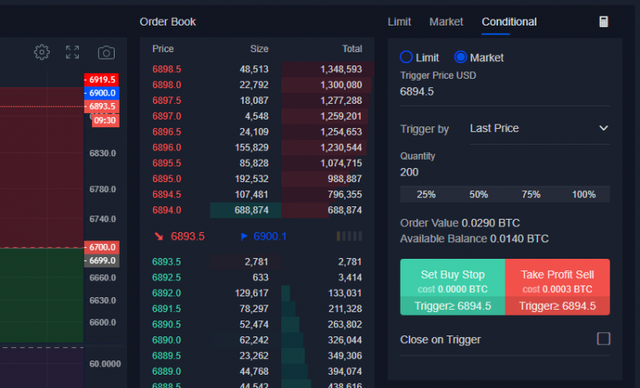 Leveraged And Margin Trading And Short-Selling
Leveraged trading is a key feature of Phemex. It's a tool that allows traders to take profitable advantage of smaller price movements, because it can multiply gains or losses in either direction.
Here's an example: let's say the current price of BTC is $4,300 and you have $4,300 to buy one Bitcoin. You decide to use 100x leverage. That means you can buy 100 BTC for $4,300. If Bitcoin increases just by $100 to $4,400 you earn $10,000, because you multiplied the increase by your 100x leverage.
Leverage works by using a deposit, known as "margin", to provide you with increased exposure. Essentially, you're putting down a fraction of the full value of your trade – and Phemex is providing you the rest. Our products allow traders to gain exposure to major cryptocurrencies, such as Bitcoin and Ethereum and others, without tying up lots of capital.
Short-selling is another option available on Phemex. A trader might "short" a coin or asset when they want to bet on that asset declining in price and value. If you think Bitcoin is oversold and will drop in price, you can earn capital by "short-selling" it. This opportunity gives traders the ability to bet on the price of Bitcoin going up or down, where regular investing (buying an asset) typically means an investor thinks the value will increase.
Fees
Fees on Phemex are pretty par for the course. They are identical to BitMex and Bybit. Below is a copy of the their fee schedule.
Presently, Phemex charges a flat 0.0005 BTC for every bitcoin withdrawal, which could of course change in the near future. Below is a fee info table in relation to specific trading pairs.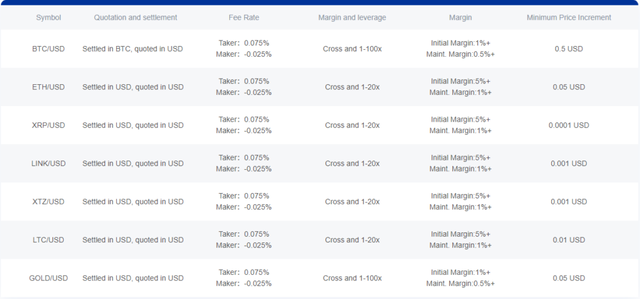 Deposits & Withdrawals
Phemex wallets allow deposits and withdrawals with both bitcoin and credit cards. However, no option could be found on how to directly deposit USD on the platform at the time of writing this Phemex review.

Before using Phemex you have to buy Bitcoin. That said, users can deposit BTC into their BTC wallet and work their way into the market from there.
In order to trade Bitcoin settled contracts, users then need to fund their Bitcoin trading accounts from a wallet with pre-deposited funds. Bitcoin deposits become available after 1 confirmation.
Similarly, to trade USD settled contracts, users can exchange BTC from a wallet to their USD trading account at a real-time rate for no fee. This is an excellent feature. Bybit charges for every asset exchange on their platform. This was a big reason I moved to Phemex.
Is Phemex Safe?
While conducting this review, it was great to find out that the CEO and founders aren't hiding their faces, unlike with other some exchanges. In fact, they can be found either on the main site or on LinkedIn, where employee details are fully available. The public nature of their profiles is, of course, a healthy sign.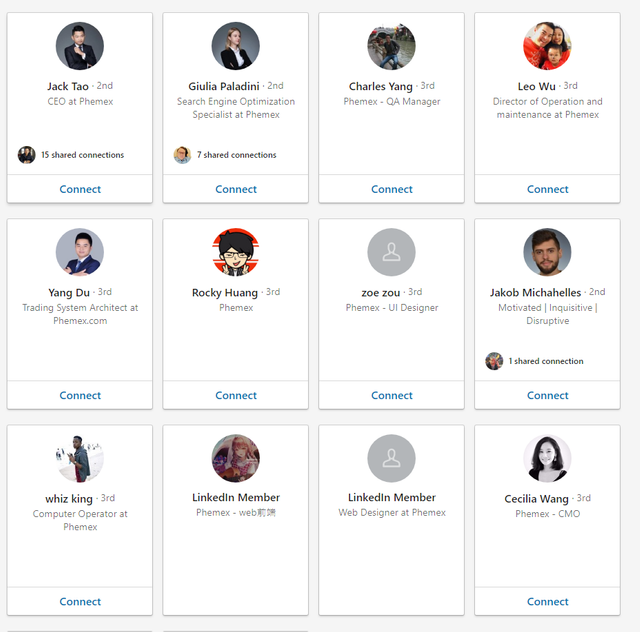 From a security point of view, Phemex boasts a hierarchical Deterministic Cold Wallet System which assigns separate cold wallet deposit addresses to each user. All the deposits are periodically gathered to the company's multi-signature cold wallet via offline signature. The platform processes withdrawal requests three times per day, which might explain relatively long withdrawal wait times.
The platform uses Amazon Web Service (AWS) Cloud in order to secure its servers, which is a leading industry standard and bolsters security and safety expectations. On top of that, Phemex also deploys firewalls to separate trading zones within its internal network.
From a more technical standpoint, the trading platform is comprised of two core components: the CrossEngine and TradingEngine, in which it matches client orders based on price and time priority.
The developers have also said that traders should expect to experience virtually zero downtime. In fact, Phemex claims that users will not notice any abrupt system maintenance periods. This is due to its recovery system that gives users 99.99% high availability. If this stands the test of time, this would, of course, be considered crucial for exchanges that are open 24/7. That said, since Phemex is a relatively recent derivatives platform, only time will tell how it will handle malicious attacks when they inevitably come to pass.
KYC/Know Your Customer
Phemex doesn't require any KYC checks whatsoever – it's a completely anonymous crypto derivatives exchange. You can register on the Phemex platform instantly with just an email address and a password, deposit and start trading immediately. This is one of the best things about Phemex since many crypto traders enjoy keeping their privacy intact.
It's unsure how long this will remain the case however, with the tightening of global crypto regulations which is occurring.
Mobile Application
One of the major pros of the Phemex exchange is its brilliant mobile app which is available on IOS & Android (Google Play). This mobile app is one of the best crypto derivatives exchange apps I've ever seen on the market. It's free to download and links to your Phemex account easily. Use the links below to download the Phemex app.
Phemex iOS
Phemex Google Play (Android)
It comes as no surprise that the app has incredible ratings for all devices, it's the perfect solution and makes crypto derivatives trading on-the-go easier than ever before. A lot of people who use exchanges like BitMEX (which doesn't have an app) may swing over to this exchange as a better alternative.
Video Review