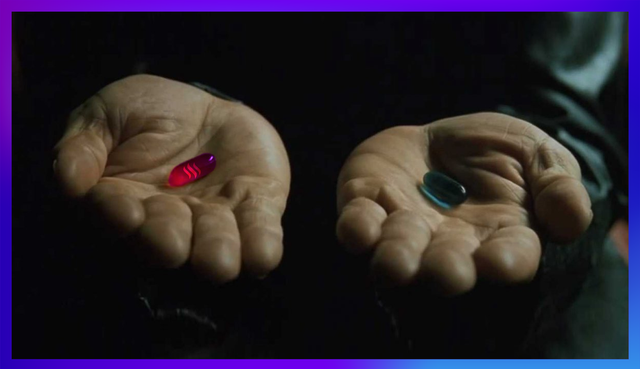 ---
Right now, is a very painful time for everyone invested in Steem. The markets are bleeding and there seems to be no bottom in sight. Steem went from a high-time of $8 to 40 cents.
I personally saw my "value" crumbling away, like breadcrumbs in sight of the cookie monster.
And while it hurts, the truth is: it's ok.
---
Choose your path
Being invested in something is a mindset. The same mindset you need when you decide to only eat vegan, eat healthily or go for a run every day. Once you've chosen a path, you better stay on it.
When you're on this path, the way ahead is clear as day. Your body knows what to do, without you needing to think about it.
But imagine, one day, you decide you don't want to eat healthily.
---
Stay on your path
Maybe you ate healthily for one year straight - 365 days. And you think: "I ate the whole year healthily, I just want to eat some fast food today."
So you do that and the next day you think: "Oh it felt so good, let me have just one more cheat day with pizza & chips. But tomorrow I will eat healthily again."
Regardless, if you actually eat healthily again the day after, even though the inhibition threshold to do that is a lot higher. Do you know what just happened? You're on a new path.
And I'm not saying that this new path isn't valuable as well, but the truth is: it's not the same path you were on the whole year before.
---
I chose my path: Steem
To bring this analogy into Steem territory:
Over the whole year, I haven't sold anything close to what I've earned on Steem. I could have made quite a good profit, selling Steem at 1$ & above, and buying it back at 40 cents.
But the truth is: I've chosen my path already and selling Steem? That's not it.
Before you think I'm trying to rationalize my behaviour, because selling for profit is a valid path as well, please let me explain why I decided on this specific path.
---
You're either in or you're out: Choose
I decided for me that, when I'll do something: I'm either fully in it, or I do something else - but no half-things.
I truly believe that the reason because I'm successful on Steem, is because I'm so invested in it. It might sound a bit extreme, but there are no other blockchains for me right now.
I'm already a full-time Steemian, Witness & Steempreneur, which costs me more time than I should give it. So dedicating time towards other platforms, like EOS? No thanks, it's a pretty great blockchain, but I choose Steem.
---
Power-Down? Never
Additionally, if I would have sold Steem for a big profit, I would have needed to power-down, which would have meant:
no delegations
no passive income
no inflation bonus for holding steempower
no influence on the platform
All of these points above are big reasons why I don't like to power down.
But what about selling Steem generated through passive income, author rewards & co.?
I see the value in there, and maybe in the future, I'll do that. But regardless if powered down Steem is being sold or just the generated Steem, if it's done to buy Steem later, when will this happen?
---
Rebuying Steem? It's a dangerous game
Imagine you sold Steem at 1$ and are waiting to re-buy it. Price has been at around 40 cents and you're waiting for 20 cents to buy in, but then suddenly it spikes to 80 cents.
You've seen this before, it normally goes back down. So you're waiting for the drop. But it isn't coming. Instead, the price continues to rise. First 90 cents, then 1$ then 1.4$. You can't believe it, so you'll wait.
Before you realise it, Steem is back at 2$. You just lost 50%.
...
I know, it sounds crazy, but that's how it worked the last time. If you're somebody who knows how the markets tick, please go ahead and do your thing, but for me: I'm not able to predict the markets.
And instead of trying to play a game that I'm not good at, I'll just make sure that my path is very simple and clear.
---
My Path: Reinvest into Steem
Everything I'm generating on Steem is going back into Steem.
It might be a bit extreme as well, but this makes my path very clear.
I actually don't have to think about it.
Earned some Steem with blogging? Powering up
Sold some Steem Monsters cards on the market? Powering up
Received some SBD from investing with Smartsteem? Selling for Steem and powering up
Again, I believe this is also part of the reason why I'm growing so fast. My path is super clear.
On top of that, I'm also keeping track over all of my assets (Steempower, Steem & SBD) with this tool: https://smartsteem.com/tools/portfolio
---
Epilogue
So to bring all of this together:
I know, seeing the current market hurts, as well as asking the "what-ifs". "What if I would have sold at 2$". I can sympathize with it.
But the truth is: 1 Steem is still 1 Steem.
I'm not able to promise you that Steem will go back towards 1$+ or even 8$. I believe in it, but this is not financial advice.
But what I can say is: if you've chosen a path and you made your research before, don't look left and right. Stay on it. Good things will come.
---
Keep your head up & follow your path!
Wishing you much strength,
Wolf
---

Do you believe that my work is valuable for Steem? Then please vote for me as witness.