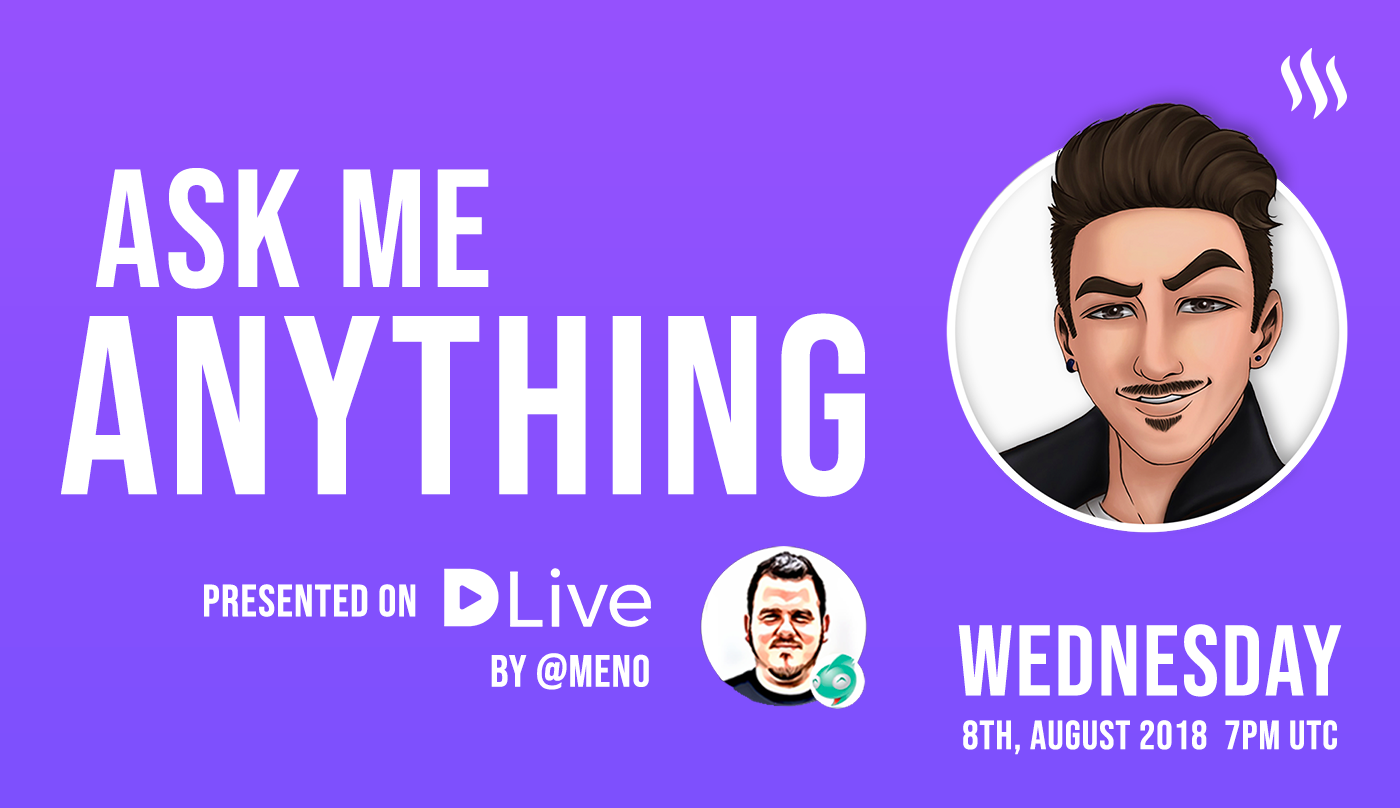 ---
This is going to be a very different and exciting week for me.
And I'm looking forward to this upcoming event.
---
Update
We were live. You can find the livestream recording with timestamps here: Ask Me Anything /w @MenO - Recording with Timestamps
---
Prologue
I recently had some great conversations with @meno about Steem and its ecosystem. The focus of these talks was of course, how we could do more for the Steem ecosystem and the community. (Steem is pretty much the top priority for me right now.)
And out of those conversations came the realization that I, @therealwolf, am currently just an avatar, but the actual person behind this name is not really known.
Or how another Steemian formulated it: not really sure if you're a female, male or bot.
I had to chuckle when I read it. Even though the formulation might be a bit exaggerated, the fact is that not much about me is known. (besides my official witness-introduction post)
And as a Witness, who is supposed to be a trustable person, the voters should at least know if there is a man, women or maybe dog behind it.
So @meno and I came to an amazing idea.
What if we did an AMA on Dlive?
You may know something called "AMA" or Asked Me Anything, which is an event-series, originated on reddit, where people are being asked questions from the community, to which honest & personal answers are written.
Now, what reddit can do - Steem can do as well and even better!
So our idea is to gather a list of questions that many Steemians may have and answer them on a livestream.
That sounds very interesting, right? But in order for the event to make even more sense, we discussed ways we could make it a little more fun.
It's no secret that @themarkymark has been focusing on giving back to quality content creators, doing live curations on @dlive. His fantastic initiative, made us come up with a little hybrid idea.
Lets curate questioners
Basically, the idea is to ask fellow Steemians to contribute with questions they may have on a shared document, answer them on air and upvote the user that made said question.
How simple does that sound? You can earn STEEM by asking some good questions for the show!
The upvotes would of course be given to the submitting user's posts or a comment.
Sounds good? Ask a question!
You can ask up to 3 questions inside this google-form:
https://docs.google.com/forms/therealwolf-ask-me-anything
If you're not able to open the form or submit the questions in the form, for whatever reason, then please ask your question(s) via comment
The questions will be selected for value. In other words, only the best questions will be chosen, read on air and answered.
All irrelevant information, distasteful jokes or anything of the sort will be removed from the file and ignored.
What should the questions be about?
That is entirely up to you. We could talk about SMTs, Witnessing, Blockchain, Philosophy, Food or we could simply talk about <enter your favourite subject here>. The idea is for the questions to be engaging and fun.
What's the mission here?
Helping the Steem community - plain and simple.
If I can play a part in the role of explaining some of the difficult elements of the STEEM ecosystem, then that means I'm investing my time wisely. If added to that, I can stop being an avatar and develop a better relationship with my fellow Steemians, then that's the perfect icing on the cake!
I strongly believe the strength of the Steem community is a lot mightier than the bear market we are in and this is a way of putting some words into action - a way I can give back.
---
With that said: I hope to see a lot of you with amazing questions for me to answer on Wednesday, 8th August '18 at 7PM UTC.
A post will also be published right prior to the event!
Until then,
Wolf
---
Making Steem Greater


Projects developed by @therealwolf for Steem

---
---
Do you share my vision for Steem? Let's work together to achieve it!
---
You can vote for me at https://steemit.com/~witnesses.
Or you can simply use steemconnect to vote for me or to set me as a proxy.
A big and sincere Thank you to all of those who support my efforts!