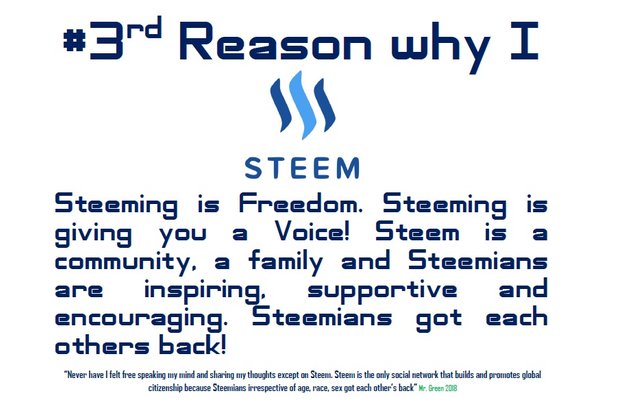 The first reason why I steem is because of You and the second reason is because steeming is a school of learning, sharing experiences and creativity.
Now, let's talk about the third reason why I steem.
"Never have I felt free speaking my mind and sharing my thoughts except on Steem. Steem is the only social network that promotes freedom of expression as well as builds and promotes global citizenship because Steemians irrespective of age, race, sex got each other's back. Steem is a one global community" Mr. Green 2018
Steemians are steemians irrespective of their age, race, sex, religion, ethnicity, geographical location, etc and ever since I joined Steem, I have never had time to think about the geographical location of people nor their age, sex and lots of funny stuff except when I read their #introduceyourself post.
You will agree with me that being on other social networks, most people care about your sexual orientation, where you come from and lots of creepy things that are not too important.
Being on steem, I realized there is a great degree of unity in diversity. I have a strong feeling of oneness of people on the steem platform. I don't know if you feel it but I really do. Steeming is about people and not about their color, race, etc. I don't know how to explain this but this is just what I feel.
Do I need to talk about the freedom to share your opinion on issues that matter on Steem? Steem promotes freedom of expression and this, I really like.
Why do you steem despite the falling steem price?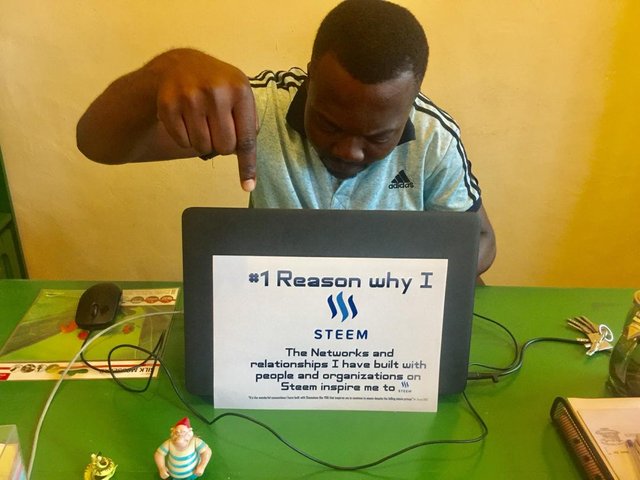 First Reason Why I Steem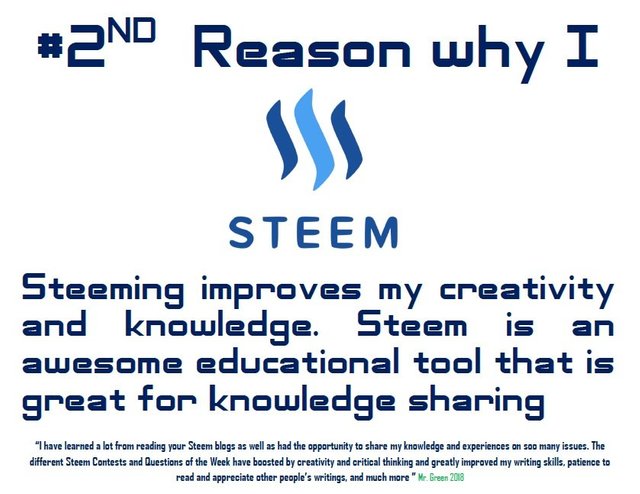 Second Reason Why I Steem
The Greens is a grassroots environmental organization that strives to educate, inspire and engage young people to take action to combat climate change and be at the forefront of biodiversity conservation and waste management.
Founded in 2010, @thegreens have been able to use arts, sports, media and ICT to educate and engage more than 10,000 young people in Green Poetry, Green Music, Green Arts, Green Radio, and Conservation Champions League.
Her tree planting programs have seen the organization create 04 Community Tree Nurseries, planted more than 300,000 trees and together with @kedjom-keku we have acquired 1000 hectares of afromontane forest in Kedjom-Keku Village of the Bamenda Highlands of the North West Region of Cameroon for the creation and conservation of Kedjom-Keku Community Forest
@thegreens is currently engaged in Waste Management (Waste Business Hub); Plastic Waste Upcycling, Tire Upcycling and Textile Waste Recycling via @ecodesigns.
Her #EndPlasticPollution Campaign has seen the organization sensitize more than 100,000 people about plastic pollution, upcycled more than 10,000 plastic bottles to create UPB Vertical Gardens, UPB Tree Nursery Pots, etc.
Her Textile Recycling Project (@ecodesigns) is currently training 13 young girls for free in textile recycling and fashion designing and has recycled more than 5000 pounds of textile waste.
Her Tire Upcycling Project is educating and engaging young people in schools and communities to #StopBurningTires and upcycle them to create Mushroom Tire Seats, Tire Flower Pots, etc
Support us to continue to educate, inspire and engage young people to take action to combat climate change and be at the forefront of biodiversity conservation and waste management.
1. Delegate @thegreens Steem power. We appreciate any amount of SP Delegation.
3. Donate @thegreens Steem or Steem Dollars
4. Follow, Comment and Resteem @thegreens' posts

The Greens' Blogs

The Greens is a member of: