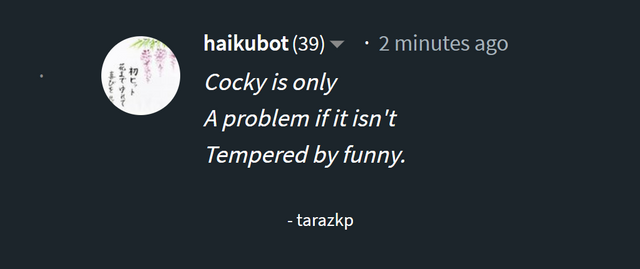 I am not big fan of automated comments but, I really enjoy @haikubot which detects Haiku and leaves a haiku in comment format. I have never actually knowingly written a Haiku until this little bot popped up a month ago and started commenting on the platform. I know that many don't like such things and see them as Spam and I definitely don't want a million and one bots doing something similar but at times, the poems it creates are quite thought provoking and poignant.
Here are some I have selected from the last 24 hours:


Advice for the ages, @meesterboom


Wisdom at the core, @everittdmickey


Duty and dedication, @girasol149


Art through audience, @donnadavisart


Experience and reflection, @papa-pepper


Building the imagination, @oldtimer


Comraderie in understanding, @corpsvalues


Inspiring the masses @zoneboy


Flirting with the dark side, @natubat


The roads we take, @angloexplorer
And my favourite:


To stop, is to die, @dailyxkcd
There is a lot of crap content on this platform and although none of these people intended to write poetry, here it is, art in the mundane, beauty in the unexpected. For me this little bot shows that with a little bit of thought, a little bit of understanding and work, anyone can create a masterpiece. Yes, these are just random Haiku but here they are, created.
People talk about quality of content and this is what can happen accidentally so, what can be done with intention? What can be done when instead of aiming for votes, one aims for beauty in what they do, in whatever they do? It doesn't matter if you are not an artist, there is beauty in math and science, in a research lab or in the fixing of a car engine.
We spend our lives looking for reward in some form or another, perhaps we should put in our heart, learn to use our hands and minds and, create something beautiful instead. At least from time to time.
Thank you to the accidental poets over the last 24 hours and to @haikubot for unearthing them.
Taraz
[ a Steem original ]
Edit: Lol, two in a night... on fire!