I have been running the #TenKMinnows campaign for a few months now, but I will freely admit that it has been a little lacking in organisation. I have to fit it around my other activities.
I check the account stats from @arcange now and again. Unfortunately the number of minnows has dropped a little in the last few weeks. I know a lot of accounts are powering down and we need to do what we can to cancel those out.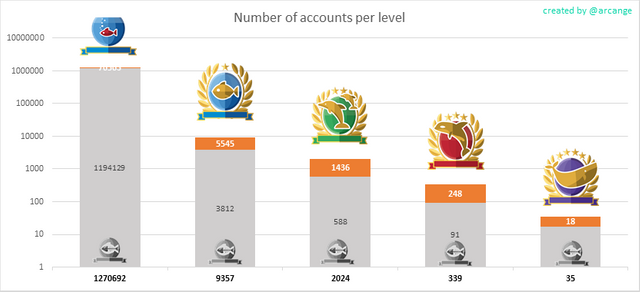 I did a campaign over May where I supported three runners with delegation, SBI and extra votes. I have not recorded exactly how much difference this made, but I hope it helped them. @run.vince.run is on 351 SP and he could have over 400 if he powers up all he has. @marenontherun and @xorb both have a long was to go, but I hope they stick with it. I am leaving their delegations in place for now.
I have set up some automatic votes from the @TenKMinnows account and increased my delegation to 5000 SP for now. It has delegations from a few other people and more are welcome. Thanks to @clumsysilverdad, @paulag, @pjau, @revisesociology, @viking-ventures and @grintsch for their support. All the votes go to accounts I consider worthy. Some are already minnows, but I think they deserve on-going support. There is a voting trail if you would like to join it.
I am looking for more candidates for support. To qualify they should meet the following criteria:
Be under 500 SP.
Not powering down.
Producing good posts. This is subjective of course.
People can propose themselves.
I have offered my Steem Monsters cards for small accounts to make use of. This offer still stands. If you are not yet a minnow and register on the game with my link I will lease you enough cards to get going without having to buy a starter pack. Then you can start winning cards with the daily quests that you are free to sell.
EDIT: It seems you have to buy a starter pack to be able to play at all. If you have already done that then I will still consider leasing you cards. I do not expect people to spend $10 and get me a referral just to get my support. You can buy the pack with Steem if you have built some up and it is possible to make that money back if you play for a while.
Small accounts should take advantage of the various offers of support that are out there. @bloggerkrunal took the course about Steem by @paulag and earned some extra delegation. @giftgiver can also top up your delegation.
My own resources for supporting the proto-minnows are limited and so I am calling on the great #Steem community to help me out. It would be great to see over 10,000 minnows. I set a target of the end of the year, but I just want to see more engagement and more people benefiting from this platform.
Suggestions on what we can do to achieve these goals are very welcome.
Steem on!
The geeky guitarist and facilitator of the 10K Minnows Project.